We know outsiders think of Philly as the land of cheesesteaks and Wawa, and, well, they aren't entirely wrong. BUT, that doesn't mean they should overshadow one of the city's best cuisine staples: pizza. Whether served Neapolitan, Sicilian, or shaped like a cinnamon bun (?!), we've rounded the best pizza spot in 13 different Philadelphia neighborhoods.
Bella Vista
Nomad Pizza Company (address and info)
Nomad prides itself on making delicious pizzas with local organic produce and natural meats, leading the eatery to be considered one of the best in South Philly -- which is no easy feat. Plus the spot offers a decent selection of craft beer, good for washing down a Spicy Sopressata (margarita pizza with sopressata, honey, and sea salt).
East Falls
In Riva (address and info)
Inspired by the cuisine of Naples, In Riva delivers savory Italian dishes like wood-fired pizza. For a twist on the traditional margarita, try the crab and chile pizza and add some prosciutto.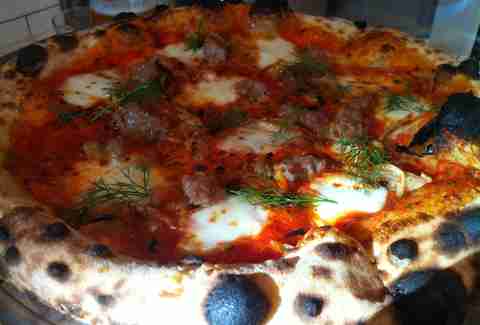 Fairmount
Pizzeria Vetri (address and info)
At Vetri you can choose between thin-crust selections such as the Tonno (tuna, onion, peperoncino) or the daily thick-crust rectangular pizza specials, but there's nothing saying you can't get both. For a more experimental pie, the Rotolo has you covered with a cinnamon bun-like shape that recoils to unveil the perfect medley of pizza dough, mortadella, ricotta, and pistachio pesto.
Fishtown
Pizzeria Beddia (address and info)
Yes, there will be a wait, and yes it will be packed, but killing time at Johnny Brenda's nearby will only make the one-man pizza machine that is Joe Beddia that much better. If you're feeling extra hangry try one of Beddia's spicer concoctions; they're on your level.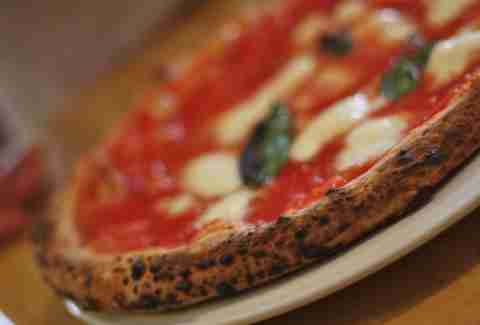 Main Line
Vecchia Pizzeria (address and info)
The lauded Phoenixville original recently opened a second location in well-to-do Wayne, making it the no. 1 rival to the dozens upon dozens of pizza parlors on the Main Line. Save room after your 12in margarita for some Nutella pie, because obviously.
Manayunk/Roxborough
Zesto Pizza & Grill (address and info)
Your grease preferences will dictate whether you soak up any excess oil from Zesto's pie with a napkin or your tongue, but either way, the casual dining spot has a great all-around roster of pizzas. The garlic bread is also not to be missed; an order of sticks will keep you from carbohydrate withdrawals.
Market East
Barbuzzo (address and info)
The narrow Mediterranean spot fills up quickly thanks to artfully made pizzas incorporating unexpected ingredients, as well as locally-inspired desserts like the La Colombe Espresso Tiramisu. For pizza, try the Uovo if you want "secret" white sauce, Parmesan, some fresh greens, and a truffled farm egg as the cherry on top.
Old City
Capofitto Pizza + Gelato (address and info)
Capofitto is no stranger to the Old City dining scene with its renowned gelato selection, but since adding a wood-fired oven last year the spot has upped its game with mouthwatering Neapolitan-style pizza rivaling some of the neighborhood's best standbys. Portions are hefty, so you might be satisfied enough to share a pie with another person.
Queen's Village
Kennett (address and info)
The brick-oven pizza joint has plenty of vegetarian options to appease any dinner guest, such as a traditional vegan tomato pie or margarita pizza. Fear not, meat-lovers, the porchetta pizza with slow-roasted pork and whipped lardo is there for you.
Rittenhouse
SliCE (address and info)
There are a few SliCE locations throughout the city, but when you're in the Rittenhouse neighborhood around the corner from what feels like the last Barnes & Noble in existence, SliCE is your best bet for top-notch pizza in the immediate future. It updates its menu with monthly specials, such as January's Meat Lover's Pie complete with pepperoni, bacon, sausage, and prosciutto.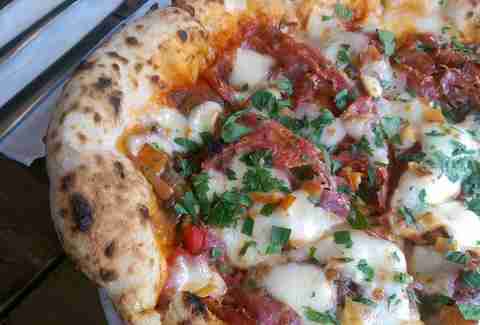 Spring Garden
Bufad (address and info)
Pretend to be healthy with the Brussel Spout Neapolitan Pizza that still satisfies with scallions and fresh garlic. The Spring Garden/Callowhill spot also keeps it fresh with daily specials and new pizzas.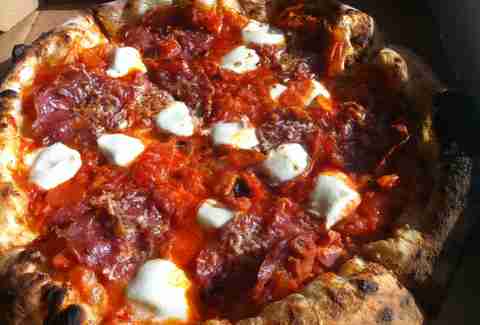 University City
Pitruco Pizza (address and info)
Believe it or not, that's a wood-fired pizza that came from a food truck. Score an 11in personal pizza made to your specifications at stops around the city, most frequently in the food-truck haven that is University City/Powelton Village. Try the spicy garlic pie for a little kick to your midday lunch slump.
Washington Square West
Garces Trading Co. (address and info)
Thank God Jose Garces chose to make Philly the grounds of his restaurant empire -- otherwise Philadelphians would be hard-pressed to find Chicago-style deep dish pizza from a true Chicago native. Order a cornmeal-crusted pan pie as soon as you sit down, and nosh on bites from the bar menu during the 40 minutes it takes to make it.
Sign up here for our daily Philly email and be the first to get all the food/drink/fun in town.