Pizza may be the perfect food -- it's portable, cheap, and healthy-ish (the toppings, sauce, and bread fit somewhere in the food pyramid). And while NYC and Chicago like to believe they make the best pies in America (NYC water, yada yada; deep dish, blah blah blah), Philly should get a little more props when it comes to the pizza game. After all, the city has 1) great chefs, 2) cheap(ish) rent, and most importantly, 3) a ton of Italian heritage.
So to disprove the myth that Philly's pizza sucks, we've handpicked 10 of our favorite spots around town. We've got everything New York and Chicago have, sans the need to talk about whose slice is bigger.
Queen Village (& Headhouse Square)
Part of Stephen Starr's food empire, it's no surprise that Pizzeria Stella is making some damn good pizza. After all, the man has a pretty good restaurant formula down pat: choose a concept, create a kick-ass menu, staff it with a real professionals, ensure 100% consistency, print money, repeat. On Pizzeria Stella's menu, there aren't any bad choices when choosing one (or a few) of the 13 different Neapolitan and New York style pizzas. Our favorites include the spicy 'nduja, topped with Calabrian sausage, and the traditional Margherita.
Fishtown
At this point, you probably live under a rock if you're not aware that Pizzeria Beddia is making some of the city's best pizza. The tiny Fishtown shop from owner Joe Beddia has gotten the most legit national press as it comes -- Bon Appetit rated it the best pizza in America in 2015. And if you wanna try it yourself, get prepared for to jump through some hoops to get your pizza fix -- the shop is only open Wednesday through Saturday, cash only, and only makes about 40 pies a day. That means long waits, though it's died down after the hype train found another thing to obsess over, but when the pizza is the best in America, it's worth it.
Queen Village (& Gayborhood)
With two locations around town (and a rentable pizza truck), Nomad is one of our favorite spots for wood-fired pizza in the city. Especially if you are able to go during happy hour or the Two For Tuesday special (buy one pie, get one free, although be aware: it charges gratuity on both pies). All ingredients are locally sourced, and both locations (but not the truck, unfortunately) have a pretty good rotating draft list of local and craft beers. When it comes to pizza, any meal has to include the Spicy Sopressata, which comes with thinly sliced Soppressata, garlic, red pepper, and a drizzle of honey. If you don't think that honey works on pizza, trust us, it does.
Gayborhood (& University City)
For an upscale pizza experience, Zavino is a great date night option. It's got a killer wine selection, both the Gayborhood and University City locations are dark and intimate, and of course, really good pizza. Zavino's wood burning ovens reach a peak temperature of 900 degrees, helping to perfectly char the crust will eliminating the soggy middles that can often accompany wood-fired pizza. It's a little pricey, but you're paying for quality. It's impossible to go wrong with the Margherita, but The Stache, with pistachio pesto, mozzarella, parmesan, lemon vinaigrette, and arugula, is a non-traditional pizza you won't find anywhere else.
RIttenhouse
For a slice on the go (or a whole pie), you could do a heck of alot worse than Joe's in Rittenhouse -- it's not fancy but the pizza is consistently good despite being the cheapest option on the list. Toppings range from standard pepperoni to "meatballs and pasta" (yes, that is a thing). At Joe's, it's your standard, no frills pizza, but sometimes that's just what you want.
Italian Market (& North Broad)
A Philly tradition since 1959, Santucci's isn't serving up your traditional slice -- the pies are square, the sauce is on top. Toppings are pretty standard, and our favorite is still the Original Signature pie, maybe with extra cheese. The pizza itself is pretty thick -- somewhere between a Sicilian and a grandma slice -- with an abundant helping of sweet, tart sauce.
Fishtown
If there is such a thing as a pizza nerd, the owners of Pizza Brain would certainly fit the bill -- after all, they also run the nation's first (and only?) museum dedicated to pizza. And at Pizza Brain, you can get some truly out-there flavor combos with equally quirky names like the Bob Shieldsmoose -- a white pie with brisket, Maytag blue cheese, garlic, horseradish, black pepper, mozzarella, and rosemary -- and the Forbes Waggensense -- a red pie with mozzarella, fontina, Grana Padano, fresh basil, and smoked pepperoni.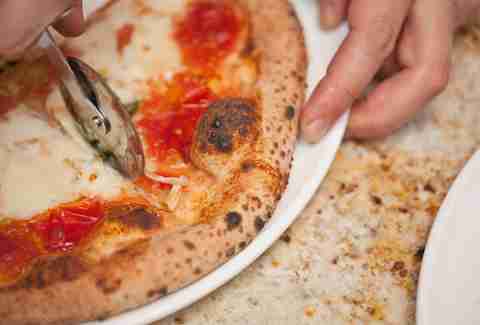 East Passyunk
How's this for a qualified pizza resume? Chef Joe Cicala went to Italy to get VPN (Vera Pizza Napoletana) certification, a designation given to pizzerias by the Associazione Verace Pizza Napoletana (AVPN) based in Napoli, and frequently travels back to research new adaptations of traditional Neapolitan pies. Brigantessa's oven? A custom Gianni Acunto pizza oven, made with ash from the slopes of Vesuvio (Mt Vesuvius), shipped to Philly by boat. So all the components are there for some killer, authentic Neapolitan-style pizza. So what to order? How about the Rachetta pizza (pictured) made with sheep's milk ricotta, house-made mozzarella, San Marzano tomatoes, eggplant, and basil.
South Philly
Quintessential South Philly, La Rosa is a low-key operation -- there's no menu, you have to call (yeah, call -- (215) 271-5246 is the number) and tell them what you want. If they have it, they'll make it. If not, ask for something else. The grandma-style pies come square, with a thick, buttery crust. It's super affordable, too, with a large plain pie running around $10.
Sign up here for our daily Philly email and be the first to get all the food/drink/fun in town.
Dan McKay's favorite pizza topping has always been pineapple, even before it was cool. You can follow him on Twitter or Instagram @dannypageviews