The Best Philly Restaurant for Every Cuisine
As the lockdown date for Pennsylvania looms ever longer, you might be getting bored with your typical array of at-home survival food and delivery usuals. Since the spread of COVID-19 continues to wreak havoc on the restaurant and hospitality industry, ordering takeout and delivery is something you can do during this time to help support the local economy. Plus, if being on lockdown happens to give you wanderlust for the rest of the world's sights and tastes, you can at least cheer up over international cuisine. Conjure up what you're craving and follow this guide to think global and buy local.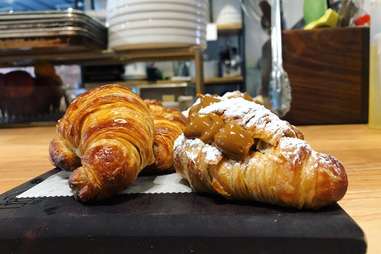 Spruce Hill
Snack on Argentine staples (and caffeine) from Jezabel's, which specializes in the authentic Northwestern Argentine culinary experience. Pick-up and delivery is available during quarantine, so why not treat yourself to a smattering of empanadas and a ricotta tarte?
How to order: Order takeout by calling or texting 215.554.7380, delivery through Caviar
Graduate Hospital
The Australian cafe specializes in brunch, so have yourself an Aussie-inspired breakfast with the brekkie burrito or eggs- and bacon-stuffed French toast. They can also be your go-to for all things maple bacon-related during this trying time.
How to order: Order by calling 215.875.8002, delivery through Caviar or Postmates
Northeast
Though the Center City location of the Brazilian steakhouse is closed during quarantine, the restaurant is still offering delivery and takeout from its Northeast outpost, so get all the top sirloin you can handle.
How to order: Order by calling 215.402.6967
Multiple locations
Han Dynasty is still available for delivery and pickup, giving hospitality industry employees an extra 20% off. Get some comforting lo mein, scallion pancakes, and flash-fried crab.
How to order: Order by calling 215.922.1888
Bella Vista
El Bouchinche is open for takeout and delivery, offering up an endless array of authentic Colombian chicken, seafood, and meat dishes, including the sample platter of steak, chicken, and shrimp served with plantains.
How to order: Order by calling 215.329.0861
Spruce Hill
Order all the doro wot your heart desires (as well as vegetarian options) for takeout and delivery, as well as Ethiopian-style varieties of breakfast dishes and the fava beans that come cooked in a blend of spices.
How to order: Order by calling 215.386.0504
Old City
Score cocktail mixers, along with food delivery and takeout, from the upscale French eatery. Spring for the daily 3-course menu for your share of escargot, braised rib, duck confit, and whatever else is good that day.
How to order: Order by calling 215.644.9395
Washington Square West
An array of Greek appetizers and entrees are yours at Effie's, along with simpler gyros and sandwiches, for both pick up and delivery.
How to order: Order by calling 215.592.8333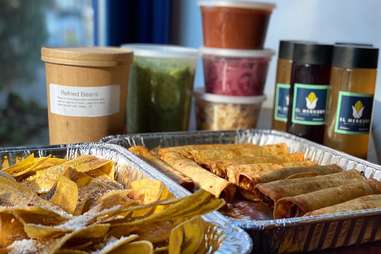 Rittenhouse
Delivery and pickup preserves through COVID-19 at El Merkury, where you can score a dozen uncooked pupusas to make at home, along with house salsa and some veggies and protein to go with them. This is especially great if you have a lot of people to feed at home.
How to order: Order online
Rittenhouse
Select your choice of naan, sides, spice level, and dessert with one of Veda's takeout thali specials, which can be made vegetarian and/or gluten-free. Most of the rest of the menu is up for grabs, too.
How to order: Order online
Bella Vista
Jembatan 5 is now delivering for a minimum order of $20 in light of the pandemic, so you can stay home while feasting on seafood stir-fry and pork satay.
How to order: Order by calling 215.238.1898
Washington Square West
Little Nonna's has a scaled-down takeout menu of some staples, offered in conjunction from dishes from sister restaurants Bud & Marilyn's and Barbuzzo. Always on the menu is the signature spaghetti and meatballs. Specials change daily and are shared on Instagram.
How to order: Order through the Bud & Marilyn's website
Graduate Hospital
Keep it simple with a half jerk chicken or make it a multi-course event with some oxtail stew, fried plantains, and curry shrimp from this South Street staple, open for delivery and takeout.
How to order: Order online
Fishtown
The artful Japanese eatery is downsizing its menu to bring delivery during the pandemic, offering a couple of sushi set varieties and bowl specials. The takeout menu is small but changes often.
How to order: Order online
Washington Square West
Kimchi pancakes, spicy stir-fry, and so much BBQ is available for delivery at Seorabol. You can't miss the signature marinated pork rib.
How to order: Order online
Le Mandingue offers a menu influenced by the cuisine of Liberia and neighboring West African countries, owned and operated by a survivor of Liberian Civil War. The spot is staying open for takeout during COVID-19, offering entrees with Attieke, Fou Fou, and much more.
How to order: Order online
Passyunk
One of Philly's best restaurants is open for delivery, with items including coconut cream rice, braised beef with pickled veggies, and stir-fry rice vermicelli filling out the menu.
How to order: Order through Caviar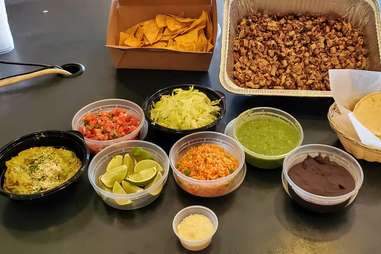 Graduate Hospital
Stock up on quesadillas, tacos, and guac (before it sells out) from this neighborhood Mexican cafe. Orders can be made for both pickup and delivery, and stay up to date on the latest offerings on the cafe's Instagram.
How to order: Order through Grubhub
Washington Square West
Enjoy Lebanese-style sandwiches (there will be fries and pickles in them) or get a platter of hummus, kebabs, and falafel. Sahara Bar & Grill switched to delivery and curbside pickup daily starting at 11am all the way to 10:30pm. Check out more details on the shop's Instagram.
How to order: Order through the restaurant's app
Fairmount
Enhance your takeout game with Figs' lofty menu of crab-stuffed filet, goat lasagna, and other Morrocan-Mediterranean infused dishes.
How to order: Order delivery through Caviar
Passyunk
Noord is cutting back on its offerings during COVID-19, narrowing in on a $25 weekend Dutch Dinner menu that comes with a soup, main course, and dessert. Get your orders in early because they sell out every time.
How to order: Order by emailing bob@winkelphilly.com
Roxborough
Curbside pickup and delivery is available for both neighbors and non-Rox residents alike, and you can load up on frozen pierogies to enjoy at your leisure during quarantine, alongside fresh borscht.
How to order: Order by calling 215.483.5301
Rittenhouse
Most of Bar Bombon's plant-based menu is available for delivery, so treat yourself to chips and guac, empanadas, and corn pico de gallo that pleases vegans and non-vegans alike. Though the restaurant has roots in Puerto Rico, the entire menu is a celebration and infusion of Latin flavors.
How to order: Order delivery through Caviar
Rittenhouse
Chef Jose Garces' Basque destination is staying open for takeout and delivery, so you can curate your own tapas feast to be enjoyed from the comfort of your home. Don't miss the Pulpo with olive oil or the shrimp in chocolate.
How to order: Order delivery through Caviar
Bella Vista
Kalaya is offering delivery and takeout fare five days a week, plus putting together free meals for hospitality industry workers. Go big with the bigger 3-course plates that start at $50, or keep it simple with the spicy ground duck salad.
How to order: Order by calling 215.385.3777
Spring Garden
Sazon is taking Venmo and Paypal payments for its curbside takeout and delivery menu, updated daily with truncated hours. Expected a curated selection of dinner entrees (asada negro, coconut crabmeat), as well as soups and appetizers. The updated menus are posted on Facebook.
How to order: Order by calling 215.763.2500
Sign up here for our daily Philly email and be the first to get all the food/drink/fun in town.