The 9 best things to eat at Reading Terminal Market, ranked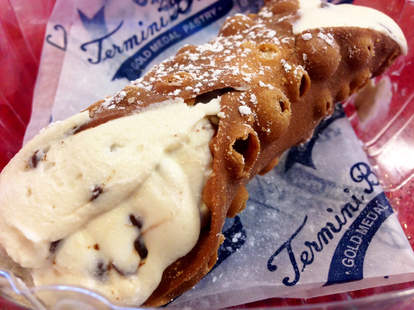 People who aren't from Philly typically pronounce "water" correctly... but they have no idea how much great stuff there is to eat at Reading Terminal Market. Heck, even locals have a hard time choosing between a maple bacon donut from Beiler's or Beck's fried mac and cheese balls, which is why we've ranked the market's nine best foods. Feast your eyes...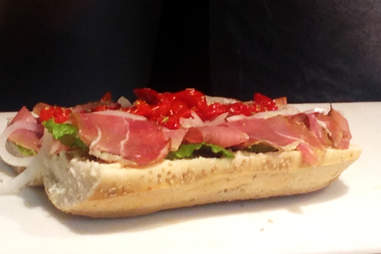 Courtney Fowler
9. Prosciutto hoagie
Carmen's Famous Italian Hoagies
Hoagies are a Philly favorite, but when you combine one with fresh prosciutto and a choice of mozzarella or provolone cheese, it becomes that much better. Served on a famous Amoroso's roll with fresh veggies and a pickle, this one was an easy choice to kick off the list.
Courtney Fowler
8. Stuffin' Cranberry
The Original Turkey
The Original Turkey is known for its off-the-wall sandwich monstrosities, but their Stuffin' Cranberry is the most popular 'cause it tastes exactly like Thanksgiving. It comes with fresh-carved turkey, homemade stuffing, cranberry sauce, and, thankfully, absolutely zero in-laws.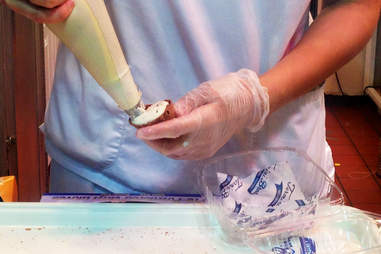 Courtney Fowler
7. Chocolate chip cannoli
Termini Bros Bakery
Yes, there are plenty of other bakeries with cannolis, but none of them fill their crunchy shells with ricotta-flavored cream that's been liberally seeded with mini chocolate chips. It might be the best $4 you ever spend.
6. Gator gumbo
Beck's Cajun Cafe
Beck's is great for all things "N'awlins", but what makes the gator gumbo stand out from the rest of menu is... well, the fact that you're eating gator sausage, which they've flavored with Cajun spice, green peppers, and onions. Add one of their mini cornbread loaves and you've got the epitome of Southern comfort in the heart of Philly.
Courtney Fowler
5. Maple bacon donut
Beiler's Donuts
Weirdly, the stall is split between bakery cases and a salad bar, only one of which serves 40 kinds of hand-rolled rounds and fritters flavored with hand-picked seasonals like blueberries, apples, and pumpkin. The best one is coated with a homemade glaze and then topped with vanilla frosting, a caramel swirl, and bacon sprinkles.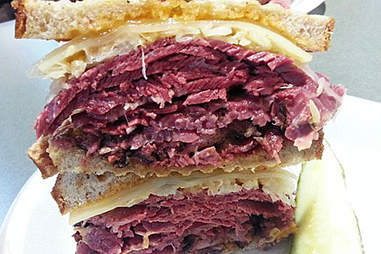 Courtney Fowler
4. The Famous Reuben
Hershel's East Side Deli
You get a choice of tender corned beef, pastrami, or brisket that's topped with sauerkraut, Russian dressing, and Swiss cheese -- making this two-hander NYC classic no joke... except maybe one about how eating too many will make you look like Ruben Studdard.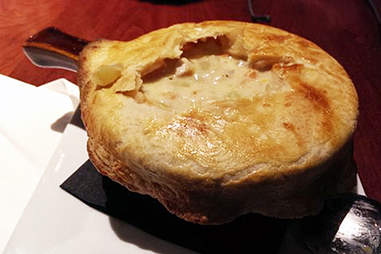 Courtney Fowler
3. Chicken pot pie
Molly Malloy's
This chicken pot pie is far from your Granny's. Thanks to a warm, flaky crust and a creamy chicken and veggie filling the dish is... well, edible (sorry, Grandma!). Pair it with one of MM's dozens of taps and you've got the perfect meal.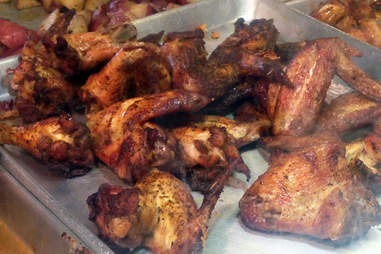 Courtney Fowler
2. Original rotisserie wings
Dienner's Bar-B-Q Chicken
On any given day, the line at Dienner's can be about a half-hour long, but once you get your hands on their rotisserie wings -- some of the city's most tender and flavorful -- you'll know why. The only thing you won't know is whether or not to order 'em by the pound... which you can totally do, by the way.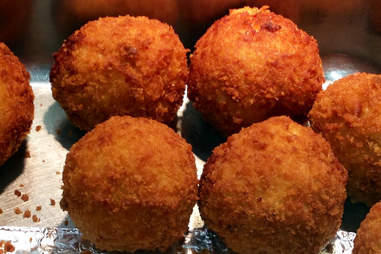 Courtney Fowler
1. Fried mac and cheese
Beck's Cajun Cafe
Before you question how a side dish made it to number one, it should be noted that these fried mac and cheese balls aren't your average side dish. The two balls of classic baked macaroni and cheese are coated with panko breadcrumbs, deep-fried, and topped with a zesty marinara. They're so good that telling you about them could wind up being... sorry'boutthis!... (Reading) terminal.
Sign up here for our daily Philly email and be the first to get all the food/drink/fun in town.