Pennsylvania's 10 Best Restaurants Outside of Philadelphia
The Quaker State might have fewer Quakers this day, but there're also way more options for great food. To help you keep up with the changing times, we've rounded up 10 must-hit restaurants around PA, and as an added bonus, avoided Philadelphia altogether.
Pittsburgh
Helmed by a James Beard nominee and a Food & Wine award winner, this place is serving beautifully plated, locally sourced takes on Mediterranean eats, especially (as the name suggests) charcuterie, as well as things like strawberry gazpacho and whiskey cocktails that'll make you feel great. But they won't actually cure you of anything you pick up in... ugh, Pittsburgh.
Pittsburgh
Legume is Western PA's answer to a New York City bistro, thanks to a simple menu that changes everyday (expect things like Puntarelle with pickled beef tongue, spaghetti with garlic scape pesto and fried egg, and grass-fed beef rib loin with grilled radicchio, etc.), and that it calls "a seven-year conversation" with its customers, something which no one at an actual NYC bistro would put up with.
Pittsburgh
This takeout-style meatery on the Strip makes the list thanks to seriously sweet Argentinian BBQ cooked up on a wood-burning grill, where it's doing five different cuts of cow, next-level sandwiches, and the only kind of vegetables worth eating -- ones that taste like meat.
Scranton
People wandering Scranton in search of Michael Scott will STILL remember that awesome Italian dish that they had at Libassi's, even after they've snapped that PA Paper & Supply Co. sign.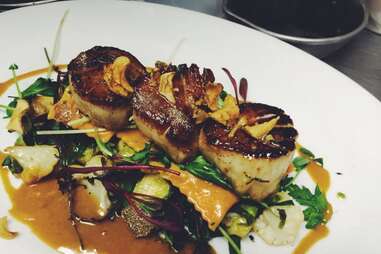 Bethlehem
Bolete, nestled in a 200-year-old building in Lehigh Valley, is mixing historic local charm with high-end cuisine from founders who have worked in the industry from Boston to San Francisco. The menu stays fresh and changes almost daily for the best in local produce.
Easton
Sette Luna makes authentic wood-fired pizzas, like the fresh clams,parsley and lemon Amalfi Coast or the Gamberetti, which's basically a Margherita plus sautéed shrimp, pesto, and lemon, that makes for a perfect end to your day at the Crayola Factory.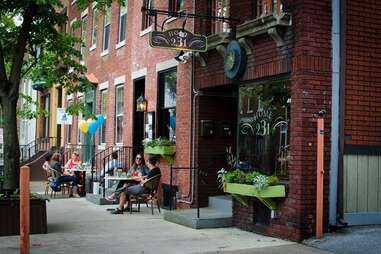 Harrisburg
You could be out of luck when trying to feed yourself in our state's capital, so make sure to make a reservation at Harrisburg's top restaurant, where the folks there are doing farm-to-table dining in a place surrounded by actual farms.
York
Philly Italians are too busy eating Donnoli's to go all the way to York, but if they did, even they'd dig the eats at Victor's... especially if they tried the fried risotto or the weekly dinner-for-two hump day special.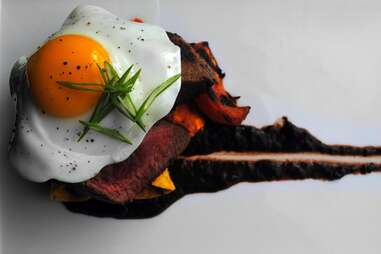 Erie
Considered by some to be out-of-place for Erie, PA, 1201 offers a dizzying array of Latin and Asian-inspired dishes, like fresh sushi, smoked brisket enchiladas, and even a dry-aged porterhouse.
Williamsport
Locals of Williamsport swear by Franco's as the best restaurant in town, thanks to a homey atmosphere and its seriously good signature garlic bread, and possibly also to the fact it observes the beloved Philly tradition of live music on First Friday.
Sign up here for our daily Philly email and be the first to get all the food/drink/fun in town.
This article originally published on June 18, 2014.