Not everyone was hibernating last winter. Even just a few months in 2020, Philadelphia has seen an explosion of new restaurants, many of which are following a trend toward more laid-back, casual, yet still heavenly delicious cuisine. In fact, some of the biggest names in Philadelphia restaurants -- Marc Vetri, Cristina Martinez, Michael Solomonov -- have upped their dining footprint for new yet comfortingly familiar concepts. It's not all quiet dining retreats, though. The city now has a massive dinner theater and a quintessential museum-romping stop to add to the collection of classic Philly restaurants we already know and love.
JUMP TO: NEW & NOTEWORTHY | ALL-TIME BEST
Recommended Video
Thrillist's Best (and the Rest): The Truth Behind the Saddest Cookbook Ever
Bella Vista
Casual cash-only Mexican fare with new menu daily from Cristina Martinez
The sister restaurant of Netflix-famous taco destination South Philly Barbacoa has finally opened its doors, giving everyone another chance for authentic fast-casual Mexican fare in South Philly. Expect fresh handmade tortillas, guisados, and a list of daily chalkboard specials in lieu of a formal menu. Casa Mexico is cash only so don't forget to tap MAC before you come by.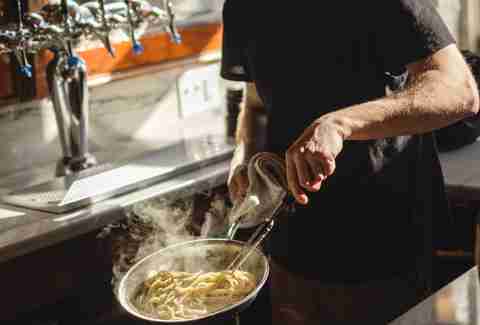 Bella Vista
Marc Vetri's quick and casual pasta bar
Many of Philly's recognized chefs have been expanding over the last few months. None other than Marc Vetri has set up shop, also in the Italian Market, with Fiorella, a super casual, line-inducing eatery serving pasta 'til it sells out. It's no reservations and Vetri estimates dining there should only take 30 minutes -- quite the change from his multi-course namesake restaurant in Center City.
North Broad
Upscale Italian fare in the Divine Lorraine
Cicala is the chandeliered jewel in the new Divine Lorraine, with white washed brick, twinkling light fixtures, and A-plus ambiance making it a very buzzy new white tablecloth option on North Broad. Thankfully, the food is up to the challenge of the decor. Expect a fresh and simple menu of Southern Italian cuisine, including the cous cous rich with Mediterranean fish and shellfish.
Fishtown
Dinner theater with cabaret and late-night kitchen
A cabaret is open in Fishtown. The long-awaited variety show of a restaurant, Fabrika, has finally opened with live music or cabaret shows almost every day of the week. The show is served with Fabrika's menu of eastern Mediterranean cuisine, including spicy yogurt, lamb dumplings, and SO much wine. Best of all, the kitchen opens at 5pm for happy hour and stays open til 1am.
Fishtown
Laid-back Israeli grill from team behind Zahav
Yet another beloved Philly chef upped their offerings so far this year with Laser Wolf, considered Michael Solomonov's sequel to James Beard-winning Zahav. As such, the spot has a more casual vibe while still pushing a luscious multi-course meal. At Laser Wolf, all you have to do is pick your grilled item of choice (choose from various meats, veggies, and fish), and you get served with a vast array of hummus, salatim, and pita.
Logan Square
Approachable high-end fare in relaxed mid-century setting
Nestled on the bottom floor of the Park Towne Place Museum District Residences, The Hadley is the unexpectedly perfect spot for brunch, lunch, or dinner for museum-goers or simply hungry folks who can't resist a good bottomless brunch deal and mid-century modern decor. The front bar is luxe but still has a big TV for your sports-watching needs, while the dining area makes you want to dig into the roquefort crusted filet mignon and shrimp. The entire menu, like the space, feels approachable yet refined.
Est. 2019 | Fishtown
Nationally celebrated pies in a refreshed, Nordic setting
The best pizza in America made a much-needed return this year with the second iteration of Pizzeria Beddia, the newer, bigger, taking-reservations-and-everything version of its original standing room-only outpost that closed its doors a year ago -- just a few blocks away from the new restaurant. Owner and pizza master Joe Beddia isn't holding back: carefully curated wine, pies, and small bites outfit a menu that gets right to the point.
Est. 2018 | Fishtown
Eclectic Lebanese restaurant with all-day cafe and market
Suraya is a newer addition to Philadelphia's dining scene, and has quickly cemented a place among the city's best restaurants just one year after opening. Though the space initially functioned solely as a daytime cafe and market, Suraya's addition of dinner service in 2018 has made it the official staple of Fishtown dining. Stop by for some of the best Lebanese dishes made in the US, including kebabs, kibbeh, and definitely the lamb.
Est. 2016 | Midtown Village
All-day Japanese cafe and restaurant attached to Sampan
Double Knot is a dining destination for any time of day, opening at 7am to supply you with coffee, enduring the midday rush with build-your-own salad or rice bowls, and powering through into the evening to host a thriving bar scene. Walk past the bar, bookcases, and old mirrors, and enter the door in the back where you can enjoy an extravagant yet relatively affordable dinner menu ($55/person for a 10-course meal and dessert ain't bad). Sushi, robatayaki meats, and other Japanese izakaya fare are served in this hidden sushi bar with an underground feel.
Est. 2014 | Rittenhouse
Relaxed, elegant French dining
East Passyunk lost one of its top restaurants, but its loss is Center City's gain. Townsend, the French restaurant that helped solidify Passyunk as a destination for the restaurant elite, has relocated to Center City in an effort to be more accessible to Rittenhousers, tourists, and suburbanites. The restaurant brings new life to the former space of TALK, a short lived restaurant that shuttered after just five months. The new digs will continue Townsend's tradition of tasting menus, offering seasonal options currently including potato gnocchi with braised rabbit, sauteed sweetbreads, and butter-poached halibut.
Est. 2008 | Rittenhouse
Classic corner cafe and restaurant overlooking the park
The Stephen Starr corner French bistro is a staple not only of Rittenhouse Square Park, but of Philadelphia dining -- whether it's breakfast, brunch, lunch, or dinner. There's nothing quite like people watching from a table outside, or taking in the warm lights in the big back dining room. Like any well versed French-inspired menu, the selections are a mix of high brow (lobster risotto, duck l'orange, veal escalope) and elevated comforts (macaroni au gratin, cheeseburger with raclette).
Est. 2008 | Old City
Varied Israeli food in a modern setting with can't-miss hummus and tasting menus
Whether you opt for the restaurant's signature lamb shoulder or keep it simple with the best assortment of hummus you'll ever find in Philly, any dish at this Israeli mainstay is enough to see why it's such a long-running institution. In the spirit of exclusivity, try to snag a seat at the chef's counter for a more tailored experience. If you don't have a chance to drop Zahav money right now (it ain't exactly cheap), try chef Michael Solomonov's more casual Sansom Street concepts, including fast-casual Israeli spot Dizengoff, Jewish restaurant Abe Fisher, falafel staple Goldie, and the quintessential fried chicken and donuts shop Federal Donuts.
Est. 1997 | Old City
Upscale American fare for the everyday
With a pre-millennium opening to its credit, Fork has been a mainstay of the Philly dining scene and a major part in its ongoing growth and recognition. Its latest method of staying fresh has been to bring in Jeremy Hansen, the new executive chef who introduced an updated menu of the same high-end, quality American fare Fork is known for, but with a more approachable twist -- there's even a Saturday brunch option with seared tuna and chicken sausage on the table now.
Sign up here for our daily Philly email and be the first to get all the food/drink/fun in town.