Philly gets approximately five new restaurants per person per month, and we love telling you about them -- but just because it's new doesn't mean it's automatically great. That's why we have Eat Seeker, our list of the best restaurants in the city right at this very moment, which we'll be updating regularly so that you are never left wondering where to eat right now.
Recommended Video
Hooters Is Opening a New Restaurant Chain That's Hiring Guys
Fishtown
The space housing Wm. Mulherin's Sons was once a whiskey-blending and bottling facility in the 1890s, and its restored manifestation maintains the same ambiance with wood-framed arched windows and a company safe-turned-coat closet. Wood-fired pizzas and grilled-cheese entrees help fill out a menu heavy on pasta and crudo. The cocktail list comes from the same mastermind behind The Olde Bar and a.bar, offering a carefully curated wine list from smaller distributors. Plus, since Wm. Mulherin's Sons' four-room boutique hotel is now open for business, you can also book a room while you book your dinner reservation.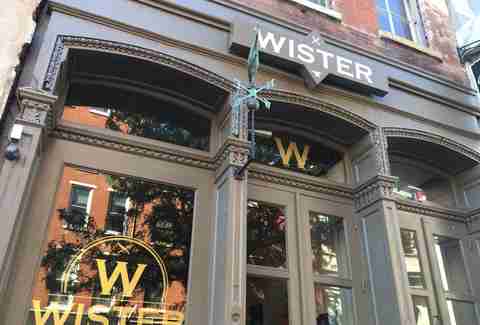 Old City
Lacroix's former sous chef, Benjamin Moore, filled the vacancy left last year by short-lived 26 North and established the hyper-seasonal Wister BYOB. Perhaps one of the most intriguing things about the place is Moore's mission to keep every entree under $30, including artichoke lamb chops and king salmon dishes. Though the menu may not be expansive, Moore intends to constantly update it to take advantage of the best produce and ingredients of the moment.
Midtown Village
Double Knot is a dining destination for any time of day, opening at 7am to supply you with coffee, enduring the midday rush for build-your-own salad or rice bowls, and powering through into the evening to host a thriving bar scene. Walk past the bar, bookcases, and old mirrors, and enter the door in the back where you can enjoy an extravagant yet relatively affordable dinner menu ($55/person for a 10-course meal plus dessert ain't bad). Sushi, robatayaki meats, and other Japanese izakaya fare are served in this hidden sushi bar with an underground feel.
Queen Village
This long-awaited sake concept finally came to Philly in 2016, offering a cozy atmosphere in which sip Japanese beers and whiskey. The back room will soon play host to a sushi counter, so chances are the clientele is about to swell even more, but in the meantime eager diners can enjoy the grilled, pan-fried, and raw dishes created by father-son duo Masaharu and Jesse Ito. Even better, the kitchen stays open late, giving you plenty of time to mull over yakimono options.
East Passyunk
Perla is a new modern Filipino BYO that offers seasonal dishes in a small space -- seriously, the dining room seats just 30 total. Perla's chef and owner, Lou Boquila, lets you opt for a four-course fixed-price menu during the week, and on Sundays you can come in with a larger group (six minimum, so make some friends) for a $40/person kamayan dinner, where you'll eat solely with your hands. Perla is one of the first modern Filipino restaurants in Philly, and the refreshing cuisine has been met quite happily by locals: snagging a coveted kamayan dinner is already becoming a challenge.
Rittenhouse
A vast collection of ciders and sour ales pour from 32 taps and 70+ bottles at this Rittenhouse gastropub, making it a perfect destination for hard-to-find beers. The food menu offers just the right amount of carbs and comfort food, like lamb sausage pizza and mussels. The industrial space seats about 50, and even if you're more of a wine person, you're not forgotten here: Cinder pours 10-12 wines by the glass, and 20 more by the bottle.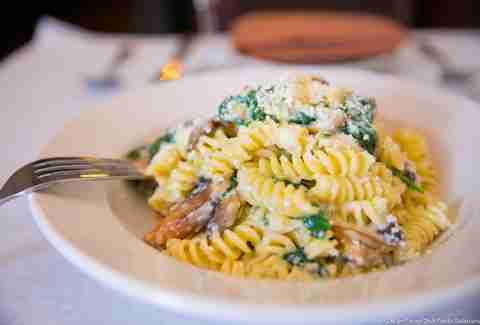 Manayunk
Chef Craig Wilson's Gigi opened on Main St last summer, shortly after he opened another concept a few doors down (tapas joint MAYA.J). Well, turns out the folks of Manayunk prefer well-portioned Italian dishes over small plates, because now Gigi has taken over the bigger space of MAYA.J to offer more seating, a private event space, and a new lunch menu. The BYOB spot serves reinvented takes on classic dishes, like seafood puttanesca and garlic penne.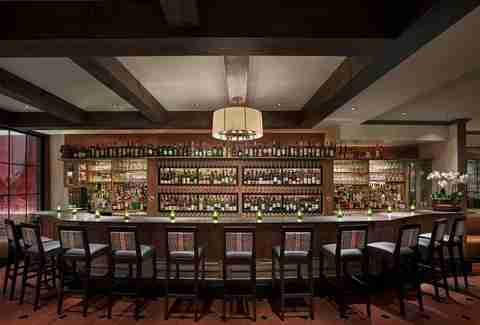 Old City
Long-running Italian restaurant Panorama recently did a style upheaval to modernize its dining rooms, and the accompanying refreshed menu makes today's Panorama the greatest iteration yet. The Old City restaurant, part of the Penn's View Hotel and home to one of the largest wine collections in the city (we're talking 150 wines, and that doesn't even include full bottles), refreshed its signature old-world setting with a lighter, airier dining room. The dishes are still phenomenal, of course: If you're at a loss for what to order, you can't go wrong with the burrata filled with San Marzano tomato sauce.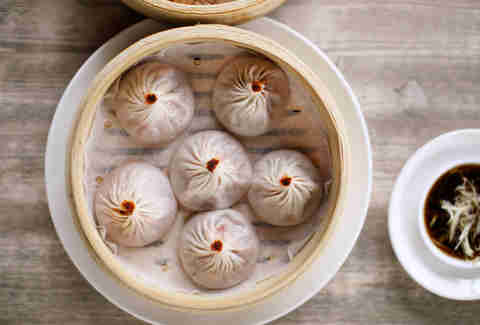 University City
Dim Sum House delivered it by opened its doors in early January, providing dim sum and dumplings for all. Though still very nascent in the Philly dining world, the restaurant easily ranks as one of the best dim sum spots in the city, with an economical price tag to boot. The spot offers two dim sum menus, Cantonese and Shanghai-style, and, true to its University City location, stays open late (like, 2am-on-weekends late).
Rittenhouse
The gorgeous, expansive space of Harp & Crown features high ceilings, exposed brick, a wrap-around bar, tufted booths, and vintage portrait collages. The striking atmosphere is enough to lure you inside, but the selection of stiff drinks, small plates, and diverse entrees will keep you coming back for more. Charcuterie and cheese plates go great alongside Spanish octopus and lamb meatballs, while the hanger steak and the farro pasta with spinach pesto is one of the most satisfying meals in the neighborhood. You can also swing by for the full lunch menu and high-end bar fare, or head downstairs for a speakeasy vibe and double set of bowling lanes.
South Street District
Vietnamese fare finds a new home in Philly thanks to Banh Mi & Bottles, where traditional Vietnamese street food -- made with locally sourced ingredients -- gets a touch of modernity. The menu includes pho and banh mi, and of course bottles, for a different sort of B&B.
Rittenhouse Square
The wonderful people responsible for Federal Donuts can now take credit for Rooster Soup Company as well, which serves sandwiches and comfort food with 100% of the profits going to the Broad Street Ministry's Hospitality Collaborative, which helps provide food and social services for Philadelphia's people in need. Plus, to mitigate waste, unused leftovers from Federal Donuts' fried chicken make their way into the chicken broth here.
Center City West
The long-awaited replacement to Underdogs finally opened late last year, and its offering of late-night poutine and sliders does an adequate job of alleviating our sense of loss. Shoo Fry is one of several poutineries popping up over the city, this one complete with a portrait of Prime Minister Justin Trudeau to help you feel as if you're safely tucked away in Canada.
Sign up here for our daily Philly email and be the first to get all the food/drink/fun in town.