Summertime did not slow down Philly, and we're fully embracing fall with a slew of new restaurants to try and classics to revisit. As the dining atmosphere of the city continues to morph, more and more concepts are bringing approachable chef tastings and multi-course options to the menu. Meanwhile, many other concepts are reinventing themselves -- foodie royalty from Chef Tod Wentz to Di Bruno Bros are finding new ways to surprise us. That's not to say the classics aren't worth repeating -- with fall comes seasonal menus and new, colorful foliage to gaze at while you eat. Take a look at all that's new on the Philly food scene, and the essentials you best not overlook.
JUMP TO: NEW & NOTEWORTHY | ALL-TIME BEST
Recommended Video
Ever Heard of Pon De Ring Donuts?
Fishtown
Modern, intimate Japanese omakase tasting
Hiroki opened late last Spring to feature an Omakase-only menu from one of the top sushi chefs in Philly, backed by the team behind Wm. Mulherin's Sons and Method Co. What exactly does omakase dining mean? Derived from a Japanese phrase that literally means, "I'll leave it up to you," omakase means you let the chef do all the deciding. No need to mull over a menu -- all you have to do is sit back, relax, and let the goods flow to you. At Hiroki, with just 26 seats, expect a multi-course nigari tasting and an international wine list.
Rittenhouse
All-day Israeli cafe and restaurant
Mike Solomonov and Steve Cook are keeping the empire growing. The latest iteration is K'Far Cafe, an Israeli bakery and cafe led by Camille Cogswell, a James Beard winner for her work at Zahav. The daytime eatery has been selling out daily once it opened, serving Jerusalem-style bagel sandwiches (which are much longer and more filling than your typical US bagel), as well as babka, pistachio sticky buns, sweet cheese, salads, grain bowls, and other specialties. While already open for breakfast and lunch, K'Far plans to add dinner service in the next few months -- though you can already check out the fully stocked bar, serving house cocktails and aperitifs.
Rittenhouse
Relaxed, elegant French dining
East Passyunk lost one of its top restaurants, but its loss is Center City's gain. Townsend, the French restaurant that helped solidify Passyunk as a destination for the restaurant elite, has relocated to Center City in an effort to be more accessible to Rittenhousers, tourists, and suburbanites. The restaurant brings new life to the former space of TALK, a short lived restaurant that shuttered after just five months. The new digs will continue Townsend's tradition of tasting menus, offering seasonal options currently including potato gnocchi with braised rabbit, sauteed sweetbreads, and butter-poached halibut.
Rittenhouse
Italian cafe and wine bar above Di Bruno Bros.
The powers behind Philly powerhouse brand Di Bruno Bros. have opened a cafe and bar of their own, right above the vendor's current corner food market on 18th and Chestnut. The place is casual yet still a bit upscale, serving al taglio Roman-style pizza, espresso, wine, and iterations if the quality cheese and meat for which Di Bruno's is known. There's even a complete mozzarella bar and cheese cave menu, so how is any formaggio lover to resist?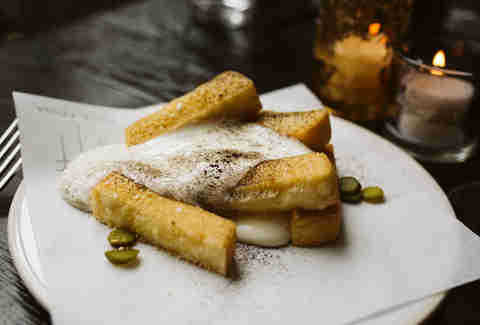 Old City
Seasonal French restaurant from Chef Chris Kearse
A flowery new French restaurant has opened in Old City, with Chef Chistopher Kearse's kitchen serving experimental takes on classic European technique at Forsythia. Not only does the spot feature an extensive wine list and wine-centric cocktails, but you can also expect a nice canape menu of oysters, raclette cheese, escargot, and other intriguing starters to ease you into a highly seasonal menu of pastas, seafood, and quite a large veggie selection. If you're in the mood to splurge, the $65 bouillabaisse includes monkfish, octopus, and saffron.
Est. 2019 | Fishtown
Nationally celebrated pies in a refreshed, Nordic setting
The best pizza in America made a must-needed return this year with the second iteration of Pizzeria Beddia, the newer, bigger, taking-reservations-and-everything version of its original standing room-only outpost that closed its doors a year ago -- just a few blocks away from the new restaurant. Owner and pizza master Joe Beddia isn't holding back: Carefully curated wine, pies, and small bites outfit a menu that gets right to the point.
Est. 2018 | Fishtown
Eclectic Lebanese restaurant with quirky all-day market and cafe
Suraya is a newer addition to Philadelphia's dining scene, and has quickly cemented a place among the city's best restaurants just one year after opening. Though the space initially functioned solely as a daytime cafe and market, Suraya's addition of dinner service in 2018 has made it the official staple of Fishtown dining. Stop by for some of the best Lebanese dishes made in the US, including kebabs, kibbeh, and definitely the lamb.
Est. 2016 | Midtown Village
All-day Japanese cafe and restaurant attached to Sampan
Double Knot is a dining destination for any time of day, opening at 7am to supply you with coffee, enduring the midday rush with build-your-own salad or rice bowls, and powering through into the evening to host a thriving bar scene. Walk past the bar, bookcases, and old mirrors, and enter the door in the back where you can enjoy an extravagant yet relatively affordable dinner menu ($55/person for a 10-course meal and dessert ain't bad). Sushi, robatayaki meats, and other Japanese izakaya fare are served in this hidden sushi bar with an underground feel.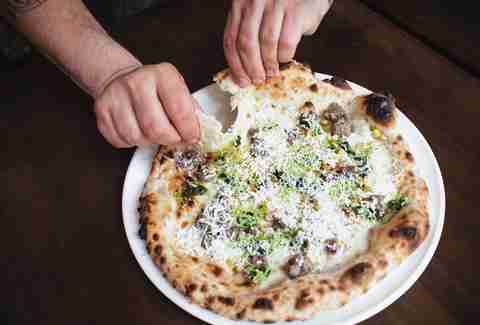 Est. 2015 | East Passyunk
Neapolitan pizzas and seasonally curated pastas with hard-to-find ingredients
The pizza at Brigantessa is served in traditional Neapolitan style, meaning no pre-cut slices -- the kind of pizza that wants you to abandon all American habit and fork-and-knife your way along -- though your server will be happy to slice it up for you. The Regina pizza with Piennolo del Vesuvio is the must-have item, while gnocchi brushed with Calabrian chili oil is a must for lovers of all things hot and full of carbs. If you still think pizza bagels are exciting, elevate your tastes and head here for weekend brunch, where the drinks are bottomless and all pizzas can be breakfasty if you add an oozing egg.
Est. 2014 | Rittenhouse
Large and small plates inspired by the Jewish diaspora
Abe Fisher is an homage to the Jewish diaspora, serving eclectic dishes inspired by the ancestral homeland and its modern iterations. It's been a staple restaurant since it popped on the scene just a few years ago and began Cook N' Solo's Sansom Street takeover. If you dine in, try the three-course tasting menu for a smattering of everything, or you can opt for a large-format dish -- the Montreal-style smoked short ribs are amazing -- and try a handful of other small plates, such as the veal schnitzel tacos or potato latke.
Est. 2008 | Rittenhouse
Classic corner cafe and restaurant overlooking the park
The Stephen Starr corner French bistro is a staple not only of Rittenhouse Square Park, but of Philadelphia dining -- whether it's breakfast, brunch, lunch, or dinner. There's nothing quite like people watching from a table outside, or taking in the warm lights in the big back dining room. Like any well versed French-inspired menu, the selections are a mix of high brow -- lobster risotto, duck l'orange, veal escalope -- and elevated comforts -- macaroni au gratin, cheeseburger with raclette.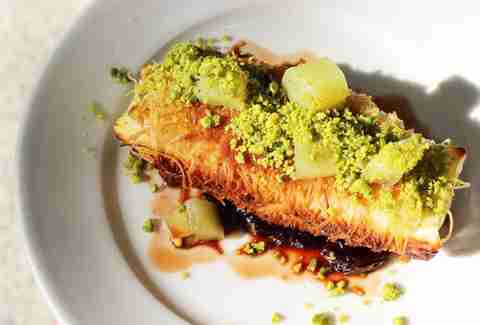 Est. 2008 | Old City
Varied Israeli food in a modern setting with can't-miss hummus and tasting menus
Whether you opt for the restaurant's signature lamb shoulder or keep it simple with the best assortment of hummus you'll ever find in Philly, any dish at this Israeli mainstay is enough to see why it's such a long-running institution. In the spirit of exclusivity, try to snag a seat at the chef's counter for a more tailored experience. If you don't have a chance to drop Zahav money right now (it ain't exactly cheap), try chef Michael Solomonov's more casual Sansom Street concepts, including fast-casual Israeli spot Dizengoff, Jewish restaurant Abe Fisher, falafel staple Goldie, and the quintessential fried chicken and donuts shop Federal Donuts.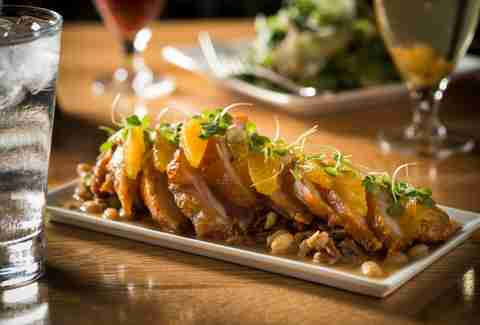 Est. 2005 | Old City
Long-running Spanish tapas spot with lounge seating and chef's counter
Chef Jose Garces' very first Philadelphia restaurant opened back in 2005, and it doesn't seem to be going anywhere anytime soon. The menu embraces Spanish cuisine, offering small, sharable tapas plates and an alluring tasting menu if you want to try a bit of everything. If you're new to tapas, you can't go wrong with gambas al ajillo (garlic shrimp), patatas bravas (spicy potatoes), or the lamb meatballs.
Sign up here for our daily Philly email and be the first to get all the food/drink/fun in town.