Duck meatballs and buttermilk chicken: 5 sandwiches you need in your mouth
Ever pick up a fistful of meatballs with your bare hands only to get beaten back with a wooden spoon? That's why God/ Sarcone's/ Amoroso's invented bread. Soak up stacks of hot ground, sliced, brined, and slow-roasted meats-wrapped-in-other-meats the right way, with our guide to five Philly sandwiches that can't be beat, then have a look at the greatest sandwiches of all time from anywhere.
Roast Beef, Nick's Old Original
South Philly
Hit up South Philly's OG RB shop for hand-carved, slow-roasted goodness piled up on the outs (meaning the burnt ends are piled among the slices) served up under a layer of au jus-soaked sharp Prov on a bun that, just like you, can hardly contain itself.
Porchetta, Pub and Kitchen
Rittenhouse Square
The menu changes daily, but this slow-cooked pork loin rolled in a blanket of belly is always available in some variation, like... piled with braised greens and tomato slices you can't quite see because they're smothered by the yolk of a sunny-side-up egg seeping into the garlicky other white meat as you press into the bookend wedges of grilled sourdough.
Duck Meatball, High Street on Market
Old City
The latest eatery from the Torrisi-vet-turned-Fork-chef's serving up modern Italian lunchables like this seeded semolina loaf split open and bursting with duck meatballs ladled with liver & onions and a spicy marinara sauce, flowing under a blanket of melted Lancaster Swiss cheese.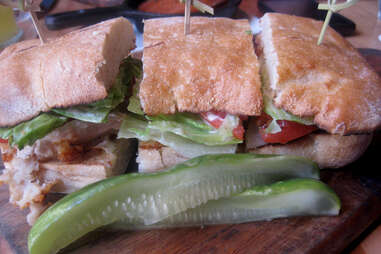 Buttermilk Chicken, The Twisted Tail
Old City/Society Hill
This Old City Southerner's buttermilk-brined bird's batter-fried, then piled high on a pickle-filled ciabatta roll and -- unlike what you're about to do with it -- split three ways.
The Banh Mi, Rotisseur
Rittenhouse Square
Slow-roasted rotisserie bird melts in your mouth after you crunch your way through crispily pickled red cabbage, raw jalapenos, cucumber, and hand-torn crispy chicken skin that could only taste better after you smother it with one of nine hot sauces, from banana to Sriracha. And if you really want to up your game, opt for the duck confit.