The Philly cheesesteak has been so long synonymous with the City of Philadelphia's cuisine that, despite being a magnet for reality show-winning chefs and James Beard-winning restaurateurs, we still can't quite seem to shake the stereotype. This has also caused some oversight of the non-cheesesteak sandwiches holding their ground in Philly -- from classic roast pork creations to vegetarian wunderkinds. Hence, this list. These are very best non-cheesesteak sandwiches Philly has to offer, and we recommend eating every one of them as soon as possible. (One of these spots even made our list of the best sandwich shops in the US.)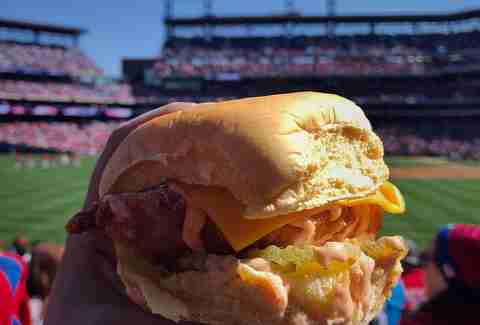 Fried Chicken Sandwich
Federal Donuts
Multiple locations
Federal Donuts has more than mastered the irreverently perfect combination of fried chicken and donuts, so it's only natural that its first shot at a permanent menu item -- the fried chicken sandwich -- is equally masterful. After premiering at Spruce Street Harbor a few weeks ago, the item became a full-time offering thanks to its perfectly crisp boneless chicken breast with buttermilk ranch seasoning and FedNut's signature Rooster Sauce on a potato roll. 
The Surfer
Middle Child
Washington Square West
Middle Child is Washington Square's budding shop for artisanal deli sandwiches without the froo fra. Besides offering a mean breakfast sammie, Middle Child's small but mighty lunch menu offers not only the vegan-friendly Phoagie, but also two elevate turkey options, where a blueberry-masala jam offers a sweet cut through the turkey, swiss, arugula, and mayo on a Philly Bread ciabatta.
The Polli
Angelo's Pizzeria
Bella Vista
Other than offering line-inducing pizzas that just keep selling out, Angelo's Pizzeria also has a stacked menu of big, beautiful sandwiches, satisfying both the Philly standard for cheesesteaks and roast pork, as well as chicken cutlets, parm, and more than a dozen specialty sandwiches. One stand out, though it's hard to pick, is the extra thick Polli, packed with chicken cutlets, fresh mozz, prosciutto, Parmesan, and dripping with extra virgin olive oil, all in a freshly baked seeded loaf.
The Bánh Mì
Artisan Boulanger Patissier
East Passyunk
This classic South Philly bakery has always had some hidden surprises, but this one is now a bonafide classic. Enjoy your baguette with an extra punch of crunchy pickles and pate outfitted in the sourdough.
The Schmitter
McNally's Tavern
Chestnut Hill
McNally's is one of Philadelphia's oldest bars and restaurants, operating for almost 100 years in part thanks to its legendary sandwich, the Schmitter. The infamous item was created in Chestnut Hill as a quasi-solution to someone's request for pizza on their cheesesteak. Instead, the owner crafted a "special sauce" still used today, fixed somewhere between the three layers of cheese, the grilled salami, the tomatoes, the fried onions, and the steak, all of which lives in a fluffy kaiser roll. You can get it at stadiums and beyond, but there's nothing quite like biting into a Schimitter in the tavern itself.
The Breakfast Sandwich
Res Ipsa Cafe
Fitler Square
Breakfast sandwiches are enough to prompt their very own listicle, but considering that Res Ipsa serves "brunch" until 3:30pm every day, their ultra fresh and scrumptious twist on a traditional breakfast sandwich had earned a spot with the big guns. It's served on an English muffin featuring egg frittata, Asiago fresco, and salsa verde, with customizable extras (bacon, spinach, potatoes) to make it truly your own. 
The Cubano
Lolita
Midtown Village
This modern Mexican spot on the 13th Street restaurant strip offers the traditional tenants of a good Cuban sandwich, but extra. The Cubano comes layered with bacon, caciocavallo cheese, roasted pork shoulder, and ham, as well as cabbage and pickles if you're looking to satisfy a bigger crunch. The roast pork makes it a distinctly Philly take on a classic. 
Mama's Meatballs
Santucci's
Multiple locations
For most, Santucci's is synonymous with some thick, square, upside down pizza, but that doesn't mean the rest of its extensive menu should be overlooked. Among Santucci's many feats is the quintessential meatball sub, made with sharp provolone, marinara, and a sprinkling of Parmesan. It's served on a fresh seeded Italian roll, though you should probably get fries, too, to soak up any extra sauce. 
Roast Pork
DiNic's Roast Pork
Market East
The roast pork sandwich is Philly's actual best sandwich for those who know better (sorry, cheesesteaks), and DiNic's is in the top most stratosphere in that sandwich genre. Head to Reading Terminal to get mounds of tender, slow roasted pork heaped on a roll. Many will say the best way to eat it is just plain, but some broccoli rabe and provolone don't hurt, either. 
Roast Pork
John's Roast Pork
Pennsport
Of course the titular sandwich of John's is one of the most beloved in Philadelphia. Like any good sandwich of this genre, it shines when kept simple. The freshly baked Carangi Bakery sesame seeded roll is home to cooked-to-order meat dressed in five slices of provolone (mild or Cheddar). Of course you can dress it up with as much condiments and veggies as you like, but really... why not save room for optimum pork instead?
The Gump Daddy
Poe's Sandwich Joint
Fishtown
Poe's has been slinging "high class munchies" since late 2018, with a kitchen that's open late to satisfy all kinds of cravings. Anything off the 10-sandwich menu is an inevitable win, but Poe's get extra points for offering a few veggie options that are legitimately crave worthy (and filling). The Gump Daddy offers crusted eggplant bathed in house marinara, grated Parmesan, and whipped scallion ricotta, all on a nice big roll from Sarcone's. 
Sign up here for our daily Philly email and be the first to get all the food/drink/fun in town.