The 11 Best Seafood Restaurants in Philly
From fried summer specialties to opulent raw bar towers.
Philly may not have a signature seafood dish like our Eastern seaboard neighbors in Maryland and Maine. But folks in this town love a fresh catch just as much.
From laidback fish & chips that taste like summer to dynasty establishments with imports straight from the Mediterranean, seafood in Philly is no joke. Whether you're after artfully stuffed lobster, towering raw bar spreads, or an endless amount of crab legs, here are our picks for the best restaurants to score seafood in Philadelphia.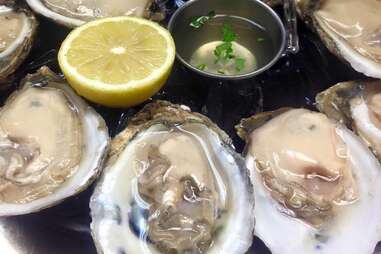 Italian Market
A quintessential stop for seafood, cocktails, and a full-on fish market, Anastasi is not to be skipped in your Philly seafood journey. Start sampling by clams casino, grilled oysters, and signature seafood bruschetta, or move on to a seafood pasta option, whether you're craving lobster fra diavolo or crab mac n' cheese. Anastasi fits the bill for either a casual seafood snack or a premier multi-course feast, so choose your own adventure here.
How to book: OpenTable
Port Richmond
This crab bar and dive pairs fish & chips, beer mussels, and so much crab—along with some other tavern fare—with craft beer in a casual neighborhood setting, because obviously Alaskan snow crabs are better with shoestring fries. There are also a few sandwich options that mingle the traditions of Philly's favorite hoagies with ocean fare.
How to book: Walk in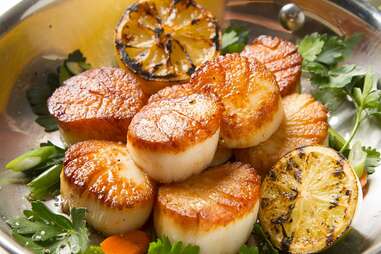 Rittenhouse
With a coveted spot overlooking Rittenhouse Square Park, Devon is a staple of not only seafood in Philly, but in the general upper-crust dining world. Devon is a true believer in the art of the fresh catch, so trust you will have some of the best-sourced seafood dishes in town. This is even better when paired with steak for a little surf n' turf action, or you can try the seafood mixed grill for shrimp, scallops, crab cake, salmon… a little bit of everything. No matter your choice, it's the kind of food that always tastes better outside.
How to book: Via website
Avenue of the Arts
The upscale favorite in Center City specializes in the whole fish. And not just any fish; Estia's Greek-centric menu is best known for featuring fish directly flown in from the Mediterranean. If you're not quite hungry enough for that, there's always lobster linguini or charcoal-grilled swordfish a la carte.
How to book: Reservations via Opentable and takeout via website
East Passyunk Crossing
Gabriella's brings Vietnamese fare with a big focus on seafood, including fish platters, king crab fried rice, and charbroiled seafood. Consider the whole branzino grilled in banana leaves, the wok-fried red snapper, or the crispy soft shell crab. The BYOB offers family-style servings and Sunday brunch.
How to book: Via Resy
Bella Vista
Scallop toast, Spanish octopus, and tuna tataki are just a few of the creative seafood-centric morsels you can find at this essential Philly BYOB. Expect the menu to change often, as the restaurant is known to switch things up frequently so they can keep using ultra-fresh ingredients.
How to book: Via Resy
Old City
Chef Jose Garces' reinvention of the former Bookbinder's space has held a solid seafood legacy in Old City for a few years now. The menu features a gorgeous raw bar tower, seafood rolls, and entrees best enjoyed with tater tots and crab fingers. You can also have lobster in a variety of ways, whether you prefer it in a puff pastry pot pie or stuffed with crab.
How to book: Via OpenTable
Rittenhouse
Some of the best crab cakes in the city reside at Oyster House, the long-running family-owned restaurant from Sam Mink that's big on all things East Coast-style seafood. Pretend you're island hopping off the coast of Maine as you indulge in a whole steamed lobster or the clambake for two, which comes complete with mussels, potatoes, and garlic butter.
How to book: Reservations via Resy and takeout and delivery via Caviar
Washington Square West
Who doesn't love a seafood-centric brunch? Lobster Benedict and smoked salmon omelets are the way to go for earlier weekend dining, but for dinner you can try shrimp and crab gazpacho, seafood bucatini, Brazilian seafood stew, and so many other creative seafood classics that are the perfect mix of comfort and adventure.
How to book: Reservations via OpenTable and takeout and delivery via GrubHub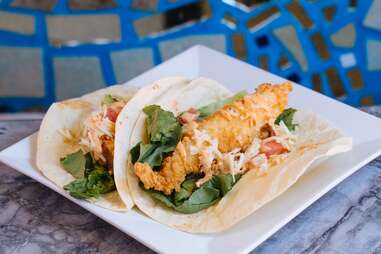 Rittenhouse
This long-running seafood spot has all the casual classics you could be craving, and some surprises, too. Mussels, fried calamari, fried fish tacos, and fish & chips are just a few options, but the spot also offers steamed Maine lobster, crusted sea bass, and a smattering of elevated entrees.
How to book: Walk in or get takeout via website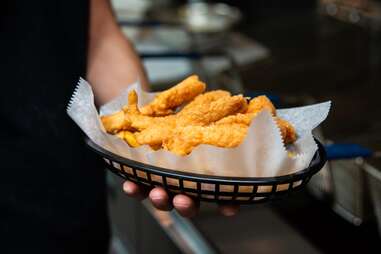 Castor Gardens; Lawncrest
The Shake is all about recreating New Orleans-style ambiance in Philly. The restaurant lets you mix and match your favorite dishes (and control the spice level/sauces) when it comes to crawfish, mussels, crab legs, steamed oysters, and more. The family-friendly spot also evens the menu out with cajun-style wings, hush puppies, and other bar snacks.
How to book: Walk in or get takeout via website
Sign up here for our daily Philly email and be the first to get all the food/drink/fun in town.
Marielle is a writer from Philadelphia. Follow her on Instagram and Twitter @MarielleMondon.