What Makes Philly Soft Pretzels So Damn Good?
Neal Santos/Thrillist
Neal Santos/Thrillist
Soft pretzels are the New York hot dogs of Philly: a quick, cheap, delightful street snack that's just about everywhere you look.
You'll find them at food carts and newsstands on street corners and in front of busy office buildings throughout Center City, where passersby can grab a quick breakfast. They're sold to school children, served with spicy mustard or beer cheese at bars and restaurants, ordered alongside popcorn at movie theaters, and brought by the boxful to parties, tailgates, and anywhere Philadelphians congregate.
With a shiny skin ranging from golden to chestnut brown, formed in the classic pretzel shape or pressed into rows of pull-apart knots, buttery and tender or crisp-crusted and dense, pretzels just don't look the same outside of Philadelphia.
How did Pennsylvania become Pretzelvania?
According to food historian William Woys Weaver, the knotted pretzels we know today evolved from Celtic harvest knots, decoratively woven artworks made from dried and braided wheat straw. Germans absorbed this cultural practice as they migrated into the Rhineland from northern Europe. The shape was associated with the Celtic deity Lugh, he says, who watched over bakeries. (Praise you, Lugh.)
"You have to realize that, at one point, about one third of Philadelphia was made up of German neighborhoods," Weaver says. "The German-speaking world was and always has been a large part of the Philadelphia food story."
Weaver pinpoints the first mention of pretzels in Philadelphia to a German immigrant from Baden-Württemberg (aka bonafide pretzel country) in 1818. Around the turn of the 20th century, Italians ended up playing a role, taking over the city's pretzel trade as bakers and hawkers. Kids carried boards of bagels on their heads throughout neighborhoods to sell their baked treats -- not unlike the streetside selling you see all over Philly today.
Where do these pretzels come from anyway?
Philly native Alissa Harris remembers getting pretzels from the food carts outside Franklin Institute science museum as a kid. "There were just kind of like, one guy, and you had hot dogs and pretzels. It wasn't a proper big business or anything," she said.
There's a good chance those pretzels Harris remembers were made by Center City Pretzel, which bakes thousands of pretzels for wholesale and retail from its storefront in South Philly's Italian Market. Center City's pretzels are crusty and craggy on the outside, moistly dense and soft within -- shaped in the classic Philly way to produce an ovular shape, and baked lined up in a close-set row so they stick together. Walk into the tiny alcove at the front of the massive, garage-like bakery, request pretzels, pay cash, leave. (It's that same no-nonsense mentality that makes cheesesteak orders just as abrupt and effective.)
"Word of mouth has always been our thing," says Erika Bonnett, a manager at Center City Pretzel, which her father started 40 years ago. In that time, they've never advertised, but generations of families and small business owners have patronized the shop. "Grandfathers and great-grandfathers used to purchase from us, and whoever took over their business over, they told them where to buy from."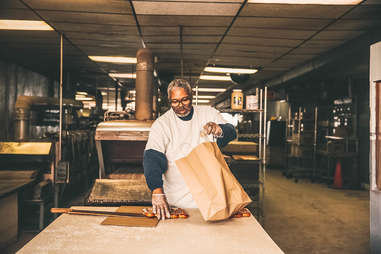 Aside from the fact that almost everyone can eat them (there's no dairy, soy, or eggs in Center City's recipe) Bonnett sees soft pretzels as a food that only Philadelphia can truly claim to be the best. "It's Philly's iconic food," she says. "Everyone talks about cheesesteaks, but everybody makes cheesesteaks now. We're known for our pretzels in this city -- they really represent us."
Another institution is Philadelphia Soft Pretzels, tucked away on a quiet residential street in Lower Northeast Philly's Frankford neighborhood. Just look for the beige-colored corrugated awning with a twist of dough painted on either side. There, second-generation baker Joe Sidorick, whose father launched the business in 1968, wakes up at 1am on weekdays to turn hundreds of pounds of dough into thousands of pretzels, destined for schools, corner stores, and neighborhood residents.
Sidorick wouldn't reveal how he gets his pretzels so light and fluffy, with a pleasantly snappy exterior, but he did walk through the process. "It's a combination of ingredients, how long we proof them for, how long we chill them after the proof, and then the time and temperature of the baking -- a lot of little things," he said.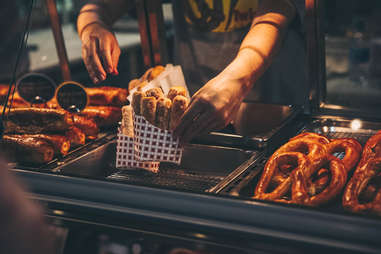 A tale of two pretzel styles
But in the counties surrounding Philadelphia, you'll see another kind of soft pretzel -- the one the Auntie Anne's in your local mall is trying desperately to replicate. At Amish markets from the suburbs out to Lancaster County, the pretzels are baked golden, brushed with butter and soft like a Parker House roll. These pretzels come unattached and are formed in the classic pretzel shape, just like hard pretzels in a bag.
At Miller's Twist in Philly's historic Reading Terminal Market, owner Roger Miller and his crew bake these rich, tender pretzels, giving them a milder alkaline dip in baking soda so that the crust stays delicate. "It's all about the freshness," Miller says. "You have a crisp outside and a really moist inside. It's not like a regular hard, chewy Philly soft pretzel."
Less durable than their city cousins, Miller notes that these Amish-style soft pretzels should be torn into immediately upon purchasing. Miller's Twist also perfected another Amish market staple: pretzel rolls, a thin layer of soft, salt-studded dough baked around hot dogs or sausages, breakfast meat, eggs, and cheese, or -- his own innovation -- Philly cheesesteak.
Either way, eat 'em hot and add mustard
Whether you favor the dense, chewy street-style pretzel over the softer, butter-brushed Amish variety, your best bet is to consume them while they're good and hot. Once they've gone cold, they stiffen up a bit, and the experience just doesn't compare.
And where there are pretzels, there is almost guaranteed to be a pump-your-own tub of courtesy mustard, which is as closely associated with them as ketchup is to French fries. Of all the types -- yellow, horseradish-spiked, etc. -- spicy brown is by far the most popular. Cheese is the other go-to: beer cheese at your better bars and gastropubs, and industrially produced cheese dip everywhere else.
As with most regional delicacies, it's best to eschew soft pretzels from chains in favor of local makers. Consider Wawa and Philly Pretzel Factory, a serviceable if unremarkable regional franchise, your last resort. As much as Philadelphians love their hometown convenience store chain, their pretzels are just okay -- and because they're bagged in plastic, often wet. This is caused by the salt pulling moisture from the pretzel, which makes them dry out more easily while collecting moisture on the crust.
Head to these Philly bakers for the best soft pretzel experience:
Center City Pretzel Co.
Italian Market
Craving a very late-night or early-morning pretzel? This South Philly mainstay produces chewy, tear-apart strips of hand-formed pretzels for wholesale accounts across the city. For years, the Pretzel Ride, a weekly midnight trek that started at the steps of the Philadelphia Museum of Art, ended there with celebratory with fresh filling, and cheap pretzels. The bakery has since changed its hours, so the Pretzel Ride is no more -- but it's still the perfect place to get an extra-late-night carb fix, grab a quick and portable breakfast, or pick up a bag of the chewy, salty treats for a crowd between 4am and noon. Center City Pretzels offers takeout and is also on Grubhub and Uber Eats.
Philadelphia Soft Pretzels
Frankford
Another early-morning spot (open 5-11am on weekdays, 6:30-9:30am on Saturdays), Philadelphia Soft Pretzels has been baking in this North Philly neighborhood for more than 50 years. Each of its fluffy golden twists is formed by hand, and the recipe they use is kosher certified. Fifty cents gets you an airy knot, lighter in texture than Center City's with a more forgiving crust, still slick and shiny from its pre-oven lye bath. Philadelphia Soft Pretzels offers takeout.
Miller's Twist
Market East
The tender, buttery pretzels at this Amish-style stand at the edge of Reading Terminal's "Dutch Corner" are a must-try when visiting the historic downtown market. The joy of tearing into the pure, buttery goodness of its standard soft pretzel truly can't be beat. For more of a meal, pick up a pretzel-wrapped hot dog, sausage, or Philly cheesesteak. Or, before 10:30am or so, enjoy a soft pretzel-breakfast sandwich mashup: a pillowy layer of salted pretzel dough enveloping scrambled eggs, melted cheese, and bacon or sausage. Reading Terminal Market is currently offering free home delivery.
Lost Bread Co.
Kensington and Northern Liberties
This boundary-pushing artisan bakery works its grain-based magic out of Craft Hall, a restaurant, bar, and production facility that functions as an ode to the wonderful things humanity can do with grain. Craft Hall's expansive tasting room is also one of the only places you can get one of Lost's hefty-yet-fluffy soft pretzels, which gets a body and flavor boost thanks to the addition of nixtamalized corn. Leftover pretzels are upcycled into pretzel shortbread, an ingenious sweet treat with a sandy cookie texture that has ground-up stale pretzels mixed into the batter, a lye dip for a signature deep-brown sheen, and a liberal sprinkling of salt. Pick up a pack at a local gourmet grocer.
Sign up here for our daily Philly email and be the first to get all the food/drink/fun in town.