No cheesesteaks: the 5 best beef-slingers in Philadelphia
You already know where to go for the city's best cheesesteaks, but where do you go for just steak that isn't covered in whiz and isn't from a chain? Luckily, we've found the 5 sweetest answers to that question right here:
5. Barclay Prime
Rittenhouse Square
This trendy Stephen Starr spot earns its... um, spot on our list thanks to meat options like the 28-day dry-aged 16oz NY strip, and the 18oz Gachot prime dry-aged ribeye. Not enough for you? There's also the 24oz dry-aged porterhouse. Still not enough? How about the 50oz Tomahawk ribeye, or maybe some sliders? Seriously, you should be full by now!
4. Bridget's Steakhouse
Ambler
The location hurts its ranking, but it's worth the drive for a relaxed, modern take on the steak spot. Bridget's offers up things like a 16oz spice-rubbed ribeye w/ horseradish cream & crispy onion straws, and a surf n turf "Butcher Block" w/ two 5oz lobster tails, one 10oz filet mignon, jumbo shrimp, day boat scallops, and a shton of other stuff.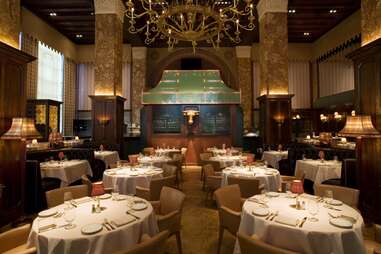 3. Butcher & Singer
Rittenhouse Square
It's got an old-Hollywood vide, a raw bar w/ crab legs & fresh shucked bi-valves, plus a "steak & chops" that, thankfully, is just plain old school: try the Delmonico or their signature porterhouse.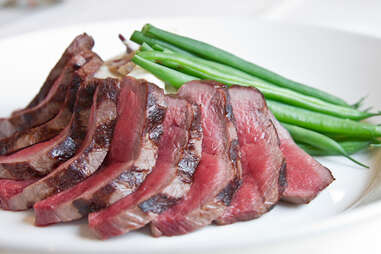 2. Creed's Seafood & Steak
King of Prussia
A staple since 1982, Creed's has a slightly stuffy air that suggests people are here for serious business... eating a 45-day dry-aged authentic Angus 16oz porterhouse w/ their sour cream-red bliss smashed potatoes, garlic buttered haricot verts, and a choice of a classic sauces.
1. Buona Via
Horsham
A raucous Italian joint with a sprawling dining room where you can chow (err, ciao?) down on authentic boot-foods, including a filletto di manzo, which is a 12oz center cut beef in a Cognac-Barolo wine sauce.