Philadelphia's Best Strip Clubs, Ranked by Their Food
There's a certain distinction that comes with the term "dinner and a show." It could mean a fancy night out on the town: an expensive meal at a top-rated restaurant followed by a Broadway performance. But there's more to life than five-star eateries and box office successes.
While not necessarily considered traditional dining establishments, there are a number of adult entertainment clubs in the Philadelphia area that serve up food with menus that you shouldn't turn your nose up at, from traditional bar fare to some legitimately well-prepared steakhouse meals. That is, in addition to the main attractions, of course.
Sure, these clubs are known for the talent on the stage, but what about in the kitchen? We gave six area clubs a try and ranked them based on a number of criteria: eating environment (i.e., Did the club smell like an old ashtray combined with Clorox bleach? Were there candles burning?), presentation of food, taste of dish, variety of menu options, and the overall aesthetic and layout of the club to reach our final consensus. So the next time you're in the mood for dinner and a show, consider something a little outside the box.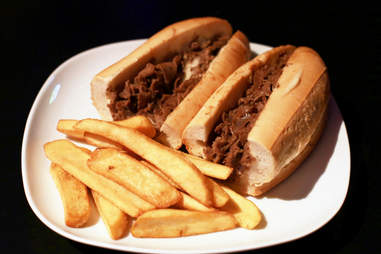 Gabrielle Bonghi/Thrillist
Pennsport
Eating on a budget has hardly ever been easier than at Club Risqué. From noon until 3pm on weekdays, enjoy a meatball Parm sandwich, turkey club, chicken wrap, spring mix salad, burger, or cheesesteak with a side of fresh steak fries completely free of charge. No cover, no guilt trips. Come after 3, though, and you'll have to pay for your meal, but there's an expanded menu with heartier pasta dishes and entrees like salmon. Then there's the late-night menu, served until 4am on Friday and Saturday where you can get your breakfast burrito fix. While the salad had no dressing and the salmon left a fishy aftertaste, Club Risqué's food is on par with that of a neighborhood diner. But hey, what do you want for nothing?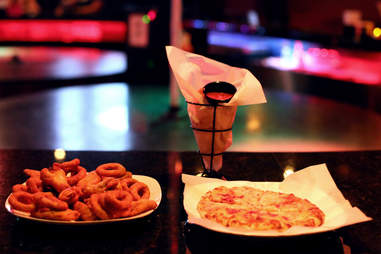 Gabrielle Bonghi/Thrillist
West Deptford, New Jersey
Nestled off a dark road in West Deptford, New Jersey, Club Champagne exudes an ambiance that feels more like a fine-dining establishment than one for adult entertainment. Just off the main bar area is a cozy lounge nook where you can feast without having to sit barside. Club Champagne is a BYO establishment with a menu of predominantly fried foods. However, you can also order a curious bunch of Italian dishes, including an affordable $3 personal pizza, the tri-colored tortellini in a parma rosa sauce -- a new addition that's perhaps the most flavorful item on the menu -- is where it's at, if you ask for it. If you're in the mood for inexpensive dive bar food (think lightly sauced wings and fried ravioli), this is the spot.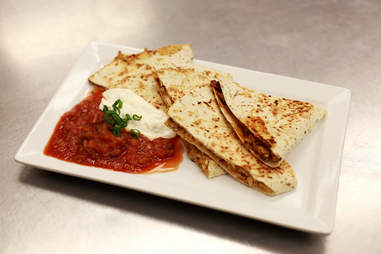 Gabrielle Bonghi/Thrillist
Southwest Philly
Stop by the concession stand-like window just to the left of The Oasis' entrance for a quick bite. With a menu serving both bar favorites like wings and quesadillas and heartier meals like burgers, steaks, pasta dishes, and sandwiches, the weekday chef also whips up a changing list of special additions. During our visit, the not-inexpensive $34 New York Strip (pun intended) was one of our options. While the meat had very little fat and was tender, the flavors were overwhelmed by an abundance of A1. But paired with the heaping pile of potatoes, you won't go hungry. The weekends are when you'll find an Asian twist to the menu here. Though given the combination of upscale and finger foods, the overall menu personality felt a little off kilter.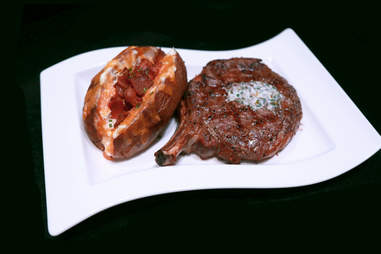 Gabrielle Bonghi/Thrillist
Old City
Carnivores rejoice: Delilah's steaks are hearty crowd pleasers. As some of the establishment's top sellers, diners have three options for their cut red meat, including prime strip steak, filet mignon, and bone-in ribeye -- all of which come with a veggie or starch side. (But definitely go with the loaded baked potato topped with bacon and cheese.) The Zagat-rated menu also includes an Asian chicken salad, comparable to ones you'd expect from fast-casual salad places, steamed little neck clams -- a heaping serving of them -- and crab cakes, a little on the over-spiced side. Overall, a completely serviceable meal.
Gabrielle Bonghi/Thrillist
South Philly
Why go to Applebee's when you can go to Cheerleaders? With a sprawling menu that includes sushi, seafood, and a constantly changing specials menu, Cheerleaders puts as much thought into its food as almost any eatery. The cheesesteak egg rolls rival Stephen Starr's Continental Midtown (seriously) and the salmon was more flavorful in comparison to higher-end area restaurants. There are even vegetables on the menu -- that salmon dish comes with broccoli. On top of that, everything is made fresh to order by the on-site chef. You'd be remiss not to order the steak teriyaki fries if you're stopping by for a late-night chill sesh.
Gabrielle Bonghi/Thrillist
Port Richmond
On an otherwise dark and unassuming street in Port Richmond, the illuminated Penthouse Club is a beacon amongst gas stations and fast-food joints. A red carpet leads you into the club where twinkling lights, ornate chandeliers, mirrored walls, and two rows of booth seating create an elegant, voyeuristic setup surrounding a long runway. Most of Penthouse's menu items skew on the higher end like fish and steak dishes, though it's not without the quality of materials to back it up -- the Club succeeds in serving meals that are hearty but won't make your stomach ache after. The salmon was fresh and flaky and top-tasting out of any strip club. Paired with garlic mashed potatoes and steamed broccoli, the whole meal was light and, dare we say it, healthy. If you're particularly hungry, the house cheeseburger is massive and a fan favorite. If you're really looking to ball out, opt for the Executive Platter: For $85 a person, you'll get filet mignon, coconut shrimp, shrimp cocktail, salmon, chicken Marsala, and lobster tail.
Sign up here for our daily Philly email and be the first to get all the food/drink/fun in town.
Allie Volpe is a writer based in Philadelphia. She enjoys a great strip club steak and sad music. Follow her on Twitter: @allieevolpe