As the spread of COVID-19 has officially put Philadelphians indoors until further notice, local businesses are doing what they can to stay alive as the service industry gets hit hard. Top restaurateurs such as CookNSolo (the team behind Zahav, Federal Donuts, Abe Fisher, and many others) are raising money for hourly staff members with a gift card fundraiser that the owners will match. CookNSolo and a slew of other local restaurateurs -- including Marc Vetri, Stephen Starr, and Ellen Yin -- are also pulling their weight to advocate relief for service industry workers ASAP. Meanwhile Philly-based retail chain Free People is organizing a $25,000 fundraiser for Philabundance to help neighbors impacted by the crisis.
It's easy to feel helpless right now, but one action we can take while staying housebound? Delivery and takeout. With strict cleanliness procedures in place, most of the city's top eateries have a new plan to bring you food in exchange for a better chance to afloat. Take a look below at some Philly to-go dishes to help us all cope with this unprecedented time. From quick comfort food to multi-course dinners for two, these are items you can order today.
Recommended Video
Ghost Kitchen: How This NYC Restaurant is Responding to Coronavirus
What food is more comforting (and good as leftovers) than mac n' cheese? The Philly food-truck-turned-storefront is doing quick order-ahead takeout from its 18th Street shop, as well as discounted delivery during the COVID-19 outbreak. To help support its employees, Mac Mart is also accepting $1, $2, and $5 donations on Venmo (@SweetPoiMac) during this time. As for the Rittenhouse blend, expect creamy garlic and artichoke dip over cheesy mac with an extra panko chip crunch. And the best part is you can always upgrade to a tray size. It's a pretty good option when you have literally nowhere to be except at home.
Cost: $9.50; order from Caviar and Uber Eats
This doubles as a meal AND a fun home activity. Roll up your sleeves and try to create Dock Street Brewery's uh-mazing pizza on your own. Both brewery locations are offering no-contact beer takeout, its full menu, and the pizza kit option, which comes full of everything you need to make a nice little pie from the comfort of your home (including vegan options). Kits make a 10-inch pizza, because sharing is not caring right now. 
Cost: $15-$17, order from website
Bud & Marilyn's, as well as sister restaurants Little Nonna's and Barbuzzo, are translating the dining out experience as best they can by offering daily dinner for two specials for delivery and take out at a fixed rate. At Bud & Marilyn's, that means scoring main courses like buttermilk fried chicken or stuffed meatloaf alongside Brussels sprouts, garlic mashed potatoes, roasted veggies, buttermilk biscuits, and a slice of cake for dessert. It's perfect for still making a birthday or anniversary special while quarantined. Make sure to check out the dinner for two specials from Little Nonna's and Barbuzzo as well.
Cost: $49; order from Caviar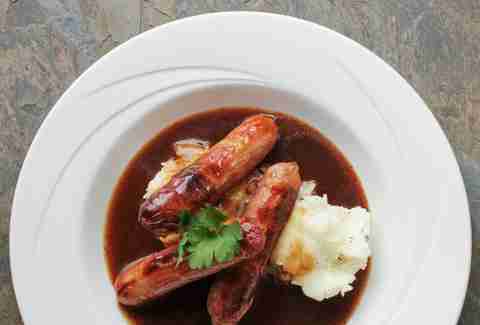 Fork has been open in Old City since 1997, and as COVID-19 forces its doors to close, the restaurant is still doing its part to feed patrons and those in need. Everyday Fork will be preparing a special Staff Meal, inspired by the meal Fork's staff usually eats together before opening doors to the public. Call ahead daily for pickup from 3pm to close, and those in need can get the meal free of charge. The deal changes daily, but over the last week has included a main dish (chicken parm, duck sausage) with sides and dessert. The fuller menu is also available for delivery on Caviar.
Cost: $20; call ahead to order
It's not always easy to find good wings in Philly, but Rex's Southern-inspired menu has three varieties you can mix and match -- through the molasses chipotle is definitely the best. The South Street restaurant is available for delivery, so you can order a six- or 12-wing option, or go really wild and upgrade to the catering trays. You have plenty of time to eat it all. If you can pick easily, Rex is open for food takeout as well as wine bottles and six-packs of beer.
Cost: $10; order from Caviar
All locations of Han Dynasty are open currently for delivery and pickup, with a special perk for employees of the hospitality industry, who are likewise taking a particularly big hit during this time. If you can show proof of hospitality employment during pick up or delivery, you're entitled to a 20% discount on everything you order. So stock up on lo mein, scallion pancakes, and the flash-fried crab seasoned with dry pepper and chili oil. 
Cost: $32; call or order on Caviar
Get your fix for Indian cuisine at Veda, open for delivery and pickup with most of the menu available. Go all in with the thali specials, available with vegetarian and with gluten-free preferences, too. You'll get to select your preference of naan, sides, spice level, and dessert to make the home dinner feel as restaurant-worthy as possible.
Cost: $37; order on website
Old City's Twisted Tail is offering free delivery to anywhere within a three-mile radius, meaning you can order off its breakfast, lunch, and dinner menu all day long -- plus there's a kids' menu and if you're cooped up with your offspring. To sweeten the deal, the spot is also delivering cocktail mixers -- i.e., pints of what you need to make margaritas, Bloody Marys, or punch (just add the booze at home) that are even better with a plate of beignets. 
Cost: $16 ($8 per pint and $8 for beignets); call or order on Uber Eats
Bluebird is headquartered way out in Phoenixville, but the distillery is delivering to all five surrounding counties (Philadelphia, Bucks, Montgomery, Chester, and Delaware) to ensure you have your spirits when necessary, plus delivery is free with the code LOCALLOVE if you live within 15 miles. Browse your favorites here, and you can always throw in a 2.5-gallon order of housemade hand sanitizer if that's something that speaks to you. 
Cost: $39; order on website
Most of Bar Bombón's plant-based menu of Latin fare is available for delivery. Go all out for the chips and guac you've been craving along with some signature vegan dishes, including the empanadas made with corn pico de gallo and "cheese" sauce with spicy ketchup. 
Cost: $10.50; order on Caviar
Bubblefish's delivery fee is waived for most in-city deliveries, so if you're flying solo and trying to treat yourself, you can't go wrong with the aptly named sushi and sashimi platter for one. This gives you eight pieces of sashimi, five pieces of nigiri, and a spicy tuna roll to help pass the time. You can also order similar platters suited for two or three people (or, you know, just yourself, which is more than acceptable).
Cost: $21,95; order on Uber Eats
Pizza Gutt's new Kenzo home, Circles + Squares, is making big efforts to stay open during this time, implementing a temporary delivery service as well as strict restrictions on pick-up orders. Pizza Plus has all you need to order a crispy crunchy thick heping of pizza, plus soda and lemonade if that's what you're craving.
Cost: $9; order on Pizza Plus
Sign up here for our daily Philly email and be the first to get all the food/drink/fun in town.