For many unrepentant meat eaters, a meal just isn't a meal unless it comes with a big slab of cooked animal. But the honest truth is, some vegetables -- when done right -- can be really good (we're talking better-than-meat good). Don't believe us? Just try eating at one of these 13 vegetarian restaurants in Philly. You might find yourself trading in that steak knife for good.
Recommended Video
Timothy DeLaGhetto and David So Light Up Houston's Hops n' Hot Sauce Festival
Washington Square West
If you made a shortlist for best vegetarian restaurants in the country, Vedge would certainly be included and would more than likely take top honors. The vegan food from chef Rich Landau and pastry chef Allison Ford is the 1975 Philadelphia Flyers of vegan eats. It's that good. Like, good enough to make you never think about eating another piece of meat again. Which would only be possible if money grew on trees, as Vedge is a little bit pricey for everyday dining. Then again, if money did grow on trees, it would probably wind up on the menu at Vedge, and it would be transformative.
Society Hill
When you're the city's only all-vegan pizzeria, the bar -- for better or worse -- is set pretty low. And yet, the folks at Blackbird Pizza have upped the vegan pizza game to a point where we're not sure if it's really worth anyone else trying. Aside from having multiple pizza options, Blackbird is also serving takeout staples like chicken parm and wings (!) -- like, real takeout food, only vegetarian. These guys are onto something.
Rittenhouse Square
While the menu is a bit small at Mama's, the kosher Middle Eastern restaurant just off the square, it does everything almost to perfection. Here, you can't go wrong with anything involving the falafel -- in a platter, pita, straight to the mouth. Yep, the falafel is prettay, prettay good (*Larry David voice*).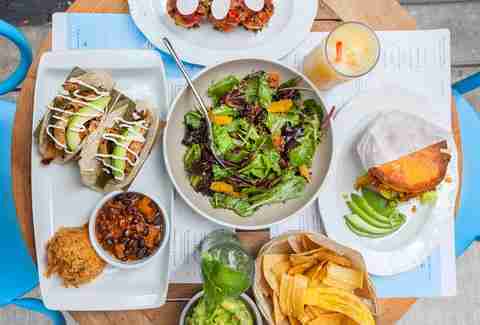 Rittenhouse
Meet Bar Bombón, the newest addition to chef Nicole Marquis' growing vegan empire (she's also the brains behind HipCityVeg and Charlie was a sinner.), focusing on Latin-themed dishes. Though everything from the smoked prickly pear margaritas down to the two kinds of house guacamole are all sorts of delicious, the tacos are the real standout. Served on fresh tortillas, their traditional meat fillings have been replaced with vegan alternatives made with non-GMO soy or ancient grains. Top choices include the buffalo cauliflower, pescado (mock fish), and Albondigas, featuring house-made (mock) meatballs, broccoli rabe, banana peppers, and pimento cheese.
Rittenhouse Square
V Street, Vedge's less-expensive sister restaurant/bar in Rittenhouse Square, has been immensely popular since opening in October 2014. At the more casual V Street, you'll share small plates from the ethnic, street food-inspired menu. Happy hour is always packed, but thankfully, the restaurant now takes reservations.
University City
Not technically a restaurant (it's a food cart), but we would be remiss not to include Kung Fu Hoagies on a list of the best vegetarian food in the city. After all, long lines generally mean that it's doing something right. Top choices at KFH include the bánh mì bì chay -- a take on the traditional bánh mì with mock pork made from tofu, yams, and mung bean noodles -- or the veggie-heavy spicy ramen.
Avenue of the Arts
Given that ordering a chicken cheesesteak is pretty taboo around these parts, a mock chicken cheesesteak has to be blasphemy, right? Except at Govinda's, the tiny to-go shop on the corner of Broad and South, the imitation chicken cheesesteak is probably better than what you'll get at half the "authentic" spots around the city serving meat-filled grease bombs. Of course, you could also order one of the many other delicious vegetarian options on the menu, but that cheesesteak is not to be slept on.
Rittenhouse Square/University City
The reality of life is that the busier you are, the harder it is to find something healthy to eat -- a fact that has made Ronald McDonald filthy f*cking rich. But the folks at HipCityVeg might be onto something, offering a full menu of healthy vegetarian fare in the same amount of time it would take you to murder a Big Mac. Some of the most popular items on the menu include the crispy HipCity ranch sandwich, spicy udon noodles, and a berth of Groothies, which incidentally, sound like something made by Groot from Guardians of the Galaxy.
Chinatown
Chinatown's only kosher vegetarian restaurant is the place to get your fix of mock-meat Chinese staples like kung pao "chicken," moo shu "pork," and steamed buns. Many of the dishes are vegan AND gluten-free, making New Harmony possibly the best restaurant in town for anyone with a dietary restriction. Oh, and it's BYO -- isn't Philly the best?
South Philly
Expanded hours now mean that you can stop by 1429 Wolf Street every day for a rotating selection of take-away soups, salads, baked goods, sandwiches, and other vegan goodies. Follow the Commissary's Twitter to stay up-to-date on the latest options, or you could just stop by around lunchtime to see what's cooking. It's probably the easiest option on the list for those people that are, 1) too lazy to cook, and 2) can't tell the difference between a sweet potato and a yam...
Passyunk
And you actually thought we'd make it through here and not mention Miss Rachel's Pantry? No way. While we're pretty bummed that the meal delivery program is no more, there are still plenty of options to get your Pantry fix. Weekdays, try out the market cafe, which is open all day for breakfast (until 3pm) and lunch. On the weekends, there's the criminally underrated Saturday BYOB dinners. For $60, you can join 11 other people for an incredible six-course vegetarian meal, which is one of the best deals in town, vegetarian or not.
Midtown Village
We've already told you how beautiful the interior of Charlie was a sinner. is, and while the Midtown Village bar is a great place to grab a drink (especially if you're sipping the ever-changing Charlie's punch) the food is also quite good. At Charlie, it's best to go with some friends so you can share the small-plates like the bucatini with (meatless) meatballs, smoked cauliflower, and ricotta made from organic local tofu from Allentown, PA. Prices are pretty reasonable, especially if you're able to snag a table or spot at the bar during the Monday to Friday happy hour.
Rittenhouse Square
The unassuming Su XIng House, sandwiched on the section of Sansom St between 15th and 16th, is a vegetarian oasis in the midst of meat central: restaurants Ocean Prime and 500° to the east, meat factory Ladder 15 to the west. It's a favorite of the pro-veggie crowd thanks to the cheap prices, fresh ingredients, and some of the best tofu at any Chinese restaurant in the city.
Sign up here for our daily Philly email and be the first to get all the food/drink/fun in town.