The Best Burgers in Philadelphia, According to Our National Burger Critic
I've wanted to eat burgers in the land of Sylvester Stallone punching meat for many, many years. I've been on a number of eating trips to Philly, but always for cheesesteaks or roast pork, or some South Philly grandma's "gravy." Never for this. Until now.
To help me in my quest, I reached out to my buddy John Gonzalez, a Philly native and former Inquirer columnist, and radio and TV host. Despite being the worst, John provided me with the foundation of a list, and then introduced me to various eating professionals who gave their own lists. I had lists on top of lists on top of cell phone shots of lists. Eventually I managed to narrow it down to the essential 11 places, all of which I visited over the course of 40 hours in the city. Oh, I also brought along my college buddy Ramsey since he lives in Philly and didn't really give me a choice.
In case you're new to my rankings, here are some guidelines: If the restaurant had multiple burgers, I tried to order the signature one, or if that was too outlandish and stunt-y, the closest to a classic cheeseburger. If it came with options, I always picked American cheese and grilled onions. If you think I missed a place, please encourage Buzz Bissinger to release a new version of A Prayer for the City, but with an Author's Note that berates me for picking poorly. In the meantime, here are the 11 best burgers in Philadelphia, ranked: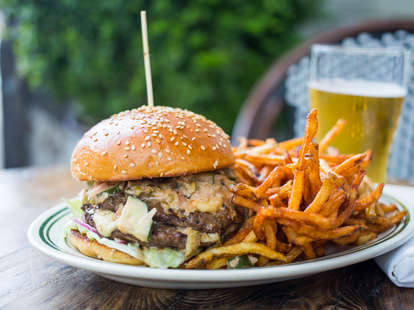 Pub & Kitchen

| Trevor Raab/Thrillist
Pub & Kitchen

| Trevor Raab/Thrillist
11. Rineer Family Farms Burger
I must admit I was confused by the menu here. It was a perfectly nice joint, but any place that serves up both wild boar tacos and gnocchi with eggplant is going to get a question mark from me. But that doesn't really matter -- what does is the burger.

There were two major factors that kept this burger from moving higher on the list. The first was that, almost from the beginning, the bottom bun was soggy, nearly to the point that it was falling apart. The second was that the meat -- which you could tell was quality -- was overcooked for medium, and lost its pink coloring within a few bites, drying out. I did like the smoked Cheddar element, and though the composition was good, those first two issues weighed it down.
10. Royale with Cheese
I was so excited about this burger when I got it. The double stack looked incredible -- exactly the type of burger I love. The pickles and cheese and the entire supporting cast within the burger was all really well executed. Composition was spot on. Bun well toasted, everything. The only issue was one side of each of the burger patties was charred. Not griddled as much as scorched. You could actually taste the burn on the meat.

"This is unfortunate," Ramsey said as he pushed his half aside and I couldn't help but agree.
9. The Good Dog
Many, many people told me to go to Good Dog when I was asking about Philly burgers. It likely got the most votes in terms of volume. And it was popular. I went on a Tuesday night around 10pm, and every seat at the bar was taken, so I had to come back.

When I finally got in, I ordered the Good Dog, their signature pièce de résistance, a Minneapolis-style Juicy Lucy with the cheese stuffed in the middle instead of on top. Lots to like about this burger, starting with the caramelized onions, which were perfectly done and tasted almost like they'd been strained from soup. The bun, though bulky, was soft and fresh, and the meat was clearly of some distinction. The only real issue was the actual structure. As I found out in Minnesota, stuffing the cheese into the burgers makes it hard not to overcook the meat, and I noticed that same issue here. Though I liked the few bites where the warm Roquefort mixed with the caramelized onions and salty beef, it just felt like those outer edge bites were almost a waste. Still a solid burger though.
8. Angus Burger
I loved the atmosphere in this place. It was dark and divey and old episodes of X-Files were playing on the TV in the corner. Next to me at the bar, a couple who clearly met through some kind of online dating app sat making awkward small talk about the episode and whether or not they liked to be tickled (consensus: no!). I loved everything about that.

As for the burger, it was big and strange and like nothing else I tasted in Philly. The smoked Gouda offered a smoky creaminess that combined well with the spicy elements in the chile mayonnaise, and though the meat was overcooked, it was fresh-tasting. The bacon seemed needless as the burger was already very salty, and it was begging for some more acid for balance, but still, this was a weirdly addictive burger. Also, pro tip: Don't tickle anyone you meet on the internet.
7. P&K Cheeseburger
This Rittenhouse pub made me nostalgic for the East Coast, where bars and buildings have serious history and all seem built for humans who were maybe 60% our size. Yes, claustrophobic tight spaces make me miss home, WHY IS THAT WEIRD?

Anyway, the P&K cheeseburger is served on a great bun, springy and squishy with a good toast. Though it was slightly overcooked (sort of a theme in Philly), the meat had a loose grind and was flavorful. I could get picky (in lieu of lettuce, there was a tart bitter green I wasn't very into), but this is a very solid pub burger, and we can leave it at that.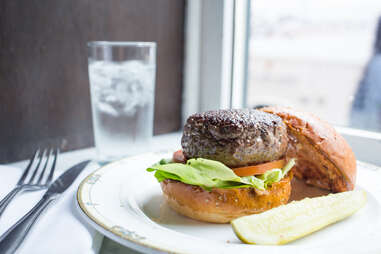 6. Village Burger
This is one of the only Philly burgers I'd had before this trip. I remember being a huge fan, so I was curious to revisit it. The first thing I noticed was the crust: both sides were peppery and well-griddled. The bun, soft and supple, was fresh from Metropolitan Bakery. The meat was perfectly cooked as well, but it was so juicy at the beginning that the bun was nearly soaked through by the third bite. Combine that with the lack of a major acid agent to hold up to the meat (the homemade Thousand Island was good but lacked enough pickle to make a difference), and VW stays at 6.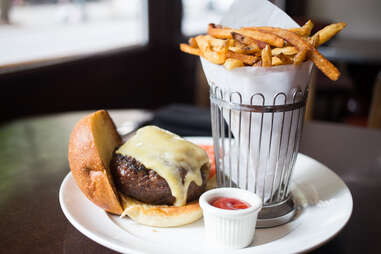 5. Rouge Burger
Rouge was the first burger place I visited when I got to Philly, and as I bellied up to the bar around 7pm on a Tuesday, two liquored-up women came in too. One of them told me she was leaving her job for another where she made "$40K more and did half the work" and then she began eating my truffle Parmesan frites and accidentally started an episode of The Office on her phone. She was great.

The burger at Rouge is very, very good. It's huge to the point of excess at 12 ounces or so, but the execution is great: soupy caramelized onions, exquisitely cooked burger with just the right touch of salt, a perfectly toasted brioche bun, and Gruyère, the second most meltable cheese after American. Really, I have no major complaints, it's just the top of the table is damn competitive.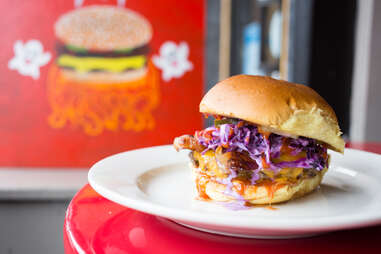 4. Spot Burger
Outside of the Fresh Prince theme song, I don't know much about the geography of Philadelphia, but I have a feeling that the area around Spot is going through some gentrification conversations. Also, my Uber driver told me, "the area around Spot is going through some gentrification conversations."

Anyway, the Spot Burger has a lot going for it. It's a solid, thick patty, which I described in my notes as "heavy." The meat was cooked to a flawless medium; the Asian-style slaw with pickles offered up the right balance to the bacon and Cheddar, and the well-toasted potato bun didn't get soggy. I also enjoyed the hand-drawn pictures of sharks taped to the wall. This place worth coming back to.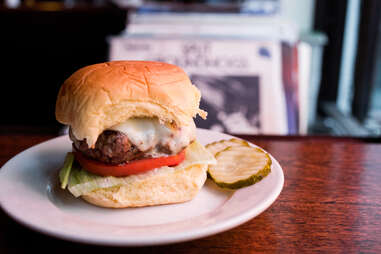 3. Cheese Burger
By 5:30pm on a Wednesday, this place was a madhouse. A very chill madhouse, as most people were sipping wine, but still. FP's burger is famous for being cheap as hell ($5) and delicious, and I must say it was probably the best cooked burger I had that day, with a perfect crust on top and bottom. The one issue I had is that the bun wasn't toasted, dammit. Which, if you've read any of my other Quest reviews, you know that really makes me sad and emotional. If Fountain Porter starts toasting buns, they're in the conversation for best burgers in Philly, easily.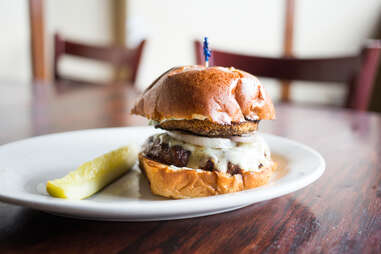 2. Pope Burger
Easily one of my favorite bars in Philly, the POPE is the perfect neighborhood joint where you see degenerate locals sipping hard stuff around 11am for dubious reasons. I did my part to fit in by drinking several Sour Monkey Victory beers, then got the Pope Burger, expecting a middle of the road experience. I was wrong.

The Pope Burger is salty and juicy with a relaxed grind that nearly falls apart. The basil mayo may sound weird, but it offers a delicious counter-balance to the fried tomato and grilled red onion, which has a subtle bite. It is one of the more nuanced burgers in Philly, and yes, I know how strange that statement sounds coming from a place with aggressively graffitied toilets. Just trust me.
1. Sirloin Beef Burger w/ American and Grilled Onion
It seems important to note that I also ate falafel when I went to Sketch. This place, with hundreds of customers' drawings lining the walls, doesn't seem like much. But don't be deceived. The beef burger with American and grilled onions is the best burger in Philadelphia.

It has a perfectly loose grind and nearly falls apart in places, but is somehow held together by the American cheese, which melts perfectly into the meat alongside the well-cooked grilled onions. The spicy aioli gives it just the right amount of heat, and the bun knows what's up and stays the hell out of the way. It isn't expensive or stunt-y. It's just the best burger in Philadelphia.

PS: The falafel is pretty good too.
Sign up here for our daily Philly email and be the first to get all the food/drink/fun in town.
Kevin Alexander is Thrillist's National Writer-at-Large, chief burger critic, and biggest jawn. See him misuse jawn on social media @KAlexander03.