Restaurant Week kicks off Sunday night, when 120+ eateries within the Center City limits give you a $35 excuse to trade your bar stool for a table for two, allowing you to get to know some of Philly's hottest and most unconventional dishes, whether you're in pursuit of fried pickles and pimento cheese puffs at Supper, or red-sauced everything (down to the water ice) at Little Nonna's... not to mention that girl you see in line at Dunkin' every morning. So take our advice and satisfy your dream girl's every appetite with these five picks for first-date (or any-date) feasting.
Recommended Video
This Pizza Dip Lets You Throw a New Kind of Pizza Party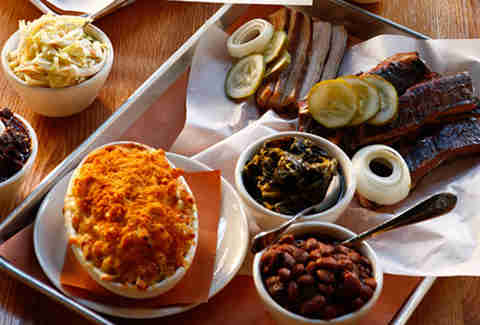 Percy St Barbecue
For the girl who's not afraid to get her hands dirty
It's not just good manners to wash your hands before dinner at this South St BBQ spot: it's necessary for all the finger-licking sure to follow when you dip pickled jalapeno skillet cornbread into extra-sharp cheddar mac, rip into root beer-glazed spare ribs and smoked cinnamon barbecue chicken, and scoop up brisket burnt end baked beans.
You'll also want to get your hands on this onion-jammed smoked brisket
El Vez
For the girl you want to make out with in a photo booth
Yes, there are plenty of other reasons to eat at Stephen Starr's Midtown Village Mexican mecca, but whether you're washing down smoky chipotle shrimp tacos with cinnamon-pineapple tequila 'tails at the circular bar, or popping tuna tostadas in a window booth, it's all just prelude to your choice of tres leches cake or vanilla flan sharing a stool inside El Vez's old-school back-room photo booth. Sure, she's got fungus on her lips, but 1) it's from the fermented corn huitlacoche quesadillas, and 2) so do you.
Forget open-mouth; go full on open-face with these chicken tinga quesadillas
Ocean Prime
For the girl who wants to try every new restaurant first
You overheard her talking up every pie on the menu at Pizzeria Vetri, and only one other kitchen's fired up since -- so book dinner at Philly's latest fall opening, this Columbus import seafood supper club dishing out scallops afloat in Parmesan risotto, corn fritter-sided lobster bisque, and a 10-layer carrot cake that's about to fall as hard as she will for a dude who happens to be in the know. (And who lets her have the last bite.)
Looking for other fish in the sea? Opt for the smoked corn-creamed crab cake.
Smith & Wollensky
For the girl you don't want to say good-night to
After you break the ice over spherically-chilled whiskeys at across-the-hall Library Bar, hit up the Rittenhouse Hotel steakhouse and crack into a blue cheese- and bacon-stuffed iceberg wedge, carve into a half-pound of Cajun-spiced filet mignon, and take that chocolate ganache layer cake to go... upstairs. The money you saved at one of Philly's prime meat emporiums goes a long way toward the AAA five-diamond hotel's just-renovated suites.
There's another sweet on the menu, too, and naturally it's sauced with passionfruit
Pennsylvania 6
For the girl you drink with while watching the game
While every other guy takes his girl to kick back shots out of a glass you know better: you're scoring a table along the downstairs banquette lining this Midtown Village bar grub duplex, where the two of you can catch the game over the bar and in the mirrored wall's reflection while also craning your neck to swallow the whiskey you shoot down marrow-bone apps with faster speed than Chip Kelly's offense.
Then tackle this totally-not-a-horse-collar of smoked paprika Duroc pork