Cherry Bomb: A metalhead Top Chef vet's renegade street food shortbus
It's a classic story: Inked-up Top Chef vet who made her bones cooking on the road for Ozzy and Incubus moves to Philly and hooks up with a '50s pin-up of a Farmer's Cabinet pastry chef. They quit their day jobs, modify a vintage Catholic school shortbus, paint it hot pink, and hit the streets only popping up as they please on the edge of street fairs, music fests, and block parties, dishing out everything from whole roast pigs and bootleg cheesesteaks, to stout bread pudding and cherry pies -- until they've filled your belly and broken your heart.
When the Cherry Bomb Bus isn't making scheduled stops after dark at Yards Brewery or the Night Market, it's going rogue at major parties like Mad Decent and Made in America, inconspicuously serving from around-the-corner gas stations and parking lots. (Also why you need to follow them on Twitter.)
Never mind the plastic fork -- everything inside this Frito bag full of Walking Taco is totally metal: ground beef and white beans are layered with melted Provolone, mozzarella, hot sauce, sour cream, and jalapenos, and all're buried beneath a tattooed fistful of lettuce and tomato.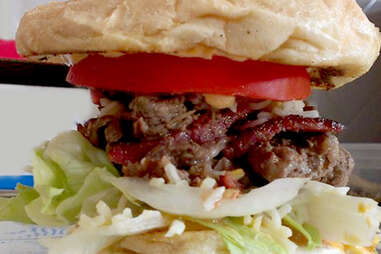 Want a Schmitter with none of the disappointment of sitting through a Phillies game? Their copyright-infringing Cronut cheesesteak is three layers of special-sauced cheddar melted over farm-raised ribeye, smoked salami, garden herbs, and fried onions.
What's more American than a corporate ballpark sammy? This ballpark beef frank smothered with mustard cole slaw.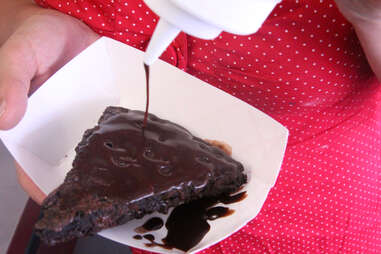 Desserts are $3, and vary from all-cherry everything to this fudge brownie pie sprinkled with sea salt and doused in homemade chocolate sauce that she never gets on her vintage dresses.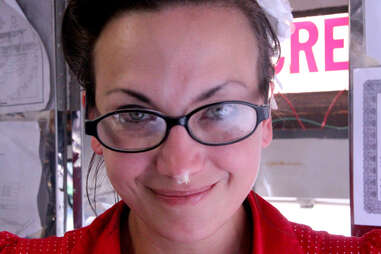 ... because she is a professional.
But if you want to see the ladies sporting a shorter hem, be sure to tip.