Any wings expert will tell you they jumped the shark replacing Linda McCartney with Thomas Haden Church. Giving you one more thing to correct them on: our picks for the eight hottest-sauced, chili-glazed, donut-sided, and duck confit-ed bird forelimbs in town.
Recommended Video
Thrillist's Best (and the Rest): The Truth Behind the Saddest Cookbook Ever
Black Garlic Wings at Cheu Noodle Bar
Washington Square West
The 10th St noodle-bar-in-name-only poaches their wings overnight in milk before double-dipping and dusting them with cornmeal before they hit the fryer. By the time they hit your plate, they're tossed with fresh herbs and shishitos and lacquered in a house-made black garlic soy sauce you'll want to toss back once the wings are all gone.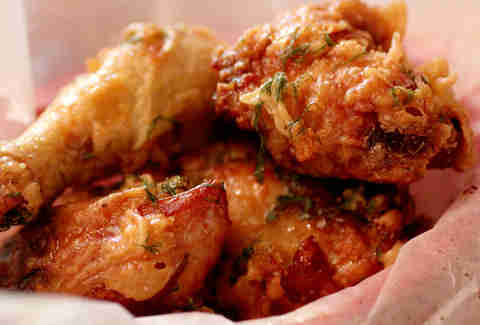 Dry-Rubbed Wings at Federal Donuts
Multiple Locations
Not in the ballpark of Sansom or Federal St? Score a sixsome of Fed Nuts' crunchily battered wings dry-rubbed with Ballpark BBQ at Citizens Bank Park, or opt for the honey glaze to match the doughnut on the side.
Korean Wings at Chick-a-licious
Market East
Making a trip to TJU for an angioplasty anyway? Stop across the street at Chick-a-licious first for a 40-piece (!) box of twice-fried Korean wings, which're all fried in under five minutes by something legitimately called the Henny Penny Computron 8000... so you know they're good. Also good? The 10 hot sauces they'll pour inside the box before shaking them back to life.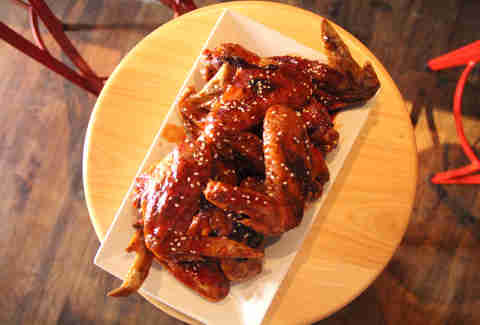 Yum Yum Wings at Sto's Bar
Old City
Forget for a minute this is a Steelers bar, because 1) they're playing every single NFL game here on a wall lined with 80" flatscreens, and 2) wings are served up on 2lb platters in a half-dozen custom coatings like cayenne garlic Parm and Yum Yum sauce, a secret green onion and hot pepper concoction as strong as Roethlisberger's ankles are weak.
Classic Buffalo Wings at Chickie's & Pete's
Multiple Locations
So good they don't have to mask them in crab fries seasoning, C&P's classic buffalo chicken wings come 35 to an order, which is exactly how many you'll want after waiting for a table on game day.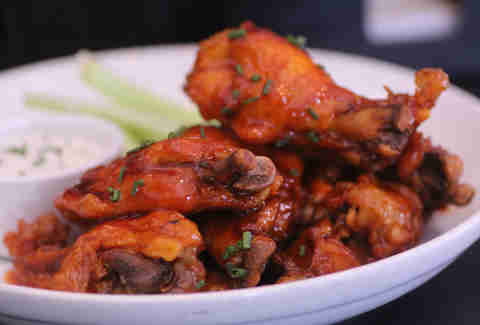 Ten-Spiced Wings at City Tap House
UCity
There's sixty drafts on tap at this UCity brew perch, or almost enough to cut through the ten-spice dry rub on City Tap House's infamous slow-roasted best sellers.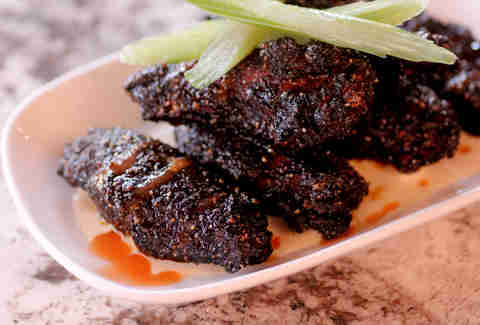 Smoked Wings at Supper
Washington Square West
Answering the question "What's for supper?", the South St Southerner smokes its wings before pouring on a birch beer glaze, then going hot and cold on you with a toss of black peppers and a swipe of buttermilk ranch.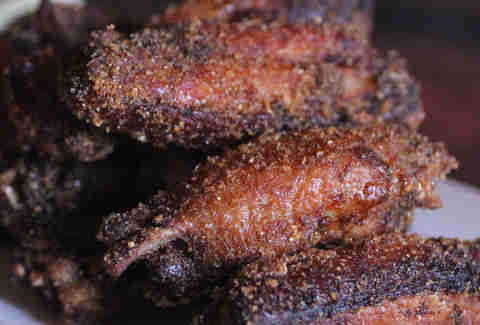 Duck Confit Wings at Varga Bar
Washington Square West
If you ever wondered how the pin-ups lining the walls of Varga Bar earned those curves, it probably had something to do with dipping these pomegranate molasses, bourbon, and chile wings in their house-made blue cheese.