A drive-thru with farm-fresh pretzel dogs and pudding shakes
Combining everything you love about Old MacDonald and McDonald's, Farmer's Road Drive Thru's a barn-doored DelCo fast-foodery from the team behind Lotus Farm to Table, daily dishing out locally sourced scrapple breakfast sammies, blue-cheesed Buffalo chick-wiches, and cooked-to-order grass-fed cheeseburgers, all ready in 2min or less, or as fast as it takes to click that patty and see a pudding shake here, a #2 pork roll combo there, and everywhere a hot blonde.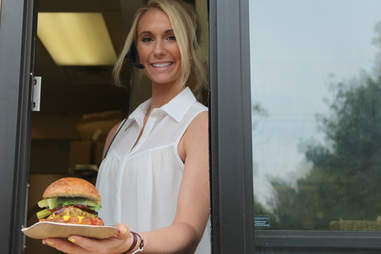 ... for who's awaiting you at the window. It's a total pick-up scene.
Want to beat the drivers piling up for her?
Arrive early for one of six breakfast sandwiches like this Jersey-sourced Taylor pork roll piled with an American cheese-melted egg patty and an oversized hash brown, all stuffed inside a toasted bagel.
Doors open 7a daily to a farmhouse dining room where tables are made of tree trunks.
The bar, meanwhile, is made of pickles. $3 scores you all the olives, dills, and borscht (!) you can fit inside a bowl -- a lineup that's tough to beet.
The only thing more appetizing than zooming in on this house-cured pickle-piled American cheeseburger is zooming out...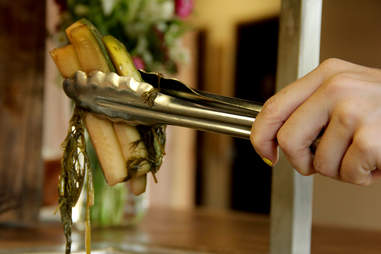 Want some sweetness to balance this sour?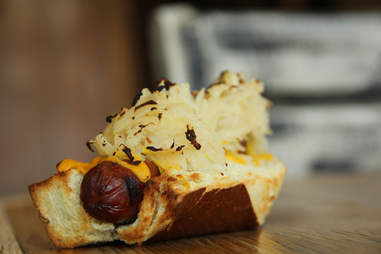 Eight lunch and dinner combos, like honey mustard turkey breast, green apple grilled cheese, and this rye pretzel roll-stuffing 'kraut dog, come with chips and 20oz of locally made New Hope fountain soda in flavors like Italian Lemon, Red Birch...
... and whatever this could possibly be.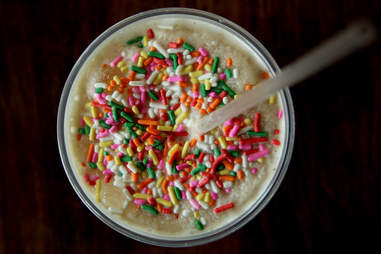 Want something with a little more caloric heft? Finish your breakfast lunch with a root beer float or this cake batter milkshake made with vanilla pudding and sprinkled with jimmies. Just don't drink too many, or you'll be wearing a muumuu here, a muumuu there...