Two important facts you probably weren't aware of: 1) A pig's orgasm lasts for 30 minutes , and 2) December 21st is the longest night of the year (we're talking 15hrs of straight darkness), which also means it's the perfect chance to celebrate what should be the "Best Night of Your Life", assuming you spend it hitting the city's best Thrillist-approved cocktail bars, nightclubs, and dives 'til the sun pops back up.
Check out our picks for Philly's best party dinner spots below, and make sure to fully map out a perfect evening with our itinerary builder.
Recommended Video
Acquired Taste: Blood Rice Cakes With Timothy DeLaGhetto and Justina Valentine
Spirit of Philadelphia
Penn's Landing
Sure it's touristy, but it's also a swanked out boat full of liquored up strangers (!), that's plying you with drinks (!!), has a dance floor manned by sweet local DJs (!!!) and a heaping buffet full of things like garlic-encrusted sirloin w/ red wine demi-glaze, and roasted tilapia w/ lobster cream (LOTS OF EXCLAMATION POINTS). 
Continental Midtown
Center City
This ironically retro multi-level lounge from Stephen Starr boasts a towering roof-top patio and swinging '70s furniture (plastic molded tables, chairs that literally swing from the ceiling);  whimsically decadent eats like lobster mac & cheese w/ orzo, mascarpone & fontina, and cheesesteak eggrolls w/ Sriracha ketchup; and playful "pop" cocktails like the peach vodka & tang martini served in a tang-rimmed glass.
Agiato
Manayunk
Nosh on plates of fresh-pulled mozz, and  pressed sammies on house-made Euro-style breads (e.g. coppa, sweet peppers, and dandelion) in what looks like a city-slick rustic farmhouse thanks to thick wooden shelves holding ornate Mediterranean tiles and a rustic communal table surrounded by sturdy wooden chairs, all lit up by ornate spheres, which is actually the first compliment anyone's ever given that movie.
Tria
Rittenhouse
Tria's a cozy 32-seat wine joint sporting big windows, a solid-glass, climate-controlled wine "cellar" that dominates the back wall, and an airy-for-its-size interior lined with sparsely-appointed counters with rustic stools, which is also how Granddad ruined every Thanksgiving you can post-up while inhaling fried-oyster Po' Boy Poppers, and St. Louis-style ribs.
Creperie Beau Monde & L'Etage
Bella Vista
Start w/ one of Beau Monde's gussied-up beef bourguignon or Coq au Vin crepes downstairs, then hit the cabaret (which is French for... um, something presumably) upstairs for cocktails/beer/Champagne/etc. or more food like plates of cheese and/or pate.
IndeBlue
Washington Square West
Heavily decked in gold (curtains, light fixtures, art pieces, etc.) and polished wood, this seriously sweet Indian eatery is slinging creative takes on traditional dishes like Malwani swordfish w/ red chili, and a tender boneless lamb rogan josh, which, even if you're not into Southeast Asian food, is wayyy better than whatever Rogan, Joe will feed you, for example.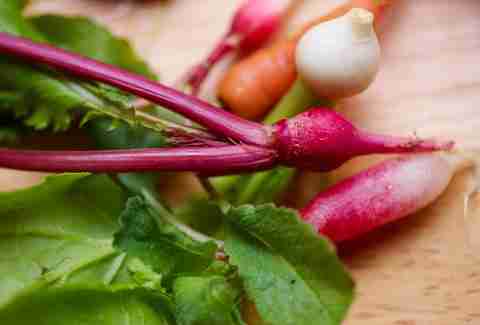 Vedge
Washington Square West
Believe it or not, they're serving an actually-delicious "vegan menu prepped with non-vegetarians in mind" (for example, they employ lots of broths and boils to impart flavors traditionally found in meat dishes) inside the old Princeton Club, with twin fireplace-anchored dining rooms rimmed by plush banquettes and a wainscoted cocktail lounge sporting a chandelier of silver spoons, presumably lit by the beaming grill of Ricky Schroder.
Lacroix
Center City
This Rittenhouse Hotel-based French-taurant is serving seriously inventive eats like a milkshake with both foie gras and blood orange in it, plus things like suckling pig, Spanish octopus (it's got an accent), and sweetbreads, all prepped by a chef who traveled to places like Portugal, Thailand, Japan, and even America to get inspiration for the flavors he's dishing out.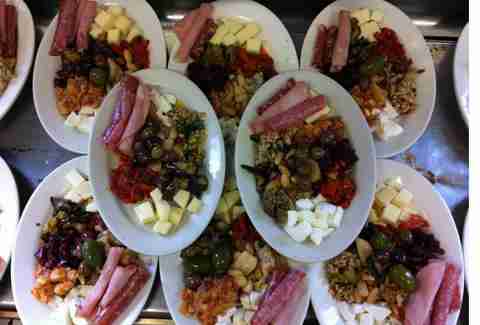 Modo Mio
Northern Liberty
These peeps do wildly flavorful (and affordable) Italian eats in a boisterous, old-school dining room where things like crispy duck breast Milanese style w/ pear mostarda, taleggio, radicchio & hazelnuts, or milk and garlic braised pork loin w/ porcini & sweet fennel are the order of the day... err, night, as it were.