Forget about the Barnes Foundation across the street and experience modern Italian art in the making at Pizzeria Vetri, where the James Beard Award-winning chef behind Osteria, Amis, and Alla Spina's sculpting these deep-dish Roman squares, football-sized calzones, mortadella-stuffed dough balls, and eight Neapolitan thin-crusts layered with salty/fatty goodness like prosciutto, lardo, and Sicilian tuna crudo, all fired up inside an 8500lb, double-mouthed brick oven masterpiece.
Recommended Video
The Mexican-Style Grasshopper Tacos You Have to Try When You're in South Beach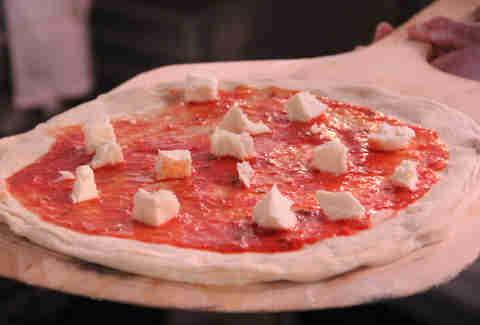 The Amis and Vetri chefs spent time in Italy studying pizza-making, where they picked up pro tips like not serving their pies raw.
This log-burning brick oven opens from the front and back, so chefs can train an eye on fennel/sausage/tomato pies, Roman-style wedges, wood-fired salads, and other assorted hotness...
... like this Crudo Radicchio number, which layers sliced-to-order prosciutto over black-peppered Pecorino cheese.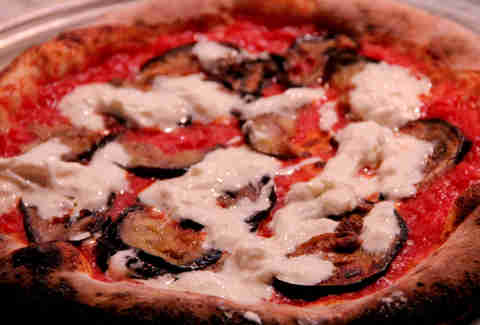 Tomato pies are anything but garden variety. This Melanzana's smothered with crushed San Marzanos, thick-cut eggplant, and oregano.
After you've seen how all the red pies stack up, order up this Quattro Formaggi four-cheeser gooey with a melted blend of Gorgonzola, mozzarella, smoked Provolone, and fontina.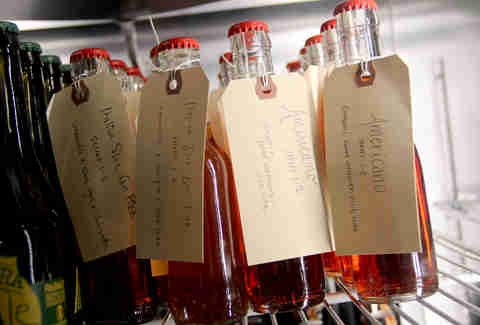 Wondering how you're going to wash that down? Aperitif cocktails like the Campari-and-club Americano and limoncello Sloe Gin Fizz come two to a bottle.
After a few drinks, the only thing that'll be wound up are these mortadella- and ricotta-stuffed Rotolos. Pizza dough is rolled tight with cured meats and cheeses, then cut into wedges, oven-baked, and drenched in a pistachio pesto.
Like your calzones like your Sundays? Get a grip on this endless football of calzone that's been brushed with olive oil and sprinkled with Parmesan.
Like your sundaes, like, every day? End your meal with a tall glass of soft-serve in swirling rotating flavors like fior de latte and cappuccino.
Previous Venue
Next Venue
Venue Description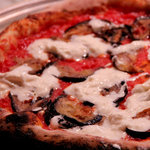 1. Pizzeria Vetri
1939 Callowhill St, Philadelphia, PA 19130
According to Pizzeria Vetri, authentic pizza-making is something of a lost art. At this popular Philly spot, pizza artists spend three days mixing each batch of pizza dough from rich whole-grain flour, only adding fresh local cheese and house red sauce right before shoveling the pies into their wood-fired oven. In the interest of paying homage to the delicacy of pizza prep, the restaurant has an open kitchen, where guests can watch the chefs toss mozzarella lovingly onto their homemade wheels of dough. In addition to the expertly constructed pies, Pizzeria Vetri serves a full list of craft beers and a selection of wines on tap. Decked with white string lights and cedar wood panels, the place is in the business of making pizza great again. The pizza-making outpost of acclaimed local chef Marc Vetri slings enormous calzones, wood-fired pizzas, and bottled cocktails for two.