As sure as you're double-fisting mortadella dogs in the 400 seats, Fall is upon us, and even though this season's vendors are more gourmet than Brent Celek's steakhouse, sooner or later you're going to want Sunday supper without the stadium seating, so take a pause from chewing out that Giants fan and get the rundown on 10 restaurants guaranteed to be open before the Eagles reach 12-0. Or 0-12. Mark your calendar for Iron Chefs at the Kimmel, Top Chefs in Center City, Marc Vetri in NJ (?!?!?) and all the Shake Shacks you'll need to get you through Christmas shopping for the jersey of whoever Michael Vick gets traded for after Week 1.
Name: Little Nonna's
Opening in: Late August
Why You Should Care: This Midtown Village red saucer from the ladies behind Jamonera, and Barbuzzo, and Lolita... and Grocery... and Verde... transforms the Independent Hotel's former Fish space into your grandmother's living room, and carbo-loads you with classic dishes like pork braciole waiting to be washed down with more Italian wines than after a World Cup loss.

Name: Pizzeria Vetri
Opening on: September 6th
Why You Should Care: After testing their square pies all Summer inside Amis' turducken-roasting kitchens, the Vetri and Osteria chef's just about ready to give rise to mortadella pies and toss them back in an 8500lb Italian import oven before you toss them back with a beer in this corner slice of the Granary Apartments.
Name: Ocean Prime
Opening on: September 9th
Why You Should Care: The best thing to come out of Columbus, OH since Whole Foods started shelving Jeni's Ice Cream, Ocean Prime's a two-story bar and seafood supper club conquering 8500sqft of Center City real estate with Hemingway-esque boatloads of seafood, like smoking shellfish towers, scallops capsized in Parmesan risotto, and white truffle-caviar deviled eggs.

Name: Boot & Saddle
Opening on: September 9th
Why You Should Care: The guys behind The Dolphin are ready to light up another neon facade in South Philly, reopening the Boot & Saddle, restoring the original cowboy murals, and packing the floor with everything you've been waiting 19yrs for: 10 taps, an unnamed chef they can't wait to announce, and a concert lineup they're already revealing, including Ted Leo and some Sonic Youth vets.
Name: Shake Shack UCity & Shake Shack King of Prussia
Opening in: October
Why You Should Care: Tired of standing in line for Liberty Shells on Rittenhouse? 20th St's most beloved burger joint's (sorry, Village Whiskey!) rapidly expanding to both UCity's Chestnut Square (and contributing to every Penn coeds' freshman 15), and KoP, where the first free-standing solar-powered Shack has been on most mall shoppers' Christmas list since plans were first announced last Spring.
Name:Volver
Opening in: October
Why You Should Care: Like anything worth seeing at the Kimmel, you'll need a ticket in advance, and the same's true for Jose Garces's first original concept in Philly in years. The Iron Chef will be rolling out this intimate window-lined caviar bar and dining room offering only two seatings a night around a 16-seat kitchen counter.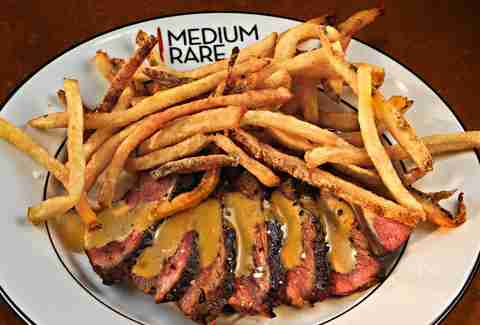 Name: Medium Rare
Opening in: Late October
Why You Should Care: A fork-and-knife DC import (or not, depending how hungry you are) Medium Rare's a Sansom St steak-and-nothing-else-house with only one item on its dinner menu. $20 gets you a three-course prix-fixe ending with their award-winning secret-sauced steak frites, and fifty cents change. Or splurge on five kinds of desserts, like double-chocolate fudge cake or their house specialty sundae topped with a not-so-secret sauce.

Name: Avance
Opening in: November
Why You Should Care: Trading its once-gilded facade for a Gilt chef, the former Le Bec Fin's finally given up on reinvention and sold the space to a two-star Michelin chef from New York, bringing a la carte American to the main room, and casual eats to the downstairs bar.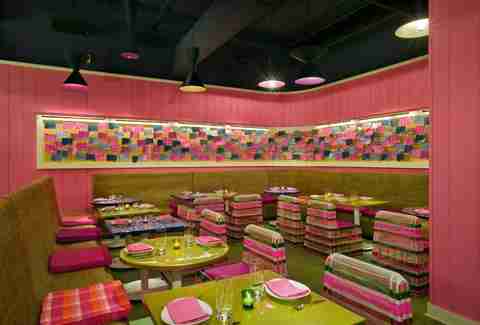 Name: Distrito & Osteria at the Moorestown Mall
Opening in: Late Fall
Why You Should Care: Shake Shack isn't your only escape from Christmas shopping at the mall this season. The chef behind Alla Spina's manning the kitchen at the second outpost of Osteria, Marc Vetri's James Beard-winning baked egg and charred chile pizza and pasta kitchen, while Iron Chef Jose Garces is opening his third Distrito taqueria there. And unlike that food court Chick-Fil-A, they've both scored the mall's first liquor licenses.
Name: Good Stuff Eatery
Opening in: December
Why You Should Care: Top Cheffer and Apron Anxiety muse Spike Mendelsohn got inspired to bring his DC burger joint to the old Numa Sushi space, transporting his full double beef-and-a-shake menu of double-patty bacon meltdowns and Milky Way malts, plus lunchtime brown bag bargains like farmhouse cheeseburgers and rosemary & thyme fries.