We Ranked Federal Donuts' 9 Permanent Flavors So You Didn't Have To
Upon opening its first shop in 2011, Federal Donuts quickly became a line-out-the-door destination for Philadelphians clamoring for fried chicken & donuts. As seasons come and go, so do donut flavors at Federal: pumpkin-spice-latte donuts rule the fall; an extra lovey-dovey one (read: heart sprinkles) around Valentine's Day. Year after year, though, the nine flavors below remain as the permanent holdouts. While everyone has a favorite, the time has come for a definitive stratification of donut class -- since, y'know, some donuts are objectively way better than others. Since it's difficult to rank your children, we took up the painstaking task of eating all of Federal's fixture donuts and figuring out which is truly the best of the bunch.
Michael Persico
9. Old-Fashioned Glazed
We all know a classic glazed donut will do when you're feeling indecisive. But chickening out and getting Federal's version just isn't worth it when there are so many other cooler, better options. Plus, it's included on the "fancy" donuts menu, which is a major misnomer. It's basically the kid's-menu choice at a fancy restaurant. Compared to the standard of donut elsewhere on the menu, the old-fashioned just doesn't hold up.
8. Vanilla Spice
The powdered vanilla spice donut is still a classic option, but it stands out one step ahead of the simple glazed, particularly if you grab one straight from the fryer. It's a solid lighter option you can pair alongside (or sandwiching) your fried chicken.
7. Churro
Seeing a churro option on the menu may give you some high expectations, especially at Federal Donuts. Churros are a hot dessert item! Sugar! Cinnamon! And while the hazelnut chocolate drizzle and sugar dusting were delicious, the flavor doesn't necessarily stand out as "churro-y" enough to feel unique to the brand.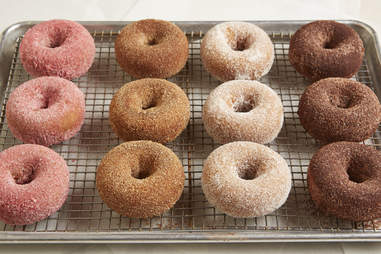 Michael Persico
6. Cinnamon Brown Sugar
You can generally get a cinnamon brown sugar donut any old place, so to really be memorable, the flavor has to grab your attention right away -- which this one does, nabbing it a higher spot than some specialty donuts. Turns out the seemingly basic AF option is anything but.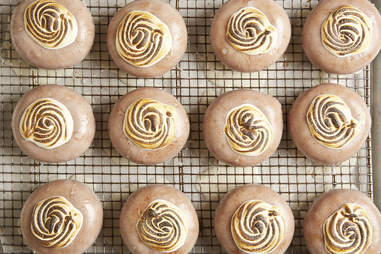 Michael Persico
5. Lemon Meringue
If you're still craving a glazed donut, the dollop of lemon cream makes for a more desirable alternative. The pop of zest is a refreshing twist on the classic, and the donut ends up feeling lighter than it looks -- which means you'll have room for several.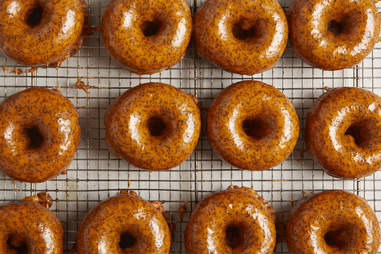 Michael Persico
4. Guava Poppy
You may not want to order a half-dozen at a time or anything, but the guava poppy donut is by far the most memorable, thanks to its strikingly tart flavor. This is arguably the least traditional color among the nine permanent flavors, too, which makes for good Instagram fodder.
Michael Persico
3. Chocolate Eclair
The chocolate eclair donut is like a mini cake just for you, heavy with what feels like all the earth's chocolate in your clawed hand. This cake/donut hybrid is one of Federal's quintessential creative options, made all the better because it's available year-round. Kudos to you if you try to eat more than one or two in a single sitting.
2. Strawberry Lavender
Strawberry lavender scores high because of its masterful balance: it's refreshing, but the light sprinkling of added sugar doesn't weigh you down. Overall, it evokes enough of a classic donut texture with a surprising taste to be anyone's new favorite.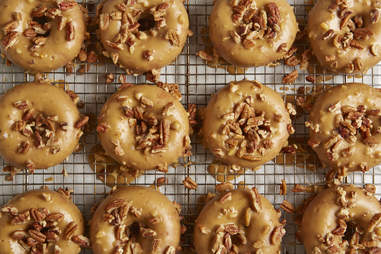 Michael Persico
1. Butter Pecan
Gotta be honest: when starting this endeavor, butter pecan was not favored to win the top slot. It's the dark horse of the donut collection, especially if your preference for sweets leans toward chocolate or caramel. Nonetheless, any dessert enthusiast can appreciate (and drool over) the sudden taste of maple, even if you're not typically a fan of butter pecan. The juxtaposition of the soft dough with the pecans makes it perfect. We truly sympathize with any of our friends with a nut allergy.
Sign up here for our daily Philly email and be the first to get all the food/drink/fun in town.
Marielle Mondon is a writer from Philadelphia who had a lot of leftover donut scraps after conducting research for this article. Follow her @MarielleMondon on Twitter and Instagram.