Fishtown, far and away Philadelphia's trendiest neighborhood, is in the midst of a nightlife and restaurant boom. One area where it remains hit-and-miss, however, is of key importance to the late-night bar crowd: pizza. Artisanal pizzerias have opened up alongside a handful of old-school, lower-key joints, yet the quality of either option varies widely from establishment to establishment. Those unfamiliar with the territory risk an encounter with bad pizza every time they step foot in Fishtown. This troubles us. It's practically a public health hazard.
So we spent a few afternoons eating one slice apiece from every pizzeria in Fishtown, critiquing each on the basis of flavor and texture, and rating them on a scale of 1-8 (a pizza pie split eight ways being the apotheosis of human design, of course). Yes, dear reader, we put our stomachs on the line for you. For journalism.
Before we get to it, a few notes on our methodology: The line between Fishtown and the adjacent Kensington neighborhood has always been fuzzy, even to lifelong Philadelphians. For our purposes, "Fishtown" means anything north of Delaware Ave, east of Front St, and southwest of York St, with Trenton Ave and Norris St closing off the northern border.
As far as the pizza itself goes, we looked for plain slices -- no toppings, no extra seasoning, no zany down-menu recipes. Others have written about the "Pizza Belt," or "the area of the United States where the chance of obtaining an adequate-to-good slice of pizza from a randomly chosen pizzeria is greater than 50 percent." Note the emphasis on slices: If a so-called pizzeria deals only in whole pies, it doesn't belong here. This disqualifies specialty shops like Pizzeria Beddia, a Bon Appétit favorite that sells only 40 full pies a day, and Medusa, a new sit-down gourmet spot. The pizza may kick ass, but if your customers can't walk in and fork over a few dollars for a slice, then you are a niche restaurant. Not a pizzeria.
That leaves eight pizzerias serving up regular ol' slices -- eight chances for Fishtown to prove that it can hold its own in the pizza game. Philadelphia falls just within the Pizza Belt. Does Fishtown?
335 E. Girard Ave.
Price per slice: $1.60

Many of the neighborhood's older spots line the north side of East Girard Avenue. They typically serve Greek-style pizza, baked in a shallow pan that lends each slice a puffy, airy crust. The first of these locations, as we made our way northeast up the street, is Central Pizza. The slices here are wide, thick, doughy, and very soft. In fact, the only moderately crispy part is the crust, and even that turns to mush after a few bites. A slight, garlicky kick comes through in the sauce, but otherwise very little about the flavor stands out. The cheese isn't stringy, gooey, or savory enough to be memorable, but it does the job. A large helping of grease makes us think Central would be a decent spot to hit up after a long night.

Score: 3/8 slices
431 E. Girard Ave.
Price per slice: $3.78

SliCE, a small local chain, opened its fourth location in Fishtown this past summer. Replacing an inconspicuous spot called Art of Pizza, SliCE promised to bring a more upscale, foodie-oriented pizza option to East Girard, and its menu shows off all kinds of gourmet topping combinations. We wanted the plainest slice, though, which comes in a considerable size with the cheese cooked under the sauce. This practically hides the mozzarella flavor, blending it in with a thin layer of bread below. (In contrast to Central, the slices here are almost too crispy -- to the point where they snap like crackers when we tried to fold them.) The sauce is rich but unevenly distributed, collecting in globs so that we get a rush of tomato in one bite and a mouthful of bread the next.

Score: 3/8 slices
465 E. Girard Ave.
Price per slice: $2

With its red booths and script sign hanging out front, Tommy's is most reminiscent of places where teens waste away their hours doing nothing. Another wide, Greek-style slice, this one has a top layer of flavorful sauce and abundant, chewy cheese. However, things fell apart -- literally -- with the crust, a flaky mess that tastes vaguely of cornbread and doesn't mesh with the rest of the ingredients. This may have to do with the choice of flour or the baking process, but either way the bread doesn't belong anywhere near pizza. Like any true aficionados, we never leave our pizza crust uneaten, but this time we just couldn't bring ourselves to finish it.

Score: 2/8 slices
607 E. Girard Ave.
Price per slice: $2.97

The last and best of the East Girard pizzerias has a strong oven game, as evidenced by the firm, darkened crust of its slices. Tasty sauce and skillful cheese distribution complement the solid texture. One drawback: The bread beneath the goods is too thick, resulting in a soft, plain layer between its crisp bottom and soggy top. The dough has a faint, sour tang as well, and too much of it throws off the taste of an otherwise legitimate sauce-and-cheese combo.

Score: 5/8
2329 York St.
Price per slice: $2.25

One of several Key Food Pizzas scattered throughout the city, the York Street location falls just on the Fishtown/Kensington border and serves up a completely different kind of slice than its counterparts on East Girard. More of a New York style, it has a thin, sturdy crust that takes a back seat to a generous portion of sauce and cheese. However, the sauce's too-sweet flavor that leaves an odd aftertaste, while the bread itself becomes crumbly and burdensome after a few minutes. But as far as slices go, this one will fill you up and leave you reasonably satisfied.

Score: 4/8
7-Eleven
23 W. Girard Ave.
Price per slice: $1.40

Hey, it serves slices, so we have to give it a shot. We've never before tried any pizza from 7-Eleven -- not out of snobbishness, we just never got around to it -- but we have indulged in frozen pizza brands like Ellio's, and that's what the 7-Eleven slice calls to mind. It suffers from hard, hard bread that would seem stale in any other context. While the slice gives off an aroma of garlic and tomato, it has no real flavor and the ingredients all turn to tasteless mush among the rocklike crust. We went in ready to be surprised, but alas.

Score: 1/8
2313 Frankford Ave.
Price per slice: $3.50

Besides Beddia, the most buzzed-about pizza in Fishtown, and perhaps in the entire city, comes from here. Pizza Brain tends to get a little wild with its toppings, but you can order an essentially plain slice (called a "Jane" and topped with mozzarella, provolone, grana padano, and fresh basil) with a thin, foldable crust. It's supremely well cooked, the dough achieving a perfect balance of crispy and malleable. What's more, you can taste the freshness of the ingredients, which opens up the flavor possibilities to new heights. We will admit that the sauce doesn't knock us out, but the cheese has a bite that makes this slice far more interesting than its peers.

Score: 7/8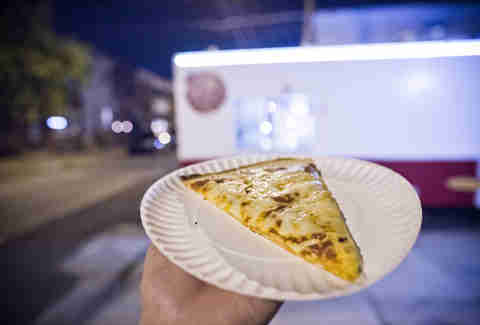 Fishtown Pizza Truck
Roaming
Price per slice: $1.50

Our list wouldn't be complete without the Fishtown Pizza Truck, which has been roaming the neighborhood for at least half a century. Unlike more contemporary food trucks, this one trawls the streets of Fishtown, signaling its presence to locals with the ring of its bell. (Think of an ice-cream truck, but one that dispenses pizza, damn good milkshakes, and Philly staples like soft pretzels and water ice.) Its slices, unfortunately, don't really measure up to its other offerings. The cheese has a fine consistency, but the sauce lacks flavor and the premade crust has the feel of a wafer -- though to be fair, the truck doesn't seem to have amenities for proper dough-tossing. Still, this uniquely Fishtown institution deserves praise for a business model decades ahead of the curve.

Score: 3/8
Sign up here for our daily Philly email and be the first to get all the food/drink/fun in town.