Replacing your Bagel Bites connect with a standing-room-only BYOB artisan pie counter, Pizzeria Beddia's a white-tiled makeover of a Fishtown deli dishing out nothing but whole handmade three-cheese pies individually crafted by a Zavino vet whose obsession with hot bubbling cheesiness has taken him from Osteria to Wisconsin and back

Pizzeria Beddia's not a slice joint -- it's an eight-slice joint, baking nothing but 16in rounds piled with fistfuls of artisan toppings like house-ground sausage, house-cured salame, and pickled chiles

All the ingredients here are literally top-shelf, from Central Milling flour to Jersey Fresh tomatoes

Lots of tomatoes

Their dough is proofed and fermented in-house days before it's hand-stretched to order. Yours had better be in your pocket because PB's cash-only. Pro tip: the nearest ATM is next door at Johnny Brenda's

Even after your pizza's pulled out of the brick-lined Montague deck oven, it's still not finished

Now it's finished, thanks to a splash of extra virgin olive oil, and hand-shaved Gouda that melts into the bubbling two-mozz blend as it's cut

You'll likely be finished shortly thereafter.
Recommended Video
Meet the Man Who Brought Fried Pizza to New York City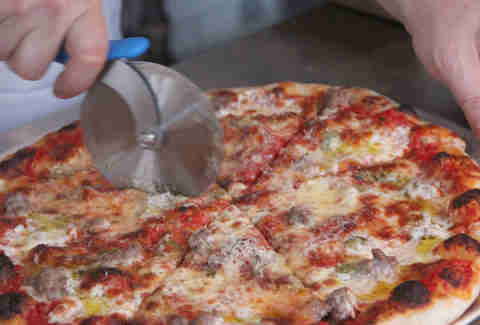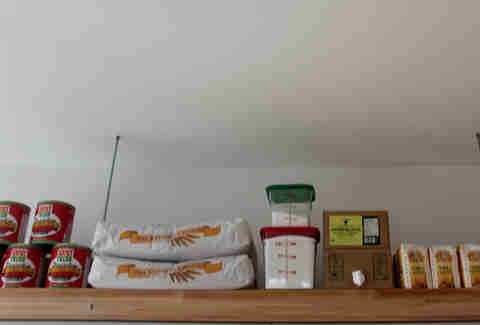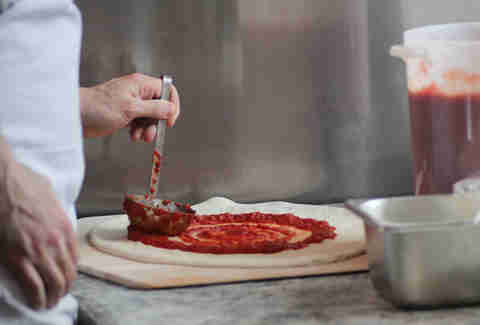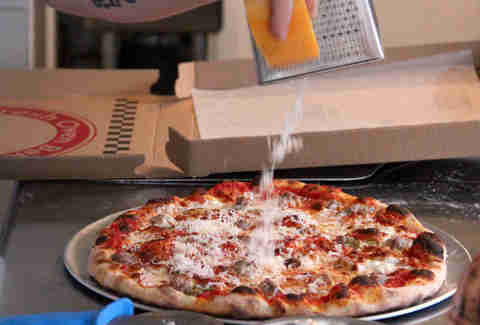 Previous Venue
Next Venue
Venue Description
1. Pizzeria Beddia
115 E Girard Ave, Philadelphia, PA 19125
Joe Beddia's Fishtown shop is a serious pizza destination. The tiny seatless operation makes 40 pizzas a night, and people start lining up an hour before it opens to get their 16-inch pie. Beddia forgoes the wood-fired oven of many a Neapolitan pizzeria for a gas oven, which means the pies take longer to cook, but once you've waited in line for two hours, what's 10 more minutes? Note: Pizzeria Beddia is cash-only.