Eight nom-nom-nominated street eats worthy of your weekend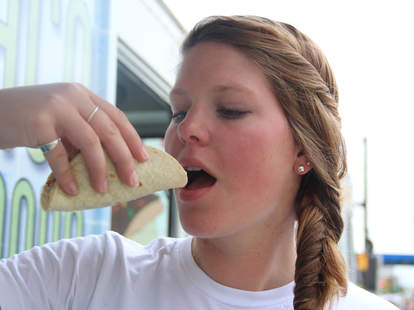 When the Vendy Awards take over Fishtown's Penn Treaty Park this Saturday with 4hrs of all-you-can-eat street food from 17 of Philly's most gratifying munch trucks, you don't want to discover you're first in line for dairy-free fro-yo or dolphin-safe tuna crudites (unless you're a very particular dolphin). Fortunately, we gathered up and swallowed down this year's better half
Just click the taco-loving lady up top to discover eight of the meatiest, spiciest, deepest-fried nominees and how to track them down any afternoon, from Oreo fried chicken on the Porch at 30th St to bacon beer-cakes in Love Park.
An unholy alternative to Chick-Fil-A, Lil Dan's Gourmet's is competing in the savory category this Sat, even though this boneless chicken breast is batter-fried in a dredge of crushed vanilla Oreos -- cream filling included! To keep it honest, it's also topped with lettuce and tomatoes, then doused in a homemade relish and chili-flake hot sauce that also includes Buffalo & mayo, and's sandwiched between two toasted wedges of a hand-cut Amoroso loaf.
Also keeping it honest: West Philly's Lil Pop Shop, with their red-hot chili mango icees-on-a-stick which blend ripe pureed mangos with house-made spicy habanero salsa from Honest Tom's Taco Shop.
Launched by a dude who's following the Vendys with following Metallica (he spends his Summers running concessions at their shows), The Cow and The Curd serves six-stacks of state-fair staple Wisconsin cheese curds deep-fried, chipotle-battered, and ready to dip in rotating trios of even hotter sauces like Sriracha mayo and chipotle ranch.
The first ever Korean taco cart in competition, (or in Philly ever), KAMI also dishes out these bulgogi cheesesteaks, meated with spicy chicken, pork, or Korean-style beef that won't lead to nuclear attacks, topped with melted cream cheese and Prov, then finished off with homemade kimchi and secret-recipe hot sauce.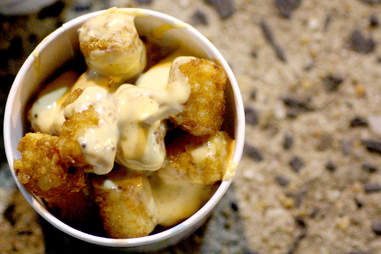 Already awarded an MBA, the Temple alum behind campus mobile foodery The Tot Cart's cooks up six styles of potato poppers by the bowl, like these crab fries-inspired New Bay tots, confusingly tossed with Old Bay and then sauced with their homemade beer whiz.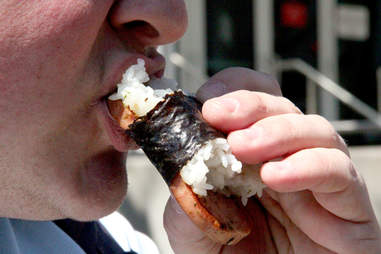 If Poi Dog Snack Shop takes home top prize at this year's Vendy Awards, the applause won't be canned, but the meat will be. The Temple campus Hawaiian wagon's Spam Musubi is a WWII-era recipe of hot grilled lunchmeat allied (!) with white rice and a nori wrap.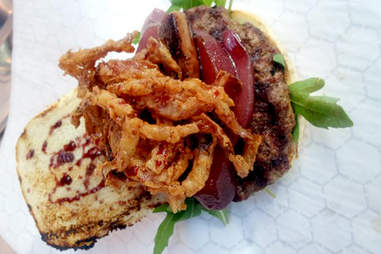 You don't need Sat's occasion to celebrate with a Cajun, Chewy's Food Truck's crispy fried onion burger, layered with pickled jalapenos, pepper Jack, and horseradish sauce.
What's the next best thing to taking home the Sweet prize? Boxing up Sweetbox Truck's his-and-hers treats which come in flavors like... pink?... and a Yards Brawler cupcake planked with chocolate-dipped bacon.
Ready? Open your mouth, close your eyes...