These are Philly's 8 finest food trucks
Trucks. They're what's for dinner. And breakfast, and lunch, and that meal that comes after last call at Frankford Hall when only a basket of hot fried... well, anything... will do. But how do you know if you'll be chasing suds with street eats and not chasing your favorite mobile Brazilian steakhouse down the block? With our guide to finding the best curbside grub day and night, from Temple to the Navy Yard.
The Tot Cart
Where to Find It:Temple University
Dish to Get: Whether you're looking for a midnight study break or waking up from an I-can't-believe-I-fell-asleep-during-a-midnight-study-break, the TU alum's cart's dishing out hot cups of 'taters like the Drunk Cheese Tots smothered in a gooey Yards brew sauce.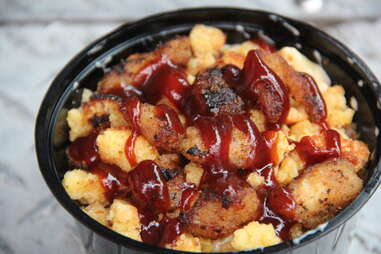 Mac Mart Truck
Where to Find It:30th & Arch, Navy Yard
Dish to Get: Can't decide between fried chicken or mac & cheese? Dig into fried chicken swimming in mac & cheese once you crack through the crumble of crushed potato chips as smoky as the BBQ-sauced drizzle atop them.
Cherry Bomb Bus
Where to Find It:Navy Yard, The Oval
Dish to Get: You never know when the party-crashing short bus is going to be sent packing, so make a run on the Top Chef vet's Walking Taco: a Frito bag overstuffed with hot sauce- and sour cream-slathered roast pork, black beans, Prov', and mozzarella.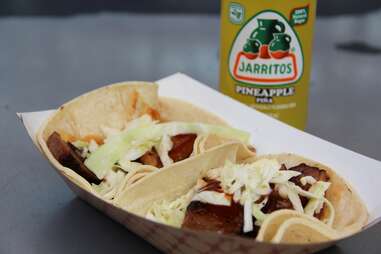 Street Food Philly
Where to Find It:30th & Arch, The Porch
Dish to Get: You won't have to search the globe for global eats -- just cross the Schuylkill to hit up this chrome-plated sandwich wagon serving up a daily rotation of meaty must-haves like fried shrimp po' boys and lemongrass strip steak banh mi, plus menu mainstays like a dry-aged American cheeseburger.
Braz BQ
Where to Find It:30th & Arch
Dish to Get: Not every steakhouse in Philly's parked on prime Center City real estate. Drexel's campus is the lunchtime home to West Philly (and America's) first mobile churrasco rotisserie, where you can sink your teeth into the hamburgao, a quarter-pound steak and egg sandwich kaiser-rolled up with ham, bacon, potato sticks, and melted cheddar.
Schmear It
Where to Find It:30th & Arch, Love Park
Dish to Get: Putting the "roll" back in Philly roll, this mobile bagelry's spreading your favorite sushi roll -- cream-cheesed smoked salmon with a splash of soy sauce and sprinkle of wasabi -- onto any of 14 split-toasted South Philly baked jawns from French Toast to Everything (but French Toast.)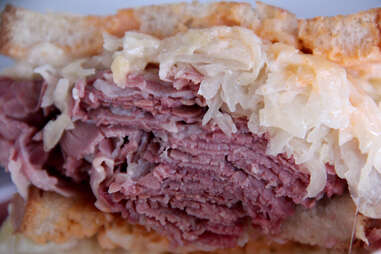 Reuben on Rye
Where to Find It:30th & Arch, The Oval, Camden Waterfront
Dish to Get: You could pick up a namesake sammy from this Cherry Hill Jewish deli on wheels, or you can let them pick one up and heap their slow-cooked brisket, house-made whiz, and Russian dressing atop a pile of cooked-to-order fries.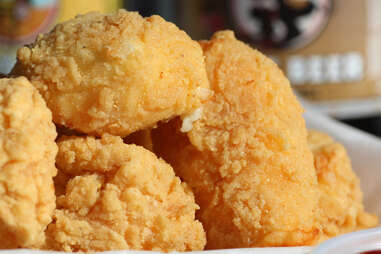 The Cow & the Curd
Where to Find It:Fishtown, Navy Yard, The Porch
Dish to Get: Want a spring in your step that's almost as bouncy as fresh-pulled Wisconsin cheese curd? Opt for the chipotle-hot battered cheese nuggets fired up with a squeeze of Sriracha mayo.