Summer is officially here, and you're probably pretty busy, but that's no excuse not to run, walk, drive, ride a bike, or even brave SEPTA -- seriously, do whatever you have to -- and try the eight best new bars and restaurants in Philadelphia. Feast your eyes...
Recommended Video
This Mexican Street Cheesy Corn Dip Is Coming for Your Guacamole
Fairmount
Jose Garces' latest is a one-stop shop for fresh tacos and even fresher beer and margaritas. The fish tacos are the reason to go, which you can get either fried or glazed and opt for the always changing fish of the day. The spot is also still offering up free beer specials of its exclusive Yards brew that goes quite nicely with said tacos.
Northern Liberties
NoLibs' brand-new Vietnamese spot doesn't offer the same (same) stuff you get at other Southeast Asian eateries. Instead, it's serving tons of veggie options and fresh handmade spring rolls seasoned with a unique blend of herbs. There's also the most Philly-Vietnam hybrid item you will ever encounter, in the form of the spot's cheesesteak-esque bun sandwiches.
University City
The West Philly beer garden offers gracious space both indoors and outdoors, serving vegan and gluten-free options as well as one of the best new brunch menus in town. William Street Common is also following a new trend toward gratuity-included dining and higher salaries for servers -- plus, Quizzo!
Pennsport
The cash-only spot by Dickinson Narrows offers fresh classics for breakfast, lunch, and dinner, every day. This BYOB is worth going to for its simple approach to farm-to-table dining, offering the comforts of diner food with the sustainability of high-brow dining.
Callowhill
From one of the guys behind Franklin Mortgage & Investment Company, this newly opened cocktail bar offers the same kind of high-quality food and drink you may have to wait in line for at other top-notch cocktail bars, including eats from a Kennett vet, and a booze menu that includes house-bottled cocktails and low-alcohol "shims" for easy drinking.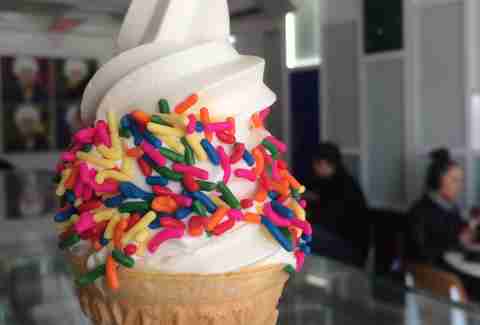 Washington Square West
This accolade-heavy New York ice creamery's finally made its way to Philly, and it's the perfect place to go when you're in the mood for a no-expense-spared cone that's dipped in caramel, glazed with chocolate, and given a funny name like the Salty Pimp. And when aren't you in the mood for that?!
Bridesburg
Inspired by two of the best things ever, beer and BBQ, this new collab combines a beer bar with Philly's premier BBQ food truck Oink & Moo, and boasts a half-dozen (mostly local) beers on tap and a menu that includes sliders, tacos, pulled pork, baby back ribs, and solid teamwork, obviously.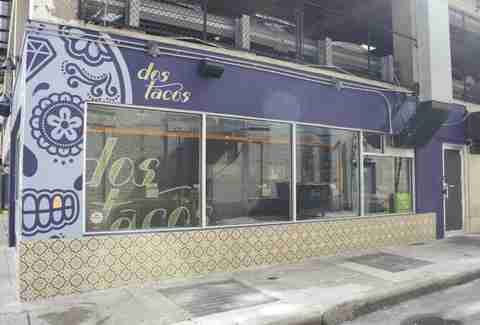 Rittenhouse
Dos Tacos offers street eat-inspired food with Rittenhouse ambiance, repping authentic tacos and other bites that don't require a long trek to a distant part of the city. Stay for the yucca fries, and add some extra flair with truffle oil, sea salt, Jamaican jerk sauce, or spicy chili.
Sign up here for our daily Philly email and be the first to get all the food/drink/fun in town.