When you think of Philly food, the first thing that comes to mind is cheesesteak, obviously. But what about pretzels? Or water ice... or Italian food... err, OMFGosh, it's impossible to pick the most important thing! That's why we picked the 17 most important restaurants in Philadelphia instead: hit these places and you'll know what it means to eat/drink in Philly...
Recommended Video
Send Foodz: New York City Wine & Food Festival
East Passyunk
Want to eat at Top Chef winner Nick Elmi's French-American BYO? Plan ahead. The intimate eatery takes reservations months ahead and requires some effort, but once you're in, you're set for a seven-course meal fixed at $85 a pop. Dishes have the perfect balance of being both refined and accessible, meaning you can eat those seven courses of cocoa-cured foie gras, Burgundy escargot, and roasted peking duck without feeling completely pretentious.
 
Northern Liberties
In a town dominated by hoagies and soft pretzels, it's no wonder locals might start to complain about not being able to find any good pizza (though they would be very wrong). In an unexpected turn of events, Philly's very own, relatively new no-thrills NoLibs Pizzeria Beddia was crowned the best pizza in all of the United States, which means getting a slice at the spot just became a lot more complicated. While you're waiting in line around the block, muse over how you're going to try everything possible while still obeying the spot's two-pizza-per-party (not person) rule.
Bella Vista
The oldest Italian restaurant in all of Philly and in all of the US has been up and running for 115 years and is still owned by the same family. Today, Ralph's still ranks well for high-quality, authentic Italian cuisine, and its signature red sauce (best served with mussels) can't be missed.
Old City
City Tavern isn't really one of Philly's oldest restaurants and saloons: sure it was open in 1773, and delegates to the First Continental Congress did meet there, but in 1834, it was partially destroyed by a fire and didn't became a bar/restaurant until 1994, when it became the touristy, but totally Philiadelphian, destination for 18th century cuisine and period costumes it is today.
Fishtown
One of the newer eateries in Northern Liberties/Fishtown is part butcher, part high-end eating experience. If you're looking for fresh, locally sourced meats and poultry, this is your spot; if you're looking to gorge yourself on rotating menus (depending on said locally sourced meats and poultry), as well as mouth-melting pasta and other dishes, well, this is also your spot. They might even seat you where you can see the in-house butcher, encased in a glass-walled room right in the restaurant.
Old City
Whether you opt for an extravagant dish of coal-grilled lamb and beef kofta, or keep it simple with the best assortment of hummus you will find in Philly, any dish at the Israeli mainstay is enough to qualify it as both an important restaurant in Philly... and the rest of the country. In the spirit of exclusivity, try to snag a seat at the chef's counter for a more tailored experience.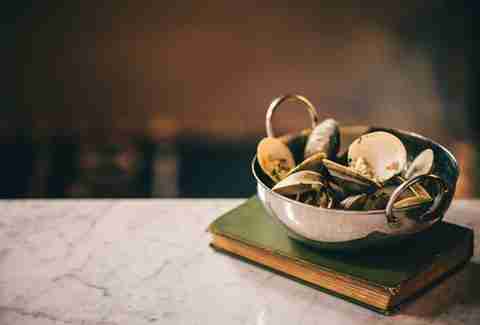 Old City
We can thank Philly's prolific restaurateur Jose Garces for breathing new life into the historic Old Original Bookbinder's building. After the long-running seafood restaurant closed in 2009 (it had been open since 1898), Garces turned it into an oyster-heavy cocktail bar and restaurant (which includes a sweet late-night menu) that still pays homage to the original space.
Avenue of the Arts
Yet another Top Chef master, Kevin Sbraga, has elevated the Philly dining scene by opening his eponymous American eatery in 2011. Featuring both tasting and a la carte menus, the food reflects what's freshest, but mainstay items include a pork belly-squid hybrid dish, and escargot inspired by Le Bec-Fin (RIP).
 
Rittenhouse
The essential Rittenhouse hole-in-the-wall is so much more than your typical brewpub: the Belgian-inspired menu is heavy on buttery mussel dishes, and boasts a wide selection of burgers and unexpected appetizers (frog legs and grilled scallops are a couple popular items). The spot has also received many awards for its unmatched beer selection, earning it a rep as one of the best beer bars in the city.
 
Point Breeze
Cheesesteaks may be Philly's signature sandwich, but the sandwich menu at American Sardine Bar is the real star of the city. The laid-back gastropub offers simple, yet creative sandos, including a $2 sardine sandwich (if you don't opt to just order them sautéed, grilled, or fried). The sides are a shareable feast in themselves, so feel free to get a plate of the of cheese fries for the table.
University City
Stephen Starr's interpretation of pan-Asian cuisine and sushi is a match for the spot's top-notch cocktail menu and dreamy, color-shifting ambiance. Dine in or carry out some of the city's best sushi rolls (the Penn Roll and Pod Lobster Roll are not to be missed), or, if raw fish isn't your thing, opt for one of the many dim sum options, or order a filet off the entree menu.
 
Pennsport
Obviously we couldn't get through this list without at least one spot that offers killer cheesesteaks, as well as the roast pork that gives this spot its name, especially now that this South Philly favorite finally decided to keep its grill on past 2:30pm and start closing at 7pm instead of 4pm. Nonetheless, get there early (or call in your order ahead of time) to avoid the inevitable winding line you'll find there, particularly during the lunch rush.
Center City West
One of the newer restaurants on this list is also one of the most unique, offering small plates inspired by the Jewish diaspora. The result is a fresh approach to classic Jewish deli food, where chopped liver, veal tacos, and matzo brei all feature prominently on the three-course, prix fixe menu, and there's a special tasting menu devoted entirely to duck.
 
West Passyunk
One of Philadelphia's oldest, continuously running restaurants is also one of its best places to score a roast beef sandwich. Your experience wouldn't be complete, though, without venturing off the roast beef menu and at least getting a side of the gravy fries and broccoli rabe.
Washington Square West
Leave it to Philly to make even vegan dishes feel completely decadent and self-indulgent: considered one of the best vegan restaurants in the country, Vedge offers dishes that even carnivores can love. You can opt for bar food (rutabaga fondue, anyone?), order off the menu's Dirt List (featuring fingerling fries and salt baked turnips), or score Hot Kitchen items like the kimchee "Reuben." The truth: it isn't really a reuben.
Multiple locations
This local chain is known for turning out the best Chinese food in the city, which is a tough feat considering our bountiful Chinatown options. The Dan Dan Noodles are an essential part of any meal you have there, but you should also try everything from the spicy crispy cucumber, to the Dry Fry Style beef, and the Crispy Rice Style chicken... and the noodles.
 
Spruce Hill
For an authentic taste of some of the city's best Ethiopian food, Ethio is it. Situated in close proximity to a ton of other Ethiopian restaurants, Ethio gets the seal of approval for its perfectly spongy injera, savory pastries, and a shton of veggie entrees. Oh, and it's BYOB, which is seldom a bad thing.
Sign up here for our daily Philly email and be the first to get all the food/drink/fun in town.