12 Historic Philly Restaurants for an Old-School Dining Experience
From the birthplace of the iconic Philly cheesesteak to historic red sauce Italian joints and humble Polish butcher shops.
Although Philadelphia's most iconic landmarks like the Liberty Bell and Independence Hall are familiar grounds to many, discovering the stories behind so much of the city's amazing food can be a much more enticing (and delicious) history lesson.
This is a town filled with historic destinations that have served as dining mainstays for generations, and there's no stopping them now. From upscale Italian feasts at historic red sauce joints to casual century-old taverns and the birthplace of Philly's iconic cheesesteak, you can trust that behind every celebrated Philly dish there's a good story and a decades-old venue for it. So whether you're a tourist in town for a quick history lesson or a lifelong Philadelphian, study up and check out these 12 historic Philly restaurants for an old-school dining experience.
Bridget Foy's first opened in 1978 under the moniker East Philly Cafe, offering a bar right at home in the midst of South Street's club scene of the time. After owners John and Bernadette Foy had their daughter in '82, the place got a new name and switched gears to be a more casual sports bar—one frequently visited by none other than Sixer Charles Barkley. Since then, the mainstay has stayed true to its casual roots while elevating the comfort food menu of burgers, pasta, and brunch offerings. After a devastating fire in 2017, Bridget Foy's bounced back in 2021 with a fresh interior and remains a family business.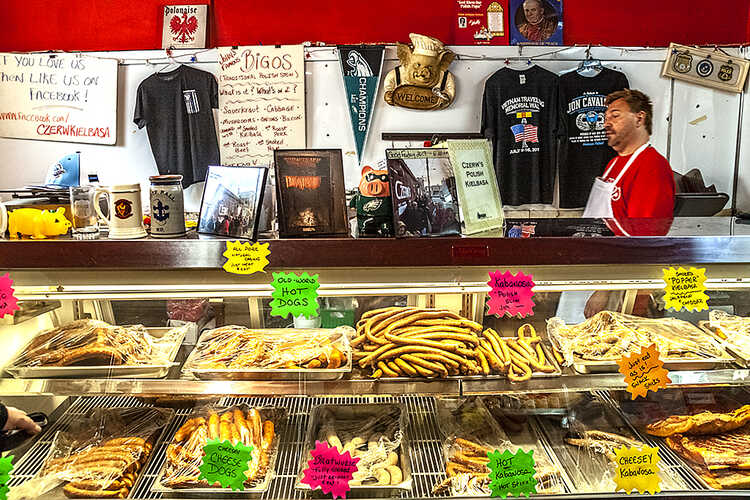 Czerw's Kielbasa

| Flickr/Linh Dinh
Jan Czerw, a Polish immigrant who landed in Philly, originally opened this shop in 1938 as Philadelphia Provisions. The long-running family business is housed in a converted horse stable and serves the same family recipe kielbasa to this day, using an Old World technique to smoke the meat in a brick oven with natural fruitwoods. Other homemade fixings include pierogies, slab bacon, Polish stew, stuffed cabbage, varieties of kielbasa that are made and smoked daily, and traditional kiszka, a sausage made with pig's blood and liver.
Situated in the heart of the Italian Market district, Dante and Luigi's opened its doors in 1899, making it among the longest continuously running Italian restaurants in the United States. The townhome once provided lodging and work to Italian immigrants upon entering the US, and today, the space still offers a welcoming ambiance and plenty of Old World charm. It also doesn't skimp when it comes to traditional Italian cuisine, offering no less than 15 pasta dishes including Dante and Luigi's Signature Special of gravy and meatballs, Penne alla Vodka, and Rigatoni Carbonara. The equally vast protein menu offer up classics like Osso Buco, Chicken Paillard, and Pork Milanese, to name a few.
After opening in 1973 under its original name, Friday Saturday Sunday and Thursday Too, this restaurant quickly became an instant classic cementing Philadelphia's first restaurant renaissance. After more than 40 years as a neighborhood institution, though, new ownership positioned it for a refresh—one that understood and respected its roots. New owners Chad and Hanna Wiliams rolled out a sophisticated beverage program, raw bar, and an imaginative eight-course tasting menu that slowly strayed from the familiar favorites of yore to win over even the most anti-change clientele. While there may no longer be a giant fish tank on the second floor, inside you'll find the restaurant's original staircase—just moved from its old spot to the center of the room.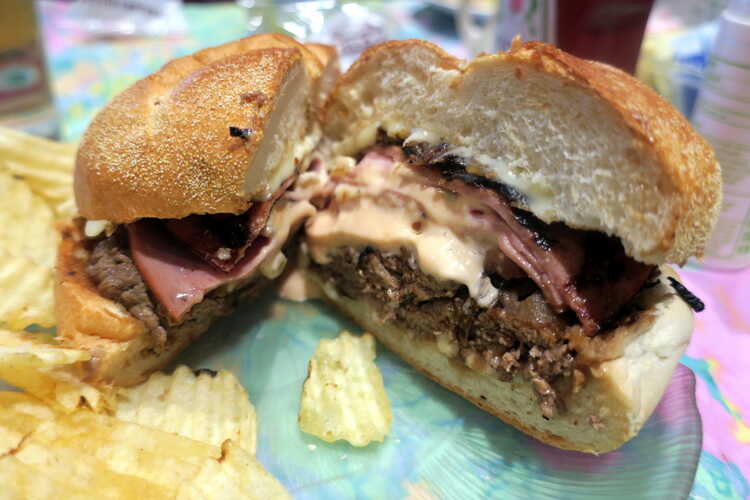 McNally's Tavern

| Flickr/Wally Gobetz
McNally's first opened in 1921 as a pit stop for travelers and operators on the Route 23 trolley. Housed in a white-washed building with an iconic green door, an outdoor coach light—harkening back to its trolley stop days—signals when it's open for business. The simple menu of sandwiches, soups, and other classic dishes from the grill remains today, and the eatery is also home to the signature, now-legendary Schimmter: a sandwich with steak and grilled salami that's name was coined in the '60s. Though always popular, the sandwich hit its big break when the Eagles incorporated it into the food options at Lincoln Financial Field. It later made it to Super Bowl XXXIX and a couple of World Series, but McNally's itself is the real place to try an original.
This South Philly original opened its first location way back in 1938, cementing the roast beef sandwich as the city's actual iconic sandwich of choice. The long-standing family run business is still going strong thanks to a simple-yet-effective formula of mouthwatering piled-high roast beef on a kaiser roll slathered with homemade gravy. While you're there, you might as well also order the gravy fries, which come piled high with your choice of turkey, pork, or beef.
Palizzi Social Club was founded way back in 1918, one of many South Philly social clubs catering to Italian immigrants and descendants, this particular one exclusive to people from Vasto, Italy. The spot stayed open despite waning crowds through the 20th century until 2016, when the current chef and owner Joey Baldino inherited the space and sought to give it new life. Hanging onto much of the old decor, from the checkered floor to the retro furniture, Palizzi offers a step back in time. It sets the scene for family-grown recipes from crabs and spaghetti to calamari. A hundred years later, the club is still members-only (though has broadened its criteria), and now more people than ever are after that coveted $20 membership card.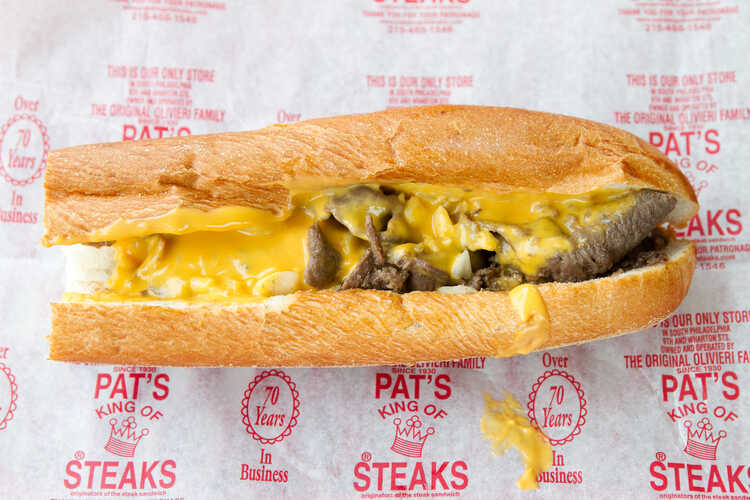 The Original Pat's King of Steaks

| Flickr/Robyn Lee
The birthplace of Philly's most iconic food obviously deserves a spot on this list. The cheesesteak was reportedly first created when the owner of Pat's King of Steaks, Pat Olivieri, was operating a humble hot dog cart and wanted to switch things up for lunch. He cooked some thinly sliced steak from the butcher on his grill top and slathered it with onions on a roll, thus creating the first cheesesteak. Olivieri went on to open a shop dedicated to the sandwich in 1930, and Pat's King of Steaks is still operated by the Olivieri family to this day churning out rolls "wit" and "wit-out." In a town full of great cheesesteaks, be sure to pay homage to the OG.
Ralph's continues a family tradition now in its fourth generation, serving classic Italian fare out of South Philly since 1900. As an enduring favorite for quintessential Italian dining experiences in the city, it's also been known to attract quite a few notable out-of-towners over the years, from Frank Sinatra to Taylor Swift, President Joe Biden to Barry Manilow. Be sure to pour over the "old world favorites" section of the menu to find a variety of pasta, seafood like mussels and crispy calamari, and the beloved sausage and peppers.
The Valley Green Inn has a history that dates all the way back to 1683 and involves several brushes with near demolition. Today it still stands on the Wissahickon trail, recently renovated to offer a lush backdrop for city dwellers to enjoy brunch, lunch, and dinner. The Inn also makes for a great event venue, and has been the subject of paintings and postcards over the years as its own Philadelphia landmark.
In a space first opened as a gramophone shop in 1918, post-prohibition Philly saw owner John DiStefano, an Italian immigrant and avid music lover, reinvent his business as The Victor Café, Music Lover's Rendezvous. Since that shift in 1933, the restaurant has become known for its Italian fare, red-checkered tablecloths, and its operatic, classically trained singing servers. You'll be treated to live arias and ballads while you dig into Chicken Piccata or Linguine and Clams. The restaurant is also known for something else, too: a little cameo in Rocky Balboa, and once again in Creed, as Adrian's restaurant.
White Dog Cafe is one of Philly's earliest adopters of farm-to-table, organic-only cuisine, opened in 1983 by activist-turned-restaurateur Judy Wicks. The original location is housed in three Victorian brownstones on one of the cutest blocks of University City, offering plenty of quirk and nooks to discover. Inside you'll find an eclectic mix of different dining rooms, a wine cellar, and a lot of dog paintings, including the famous "Blue Dog" piece by George Rodrique. Serving farm-fresh New American cuisine, you can expect hyper-seasonal menus that change throughout the year.