How Does the Wing Bowl Manage to Make 10,000 Chicken Wings Every Year?
The sun has barely risen and the Wells Fargo Center is packed with roaring intoxicants. It's the Friday before the Super Bowl and, like the previous 25 Fridays before the Super Bowl in Philadelphia, thousands of spectators are watching amateur competitive eaters race to polish off as many barbecue wings as possible.
Now in its 25th year -- and rumored final (which, frankly, has been a "Will they or won't they?" for the last six years) -- the Wing Bowl has become a staple in Philly's repertoire of unique (and questionable) events. The idea is simple enough: Competitors, who have already qualified through an eating stunt or mini wing-eating contest, face off to see who can consume the most wings in five, 10, and 15 minute rounds. Organized by and aired live on local radio station 94 WIP during drivetime rush hour, the event begins at a sharp 6am.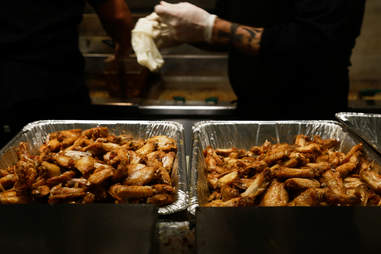 Gab Bonghi/Thrillist
An ever important fixture of the Wing Bowl are the "Wingettes." These dressed-down cheerleaders -- more or less -- are area strippers who serve as members of each competitor's entourage, tasked with shoveling plates of wings in the peripheries of singularly focused eaters.
Between the flailing, ravenous participants, the parading strippers, the 20,000-ish regular attendees, and bravado of it all in the arena, perhaps the most overlooked player of Wing Bowl is the wings themselves. Upwards of 10,000 of them are freshly made in the early morning hours and transported to the sporting complex by local pub chain P.J. Whelihan's, which has been the official culinary creator for the Wing Bowl during the last 10 years. By now, they've perfected the chaotic morning before into an artform.
During the most recent Wing Bowl on February 3, we clocked into P.H. Whelihan's kitchen before midnight and tracked how in the hell a restaurant cooks, stores, sauces, and serves 10,000-or-so wings, from the first dip in oil to their inevitable demise at the table.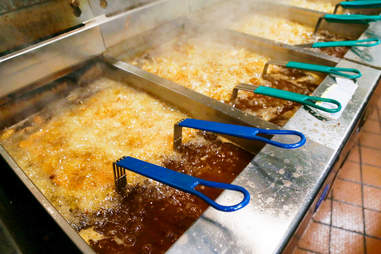 Gab Bonghi/Thrillist
Midnight to 2:30am
It starts right around midnight. P.J.'s corporate chef and culinary director Rich Friedrich, assistant corporate chef Terry Bailey, and chief operating officer Jim Fris storm the kitchens at their Haddon Township, New Jersey location. Friedrich and Bailey will man the five fryers cooking up all 10,000 wings, which are fresh from a farm in North Carolina. Nothing frozen. Each batch is fried for about eight minutes.
The chicken used for Wing Bowl is smaller than the usual wings P.J.'s serves; Fris estimates that each one is about 61 calories. (Past winners have eaten upwards of 400 wings. That's more than 24,000 calories consumed in a matter of an hour.)
"You rip through 'em and get the numbers up," Fris says.
The freshly fried, unsauced wings are then packaged by two additional P.J.'s workers in foil catering trays and placed into hot boxes. All in all, they've got three hot boxes full of wings.
Gab Bonghi/Thrillist
2:30am
The hot boxes, along with eight to 10 containers of mild barbecue sauce, are loaded onto a P.J. Whelihan's truck, branded with an image of three waitresses on the side. They're driven about 25 minutes to the Wells Fargo Center.
3am
Fris, Friedrich, Bailey, and a handful of other P.J.'s employees wheel the hot boxes and sauce into a press room just off of the arena floor. The wings are kept hot -- between 135 and 140 degrees -- to keep them fresh. Any cooler than that, they're prone to bacteria growth. Any warmer, and the meat would start falling off the bone, making for a huge mess when it comes to saucing.
Gab Bonghi/Thrillist
3 to 5am
A member of the team will occasionally monitor the temperature of the wings to make sure they're in that 135-140 degree range while they wait for the competition to begin.
5am
Three gray bus tubs are placed on a table. The mild barbecue sauce containers are set alongside, ready for saucing.
Gab Bonghi/Thrillist
5:30 to 6am
The only way to get this whole thing right is to have a schedule, Fris says. Having your best staff on hand is key. "It's 20,000 people having fun and 20 people working their tails off because everything has to be timed perfectly."
A big part of this timing is when the team sauces the wings. Even though the competition doesn't begin until around 7:30am, the logistics require P.J.'s to sauce the wings before bringing them out onto the floor. Tray by tray, the wings will get dumped into the bus tubs and doused with sauce. Then, a member of the team will gently toss, paint, and caress the wings by hand. Then, they're repackaged and placed back into the hot boxes.
"It's a routine. We've got it down pretty well," Bailey says.
6 to 7am
The hot boxes are whisked away to warm on the Wells Fargo Center floor where they're stationed at stage left.
Gab Bonghi/Thrillist
7:10am
This year, a five-minute speed round between Wing Bowl favorites Molly Schuyler and Bill "El Wingador" Simmons was added to the schedule. Two reps from Fris' team begin plating the wings for this round. Each paper plate receives 20 wings total: 10 drums and 10 flats. They plate about 10-15 servings.
7:15am
P.J.'s servers deliver a handful of plates to the Wingettes who will place each dish in front of their competitor during the contest. But first, they take selfies with the wings.
7:30am
About the same time that Molly and El Wingador are showing down, the plating for the first round of the main competition begins. On the main stage, tins of wings are brought up to be organized by 10 drums and 10 flats per plate. P.J.'s waitresses will again disperse the dishes amongst each of the 31 contestants' Wingettes at about five plates at a time.
Gab Bonghi/Thrillist
7:55am
Round one begins, and P.J.'s waitresses are close by with reinforcement plates. Long tables full of mostly grown men go head first into paper plates full of chicken, the tender meat slipping off easily as they gorge with unthinkable speed for almost 8am. Hands and faces quickly become shiny with grease and sauce. All the while, discarded bones are inspected and then thrown away.
8:15am
Plating for round two begins. The competitors are flying through plates of wings.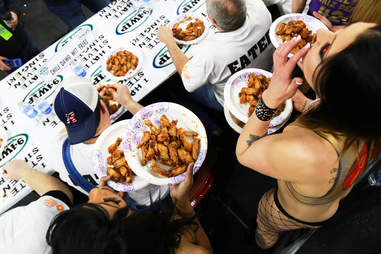 Gab Bonghi/Thrillist
8:45am
The final round begins with thousands of chicken wings already consumed. Competitor Bob "Notorious B.O.B." Shoudt takes the crown after eating 409 of them -- 20 wings short of Molly Schuyler's win from last year. It's about a nine hour lifespan for these greasy morsels, but it's become an important one in the scope of Philly's strangest traditions. If you wondered, there are indeed leftovers, which are used to feed the crew at Wells Fargo Center for putting up with the wreckage.
After 25 years of Wing Bowl though, the mess factor seems to have been minimized and confined to mostly the competitors themselves. They walk away with sauce-smeared faces and hands, adding a certain kind of primal charm to the event.
"No washing your hands, no paper towels," Fris says. "Just wings and water."
Sign up here for our daily Philly email and be the first to get all the food/drink/fun in town.