It's almost time to take the grilling inside, so we've rounded up five of the latest pattysmiths around the 'burbs, from KoP to Voorhees, who are slapping griddles, plunging baskets, and scooping shakes to provide you with all the Whiz-slathered steakburgers, slow-cooked 'cue-smothered fries, and PB&J shakes you'll want to crush harder than the fallen leaves in your driveway as you make your way out of town.
Burger Monger
Willow Grove, PA
Next time you flee a Phillies game because the hot dogs aren't crafted from Japanese Akaushi cattle, proceed straight to Burger Monger, where the franks rate better than prime, half-pound burgers are sandwiched between garlic-buttered challah buns, and even the full-pound portions of fries are fired up in the premium drippings. What is domestic? The beers. You can wash down every one of your lunch's 40+ toppings -- from jalapenos to jalapeno ranch -- with drafts of Brooklyn Brown Ale, Sam Adams, and Yuengling.

Burger 21
Voorhees, NJ
There're 21 burgers on the menu at this Town Center meatery, but skip the spicy shrimp and ahi tuna jawns for the 100% Angus beef regionals, like the Philly Cheese (grilled peppers & onions, Prov & American cheeses under a Dijon mayo'd brioche hood), or the Tex-Mex Haystack, named for the onion strings atop applewood-smoked bacon, Gouda, guac, and chipotle-jalapeno sauce.

Smashburger
Radnor, PA
The obvious: this Colorado import smashes, sears, and seasons BBQ bacon cheddar- and jalapeno pepper-jacked Angus patties to perfection. The not-so-obvious: you choose everything from the bun (pretzel? Chipotle?? None???) to what fried goodness, from eggs to pickles, goes underneath. And if all you want's a peanut butter and jelly sandwich, you can get that too -- inside a milkshake that blends PB ice cream, Nutter Butter cookies, and strawberry jelly.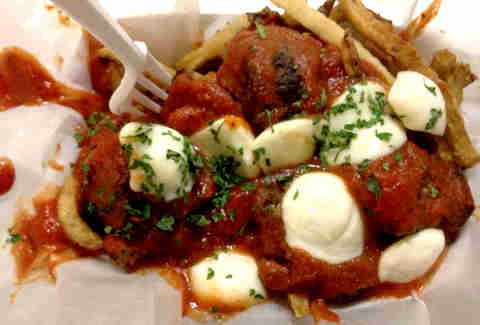 Shoo Fry
King of Prussia, PA
If King of Prussia Mall's known for anything, it's being home to everything you never knew you needed and disaffected youth eating French fries in the food court. Shoo Fry's the best of both: the all-fries 'tatery will let you score your favorite fried side as an entree-sized heaping of curlies, crinkles, ribbons, waffles, or wedges piled with whole meals of homemade meatballs, Sunday gravy, and mozz -- or just dip into their custom ketchup bar for some brown sugar sweetness. Oh, and they're also frying up Oreos, naturally.
Freddy's
Broomall, PA
Already infamous out West for its frozen custards and steakburgers, this Kansas roadsider's creeping on Shake Shack territory with its first Northeast locale, which's serving up '50s-style savories like onion-and-pickle piled triple-patty stacks served on butter-toasted buns, and creamy cups of frozen concretes overloaded with burnt marshmallows, crushed grahams, and ice cream-sized scoops of hot fudge. Also worth investigating: their Hatch Green Chile Dogs.