December 21st is the longest night of the year (it's called the Winter solstice to all you non-Pagans), but it's also going to be the Best Night of Your Life -- a Thrillist-created holiday that you'll spend enjoying the best nightlife the city has to offer, thanks to our awesome recommendations, which obviously include Philly's best late-night eats.
Check out the picks below, and make sure to map out the perfect evening with our itinerary builder.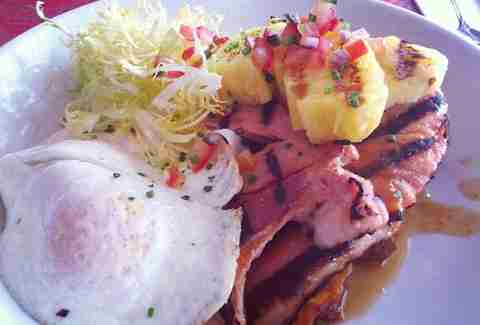 Silk City Diner & Lounge
Northern Liberties
So you know how that guy Klaus on Vampire Diaries is a "hybrid"? No? Well... err, yeah, us either. And even if we did, we'd also know that being half werewolf/half vampire isn't nearly as cool as being half hipster-ish dance haven/half eclectic food-slinging diner, where you can... ugh... wolf down everything from edamame, to pork belly empanadas, to Prime Angus burgers.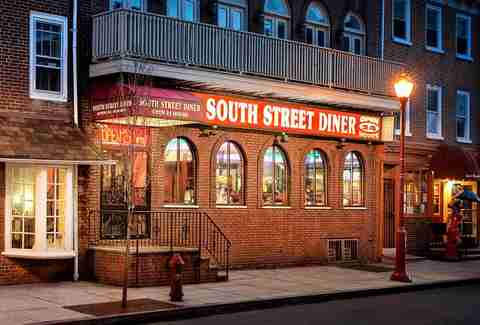 South Street Diner
South Philly
Everyone's gotta hit this Philly staple sometime, and since it's open 24 hours, seven days a week, you can literally pillage their massive menu (country omelets, Belgian waffles, char-broiled burgers, ravioli, grilled porterhouses, etc.) any time you want.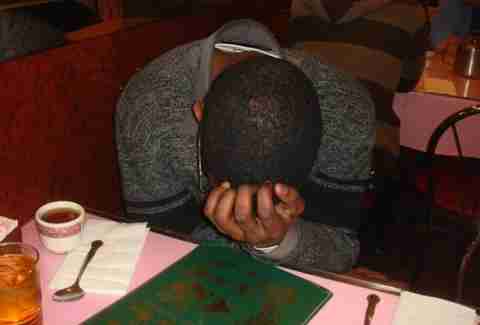 David's Mai Lai Wah
Chinatown
A go-to for the usual Chinese eats (roast pork fried rice, beef short ribs w/ black pepper sauce, etc.) and some not-quite-so-usual fare (they've got half a dozen squid dishes!), David's is a go-to for people who like the above photo, 'cause it's open 'til 3a on weekdays, and weekends 'til 4a.
Lorenzo's
South Street
This Philly classic serves huge $3-$5 slices of 'za to hungry mobs of people who're "this close" to taking their shirts off and starting a fight 'cause you looked at their girl, every night until three or four in the morning, so it's definitely the place to go... especially if you don't stop looking over here, bro!  
Standard Tap
Northern Liberties
They've got a small but seriously sweet eats menu (chicken pie, mussels & sausage, pulled pork sandwiches, salmon crepes, etc.) and a constantly changing selection of local brews (Dock Street, Yuengling's, blah, blah), both of which they're serving 'til 2a.
North Third Restaurant
Northern Liberties
The North half of your body is in trouble at the crazily decor'd North Third, since the healthiest things they're serving until 2a include chili-mayo fries, chicken sandwiches w/ guac, and lamb burgers w/ arugula, tzatziki & big chunks of feta.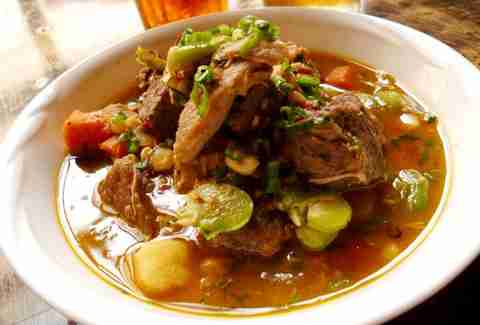 Khyber Pass Pub
Old City
It'd take someone of sound mind and sober judgement to realize that these BBQ "chicken" and pulled "pork" sliders they ordered at 2a don't actually have chicken or pork in 'em, but are some seriously badass vegan sandwiches, so there's no way you'll tell the difference.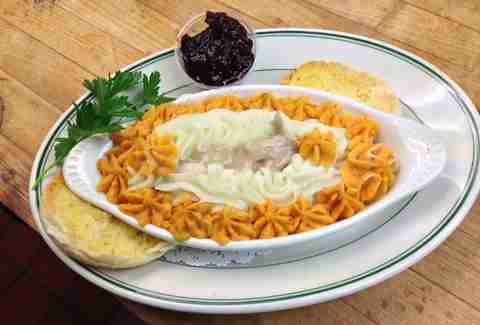 McGillin's Olde Ale House
Midtown
It's serving mile-high meatloaf and shepherd's pie until 2a in a dark and unapologetically authentic pub-style space, which makes sense because it was opened before people figured out how to spell old is the oldest Irish drinking establishment in Philly. 
Good Dog
Rittenhouse
This unassuming, un-ironically wainscoting'd dive is open Monday - Sunday until 2a, serves what is ironically some of the city's best pub fare, from craft burgers, to mac-n-cheese w/ blueberry cornbread, to duck potpies, all of which they pair with a sweet list of craft beers.