The Best Restaurants Open Late in Philadelphia
The ultimate guide to midnight snacks in the city.
With city- and state-wide restrictions lifted, last call across the city is getting pushed back later and later. We're (mostly) back to late nights in crowded bars and even the occasional night out of dancing, and that means one thing: we need snacks.
After a year of early closing times and limited kitchen menus, some of our favorite post-bar hangout spots are reopening, and some new ones are joining the fun. Here are our favorite places in Philadelphia to eat some carb-y, delicious midnight snacks after a night of drinking.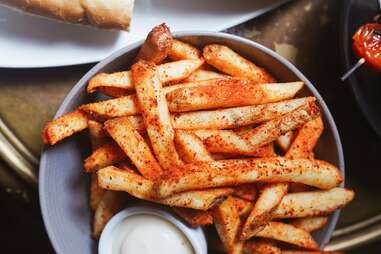 Center City
Because of Pennsylvania's crazy liquor laws, it's actually pretty rare to find excellent dedicated cocktail bars. It's even rarer to find one that is 100% vegan, but that's what Charlie Was a Sinner is—an all-vegan cocktail bar that also happens to have a very good food menu. Whether you want a large plate of bucatini and "meat"balls or just a quick snack of potato croquettes, this restaurant's menu is one of the only places to get fancy-ish food after 9 pm in Center City. Note that you'll have to get your food order in before 11 pm, but the bar rages on until 2 am.
How to order: OpenTable
Center City
David's stays open until 3 am, making it a regular haunt for late night meals. With a huge space and large tables, it's a good spot for a big group to indulge in plates of noodles, fried dumplings, salt and pepper shrimp, and many more dishes that you'll find yourself craving every time you're in the neighborhood.
How to book: Walk in
East Passyunk
Fountain Porter is famous for two things: excellent natural wine and an excellent $5 burger, which just happen to pair very well together. The single-patty smash burger will give you the strength to walk home, hydrate, and get a good night's sleep and don't worry, fries are included.
How to book: Walk in
Center City
Good Dog serves above average bar food in an above-average setting. With a kitchen that's open until 2 am, you'll be well taken care of with a blue-cheese stuffed burger, macaroni & cheese, or even grilled octopus alongside must-have bar fare.
How to book: Walk in
Chinatown
Chinatown Square is a good spot for late night drinking and snacking in Chinatown, but we're particularly into Hi Kori, a stall that specializes in Japanese cocktails and street food. Think okonomiyaki fries, japadogs, bento boxes of chicken or pork katsu, and udon noodles, which you can order any night of the week until at least 1 am.
How to book: Walk in
West Philly
A lot of late night food options in University City are clearly directed toward college students who can gobble crappy pizza and cheesesteaks like it's their job. But Kabobeesh is an actually delicious kebab spot that stays open until 1 am, serving gyros, tandoori chicken, naan, and much more every day.
How to book: Walk in
North Philly
People have been lining up for late night fried shrimp at Sid Booker's for decades now. Receiving a little boat of their perfect fried shrimp, served atop crushed potato chips to catch the grease late at night feels like a midnight snack you could only dream up. They're open until 4 am on the weekends, but this stuff is good any time of day.
How to book: Walk in
Society Hill
Philly used to be full of 24-hour diners, but many of them have pulled back their hours during the pandemic. Not South Street Diner, which serves pancakes, burgers, milkshakes, and sandwiches at all hours. It's perfectly located right at the end of raucous South Street for all of your late-night needs.
How to book: Walk in
Bella Vista
If you're out and about in the late evening on Passyunk, someone in your crew might suggest heading up to Pat's and Geno's for cheesesteaks. Let them do that, but you should slip away and order a couple of tacos or quesadillas at this counter service spot that is open until at least 1 am and let all the cheesesteak-eaters get very, very jealous.
How to book: Walk in
Spring Garden
Late-night pizza is an absolute essential. Wood Street is an unassuming neighborhood spot that does everything incredibly well. We're talking homemade mozzarella and a crust that tastes like it belongs in a much fancier restaurant. You can stop in the shop for pies available in two sizes, plus Italian sandwiches and other sides, and on the weekend the shop offers takeout and delivery until midnight, which is clutch for the moments you get home and realize you need pizza.
How to book: website