Scrapple ramen and burger buns in Center City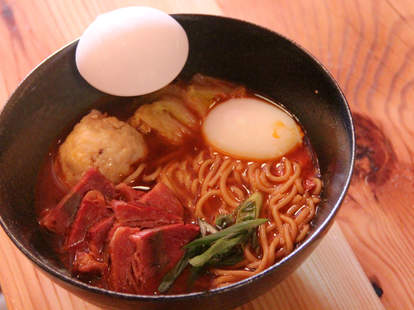 Manned by the Matyson chef who stirred up some controversy in naming his ramen pop-up "Roundeye", Cheu Noodle Bar's a permanent Center City lunch (and dinner) counter that's only stirring up deliciousness, like mustard greens-packed lamb's neck soup, slow-cooked pork belly buns, and black garlic chicken wings
The 30-seat BYO bar serves a half-dozen piping hot, hand-torn noodle bowls, like a ramen sporting pork belly & shoulder along with sea beans, a foie gras meatball-studded duck pho, and a chile broth bobbing with matzo balls and brisket. Want to add some Philly flavor? They'll happily add some scrapple to your bowl
Pipe in even more heat with this spicy housemade mango-mustard sauce. Just squirt to taste..
... or paint the town with it (note: don't actually do that)
If you're a fan of decoupage (and who isn't?!), you'll appreciate the back wall collage of street art and cookbook photos. If you're a fan of incessantly quoting Austin Powers, you'll appreciate the graffiti
Bite-sized belly-fillers include slider twosomes of pork belly and a pickle-toppped cheeseburger served on toasted mini English muffins
Want to keep it light
Further small bites include vegetation like garlic greens or sweet & sour cucumbers, or go for these chili oil-doused rock shrimp dumplings, which are always in good taste.