The most forbidden sandwich in Reading Terminal Market
Craving a fresh-baked meatloaf slathered with crispy onions and BBQ sauce? Or an orange marmalade-laden(!) Mediterranean sausage piled with pickles? Just be sure your doctor doesn't catch you scoring a counter tractor-seat at Border Springs Farm, the all-day, all-lamb carvery sandwiched between the borders of Hershel's and Franks A Lot in Reading Terminal Market. Hungry for this pita stuffed with slow-roasted Blue Ridge Mountain meat sprinkled with tomato, onion, cuke, and feta? Better make sure nobody overhears you
Click on the gyro above to find out why and experience even more of the butcher's breakfast, lunch, and dinner options which're all certain to leave you speechless.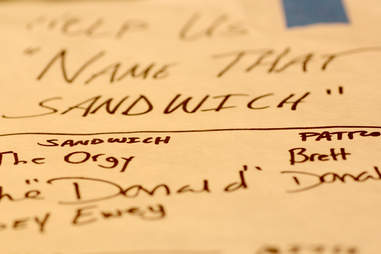 Every vendor but one inside RTM's banned from selling gyros, so bad news is you'll have to pantomime eating Border Spring's tsatziki'd wrap 'til they come up with a better name. Good news: your best suggestion can win you free lunch. Our suggestion? Don't go with Orgy or Donald.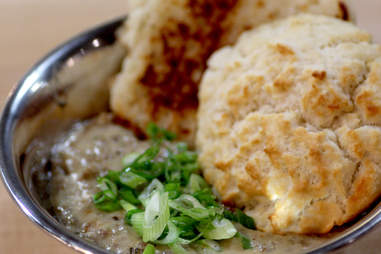 Ordering breakfast by name is easy, but choosing just one is not. So opt for this carnivorous porridge of biscuits and sausage gravy one morning...
... and fried egg-covered hash the next. Order this and they'll set flame to the whole range to grill up Yukon gold potatoes, red and green bell peppers, yellow onion, and, yes, even 12hr-roasted lamb shoulder.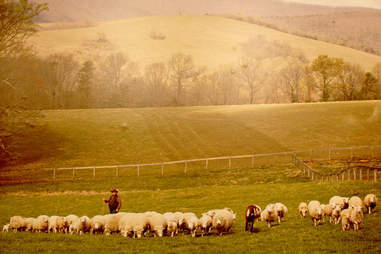 Well, they won't set fire to this range.
Everything's prepared by a chef who earned his chops at Sbraga at 10 Arts.
Come lunch and dinner, you can get ribbed for your pleasure. Racks are smoked for half a day, then slow-cooked with a house-made honey-chili sauce before they cool off on a bed of coleslaw and creamy potato salad.
They're available to take out or for dine-in, but she's the only one allowed to dine behind the counter...
... so pull up a stool; no John Deere cap required.
What's hotter than that honey those honey ribs? This chili-garlic chopped shoulder-and-potato-chip'wich that'll have you hankering for a cold drink.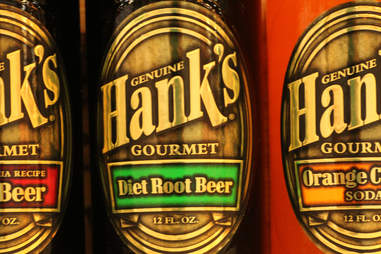 How is this not a gyro? Let us explain.