The Midtown Village munchie pioneers behind Barbuzzo and Lolita are now serving Sunday supper-style Italian (and booze!) seven days a week at Little Nonna's, their '50s-style pasta joint inside the Hotel Independent where you'll stomach all the best features of your grandparents' life experience, like crushed red pepper crab and spaghetti, cherry-bombed seafood salad, and ricotta-stuffed shells, with none of the indigestible advice about your girlfriend, job, and haircut that comes with it.
Recommended Video
Really Dough's Mark & Scott Take a Bunch of Shots, Do Blind Pizza Taste Test, Argue a Lot
Want beef in more than your ragu (and ragu that's not from a jar of Ragu)? Opt for a bone-in strip loin or these handmade Fiorella's fennel sausages that take the meaning of "hot link" back from the New World.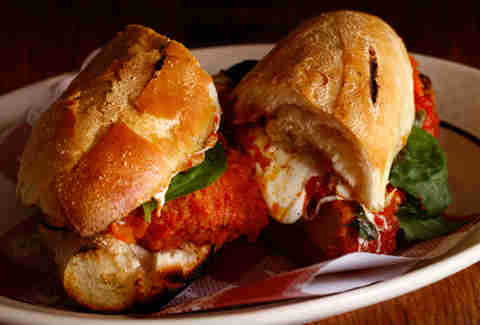 What's better than leftovers for dinner? A Sarcone's Bakery roll that's freshly stuffed with hand-pulled mozz crafted from Caputo Bros curd and melted over house-ground pork, veal, and beef-blended meatballs.
The flowers on your table may be fake (not just maybe -- they are) but the herbs and tomato your bowl of cavatelli are swimming in aren't just real, but real local, too, from the restaurant's 40-seat garden dining room.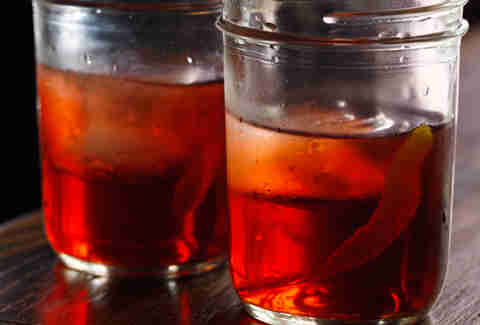 You can also get red sauced here. Unlike those bring-your-own-tequila nights at Lolita, the bar here's stocked with more than mixers. Pitted (!) against your sobriety are these olive jars loaded with Negroni, vodka sorbet Scroppino, Amaro, and wines by the glass and bottle.
Unlike at your grandparents', the sweets here aren't wrapped in cellophane. Instead, they're heaped into bowls by the pastry chef behind the monster sundaes at Franklin Fountain, who's whipped up everything from seasonal cannoli and spumoni to this tongue-staining bowl of creamy tomato-basil water ice.