Until now, if there was only one thing you had in common with the guys at Tavern on Camac, it was the total lack of Food Network stars in your basement dishing out booze-friendly bacon burgers and soup-sided grilled cheeses 'til the brink of dawn. But unless your boys abducted Guy Fieri Saw-style overnight, that's all about to change with the Tavern, an under-Camac pub where award-winning Mercato vet Mackenzie Hilton's serving a full dinner menu of 'tail-pairable grub, like nine-pickle plates and eggs every-which-way, 'til 3a nightly morning-ly.
Recommended Video
Feast Your Eyes on the Torpasta
Before you can navigate the menu, you have to navigate the stairs.
Like your sour without the whiskey? Opt for this Lancaster Farm pickle plate that offers nine kinds of locally-raised tartness from mushrooms and cauliflower to classic dill chips perfect for piling atop that applewood-smoked bacon- & caramelized onion-topped blue cheese burger.
Fries are baked, fried to order in hot garlic oil, and piled into this overflowing soup bowl, where they're sided with a slightly smaller bowl of Cooper sharp cheddar sauce.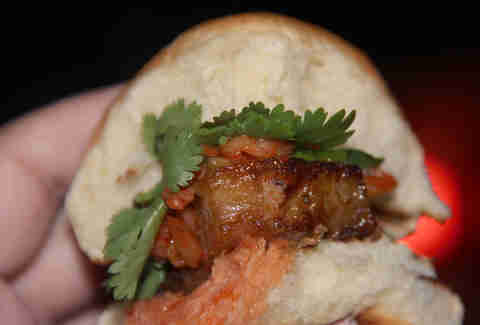 Want to take a smaller bite out of the menu? Six sandwiches come full- or slider-sized, like grilled peach & chicken, tuna tartare on sourdough, and this Hawaiian-bunned pork belly jawn glistening with smears of house-made kimchi and scallion aioli.
Unlike the BYOBs where Hilton worked previously, both of you can get a drink here. Say "Open Liquor" and you'll get a bittersweet blend of Plymouth Gin, Aperol, Green Chartreuse, and fresh grapefruit juice, which is way preferable to a corkscrew and a lesson in manners. If that doesn't strike your fancy, try an Aviation or the Aperol-based Tavern Spritz.
Start your day instead of ending it with the menu's crackingest egg dishes, like poached yolks swimming through a shredded duck & bacon salad, and a pork roll breakfast burger with a fried farm egg, or just down a glass of pickled ones, like a Chopped champ.