The Year In Fat: Our 10 favorite fatty foods from 2013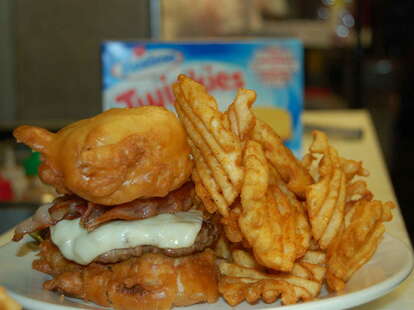 Because reading a retrospective on the most sensible salads that Philadelphia ate in 2013 would be about as much fun as eating a sensible salad, here is an epic retrospective on the glorious fatness that graced our palates and gullets this year. Hopefully, 2014 will be even bigger... if we survive to see the end of it.
Bourbon Bone Marrow
Pennsylvania 6, Midtown Village
Approximate Calorie Count: 380
Dinner should be an event. Better yet, it should be an unsanctioned Winter Olympics event, which is now possible, thanks to the guys behind all your favorite booze houses (Public-, City Tap-, Field-), who turned the former Tweed space into Pennsylvania 6, where they're serving up succulent marrow bones that you, after eating them, are encouraged to use as mini-luges to down some bourbon.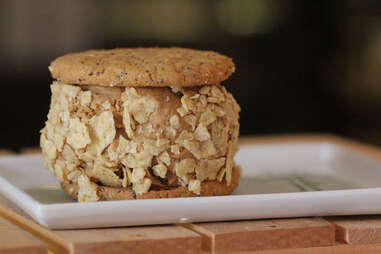 Ice Cream Sandwich
Cookie Confidential, Society Hill
Approximate Calorie Count: 450
Cookie Confidential's took their usual dessert-based deliciousness to a whole new level back in February: chicory coffee ice cream from Foam Floaterie sandwiched between two Mexican coffee cookies, and rolled in tortilla chips.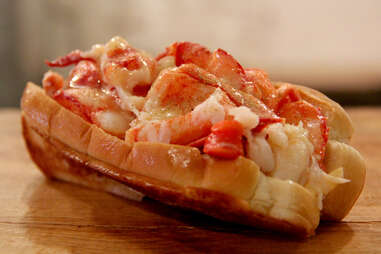 Lobster Roll
Luke's Lobster, Rittenhouse
Approximate Calorie Count: 470
This shellfish-slinging BYO in the subterranean Rittenhouse Square shop formerly occupied by Bonte Wafflerie offers up hot buttered buns overstuffed with filler-free crustacean -- just a quarter-pound of knuckle and claw meat seasoned with a secret six-spice blend for some added bite.
Bacon Tater Tots
Strangelove's, Midtown Village
Approximate Calorie Count: 580
The Memphis Tap Room and Resurrection Ale House crew took over the old Doc Watson's space, where spacious upstairs-downstairs bars pour 20 drafts from under the counter, and serving these white-cheddar-whizzed, bacon-covered tater tots, which given the place's name, it's save to assume are the bomb.
Cro-Creme
Swiss Haus Bakery, Rittenhouse Square
Approximate Calorie Count: 710
It seems like ages ago, really, but back in May the cultural landscape of these United States was completely altered by a Frenchman with a sweet tooth who unleashed the Cronut upon the world. It also established the previous day as the last day you could turn on the television or log on to the Internet without the thing being mentioned, and frantically imitated in bakeries across the world... and South Philly. Our favorite is this (literally) heart-stoppingly beautiful Cro-Creme.
Mac and Cheese Dog
Mac Mart Truck, Mobile
Approximate Calorie Count: 903
Operating out of a retrofitted DHL truck, Philly's first-ever mobile mac and cheese-ery serves gooey goodness made with a secret five-cheese blend in bowels (boring!), and, even better, on sandwiches and this hot-buttered, all beef dog.
Brisket Fries
Reuben On Rye, Mobile
Approximate Calorie Count: 963
Equal parts mobile Jewish deli and understatement, this mobile foodery griddles its namesake sammy nine ways, including this four meat double-decker GBMF, which sandwiches layers of freshly carved hot corned beef, pastrami, roast turkey, and hot dogs (!) between three wedges of Russian dressing-drenched, sauerkraut-smeared, Swiss-melted rye, but possibly even better than is this unassuming side of fries... topped with brisket and melted cheese.
Chicken and Waffles
Cedar Point Bar & Kitchen, Fishtown
Approximate Calorie Count: 1211
Southern bruncherie A Full Plate's reopened in Fishtown as Cedar Point Bar & Kitchen (don't worry, their plates are still full), and started serving an expanded menu of meaty comforts like brisket-stuffed johnnycakes, pimento cheeseburgers, and battered bird options including this BBQ syrup'd boneless breast on a bed of cornbread waffles.
Twinkie Burger
PYT, NoLibs
Approximate Calorie Count: 1441
From the verge of extinction to thriving as burger-holders -- the story of Twinkies has been a true roller coaster ride, and a testament to the American spirit... and hunger for robust, cream-filled treats. PYT in Philly has pioneered a new job for these Hostess sponge cakes by flattening them, battering them, deep-frying them, and using them as buns for what is perhaps the novelty sandwich to end all novelty sandwiches. Also on this burger: American cheese, bacon, the collective ogling eyes of every adventurous eater this side of the Mississippi.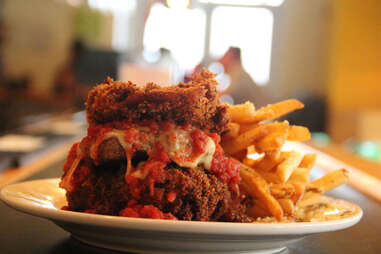 Lasagna Burger
PYT, NoLibs
Approximate Calorie Count: 1630
Your stomach better be bigger than her eyes, because the crew that reinvented Twinkies as hamburger buns has taken your Italian grandmother's favorite Sunday supper to new depths (of their deep fryer) with the Lasagna Bun Burger, 5oz of cheesy-spicy meatball sandwiched between two quarter-pound wedges of breadcrumb-battered beef-gravied noodle pie, that, sadly, was only available for a limited time.