Whether you've just swiped right or you're clocking in another anniversary with your OTP, any place can be romantic in Philly if you're with the right person. Just in case, though, why not make the extra lovey-dovey push with romantic restaurants that set the scene for fluttery butterflies and lingering meals over candlelight. Whether you're looking for extravagant multi-course meals, a cozy dinner of comfort food for two, or plates designed for getting close and sharing, Philly can more than deliver on date night. Take a look at our favorite romantic restaurants for date night any time of the year.
Gayborhood
Reimagined classic steakhouse with a modern edge
The romance of a classic steakhouse never seems to fade. Michael Schulson has reimagined the concept with Alpen Rose, a lux and ultra dim hideaway on 13th Street serving succulent steaks, stuffed lobster, and baked Alaska with plentiful shares of bourbon and gin. The intimate restaurant seats only 40, and the dining room is cloaked in wood and adorned with ornate chandeliers. It's the perfect spot for getting dressed up to cozy up.
Washington Square West
Premier culinary destination featuring multi-course Italian tasting
Nothing says love like a multi-course tasting menu. Vetri Cucina is the ultimate of its kind in Philly, serving Chef Vetri's award-winning Italian cuisine solely through this format. It's a pricey feast ($165 per person), making for the ideal destination to celebrate a big anniversary or occasion -- probably not first-date material. The menu changes often, but you can always expect charm and personalized service in Vetri's inviting Spruce Street townhouse.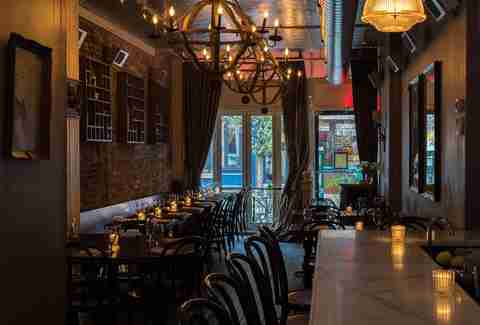 Graduate Hospital
Southern-inspired fare with vintage glamour
Not all romantic restaurants have to break the bank. Rex is an alluring South Street staple serving Southern-inspired fare that often veers into comfort food. A visit to Rex will teach you that, yes, you can be romantic whilst eating wings (go for the molasses chipotle), but you can keep it cool (as in fewer wet naps) with the decadent crawfish pot pie or house burger with pimento cheese.
East Passyunk
Inviting cocktail bar with shareable plates
Next door at Laurel, the multi-course French cuisine is pure romance, but the sister cocktail bar ITV is equally alluring. The space is small and inviting, ideal for huddling at one of the back tables, overlooking the twinkly lights, and sharing some plates of puffed pork chips and house charcuterie. The cocktail list is also great if you or your date don't plan on drinking alcohol -- softer sips like the Mr. Treatime packs a whole lot more passionate punch than a soda.
Rittenhouse
Airy new American cuisine near Rittenhouse Square
How aptly named. Not all romantic restaurants have to be heavy on the dim lights and votives. The Love is a refreshing take on new American cuisine, with white brick and arched hallways to complement. You can't go wrong with the spaghetti and lobster pasta for a true match made in heaven, or the signature Lovebird entree: fried chicken, grits, and collard greens. The upstairs loft space is another alternative for private dining, offering a big group table and private lounge area that's warm, welcoming, and makes you want to linger a while.
Gayborhood
All-day Japanese cafe and subterranean restaurant
Go downstairs to the subterranean, cavernous dinner level of this all-day Japanese restaurant where tables are nestled in dark corners that make dinner feel extra private. For the true experience, try the chef's tasting menu -- $60 gets you 10 courses and mochi -- including robatayaki, seafood, sushi, and countless other exciting dishes you can share with your date.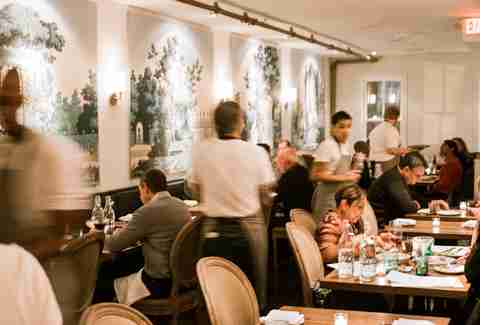 Rittenhouse
Bi-level corner eatery ideal for seafood and craft cocktails
The long-running, recently renovated Friday Saturday Sunday makes for an idyllic date spot, whether you opt for the bustling downstairs bar or head upstairs to the expansive, open dining room. If you're in the mood for sharing, try the dry-aged duck for two, with roasted duck breast and confit duck leg, after starting with eggs and caviar. It's approachable opulence, and isn't that the best kind of romantic?
Old City
French cuisine and raw bar in intimate tavern with rooftop dining
Whether you want to sink your teeth into a burger with truffle mayo or you want to drop some cash on champagne-braised escargot, Royal Boucherie is your spot. Nick Elmi's French tavern is a gem in the heart of tourist-crazy Old City, mingling a homey atmosphere with giant charcuterie boards, a fresh raw bar, and an excellent cocktail menu. Best of all, you can even stop in during post-dinner hours, when the kitchen stays open late, because nothing sounds dreamier than a midnight foie gras.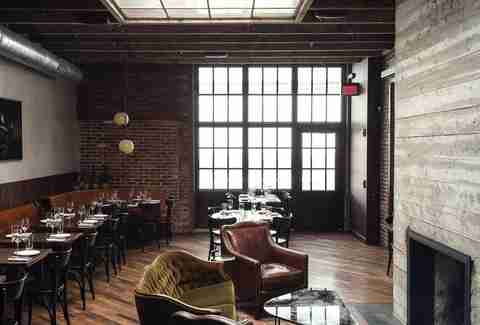 Fishtown
Wood-fired pizza and small plates served in rustic, modern setting
Curved wrap-around bar to scoot in close next to someone? Check. Fireplace with tufted sofas? Check. All the wood-fired pizza you desire? Also check. Wm. Mulherin's can be a good fit whether you want to get some artisan pizza over beers -- be sure to try the speck and egg -- or go all-in on a feast focused on pasta and extravagant entrees. Its rustic-gone-modern interior design makes you want to stay all night, so snag a spot by the fire and get comfortable. Plus, if you really do want to stay all night, its titular boutique hotel is right upstairs.
Gayborhood
Lush lounge and cocktail bar serving vegan plates
Not only does Charlie Was a Sinner immediately impress with its dark interior and boudoir lounge vibe (along with its killer cocktails), but it also serves as a worthy destination for plant-based partners. Everything on the menu is amazingly, deliciously vegan, and can satisfy even the most stubborn of carnivores with its artichoke frites, eggplant bao buns, cauliflower steak, and gnocchi in smoked tomato butter.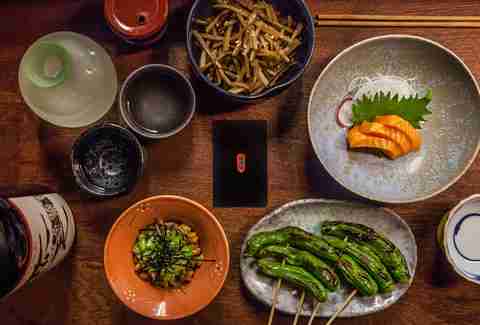 Queen Village
Casual, lively Japanese bar with expansive saki menu
Try yakitori, maki, and other Japanese specialties in a dark, intimate, casual bar setting at Royal Sushi. For a truly memorable date, try to snag a spot at the hard-to-get, 10-seat sushi bar, where you can order the 18-piece omakase experience for a cool $130. If you're not trying to drop that much cash, you can still pick and choose your own plates while taking advantage of the serene mood lighting.
Old City
Spanish tapas mainstay in the heart of historic district
Amada is Jose Garces' flagship Philadelphia restaurant and a longstanding Spanish tapas destination. It also doubles as a romantic date night classic thanks to warm, subdued interiors and many ways to select and share plates with your companion. Split some essential dishes such as the garlic shrimp and crab-stuffed peppers over a pitcher of sangria, or opt for the chef's selection at $65 a person.
Sign up here for our daily Philly email and be the first to get all the food/drink/fun in town.