The 12 Most Romantic Restaurants in Philadelphia
From extravagant dining rooms to cozy garden hideaways, these spots are sure to impress.
Whether you've just swiped right or you're clocking in another anniversary, any place can be romantic in Philly if you're with the right person. Just in case, though, why not stack the cards in your favor with some of the city's tried-and-true spots for all-out romance.
From extravagant multi-course meals, candlelit dinners of comfort food for two, or garden hideaways to fall in love beneath the bistro lights, Philly more than delivers when it comes to date night. So take a look at our list of the most romantic restaurants in Philadelphia, muster up some courage to secure your date, and make that reservation.
Washington Square West
One of Philly's most essential Italian restaurants is also one of its most romantic, thanks in large part to Little Nonna's so-called "secret garden." There you'll find a little oasis in the city adorned with twinkly lights ready for your next date night. The real romance, of course, is in the plate; whether you're ordering pan-seared gnocchi or lemon branzino, rest assured you'll at least be falling in love with your food.
How to Book: Resy
Fishtown
Head to Nunu and find the dining room soaked in red lighting for the ultimate ambiance, or head outdoors to the sweet alleyway garden next door with white lights hanging overhead. Nunu is proof you don't have to break the bank for romantic ambiance, offering instead a cozy setting and delicious maki, noodles, and other goodies that hover around the $16 range.
How to Book: OpenTable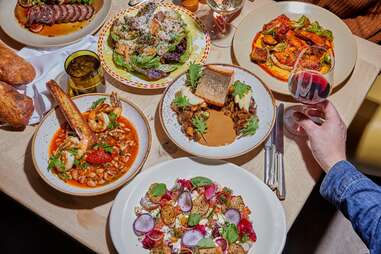 Washington Square West
Talula's has an ultra-lush back garden perfect for moonlit dining and testing how well you can share an artisanal cheese plate with your date. After cheese and jam, eat your way through the farm-to-table menu with cheddar-chive biscuits, slow-roasted brisket, and a warm blueberry-peach crisp made for two.
How to Book: OpenTable
Rittenhouse
El Rey is romantic in its dim, cozy ambiance without sacrificing comfort—it's proof that not all romances have to be over-the-top paperback novels. Settle into a dimly-lit booth table for house-made guacamole, short rib enchiladas, and all the tacos you can handle. Don't forget a black cherry margarita and churros for dessert.
How to Book: OpenTable
Midtown Village
The romance of a classic steakhouse never seems to fade. Michael Schulson has reimagined the concept with Alpen Rose, a lux and ultra dim hideaway on 13th Street serving succulent steaks, stuffed lobster, and baked Alaska with plentiful shares of bourbon and gin. The intimate restaurant seats only 40, and the dining room is cloaked in wood and adorned with ornate chandeliers. It's the perfect spot for getting dressed up to cozy up.
How to book: Resy
Rittenhouse
How aptly named. The Love is a refreshing take on new American cuisine, with white brick and arched hallways that feel airy and bright. You can't go wrong with the smokey pulled brisket handkerchief pasta, or the signature Lovebird entree: fried chicken, grits, and collard greens.
How to Book: OpenTable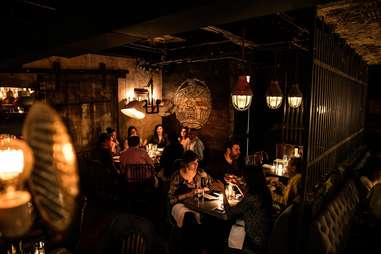 Midtown Village
Go downstairs to the subterranean, cavernous dinner level of this all-day Japanese restaurant where tables are nestled in dark corners that make dinner feel extra private. For the true experience, try the chef's tasting menu—$65 gets you 10 courses and mochi—including robatayaki, seafood, sushi, and countless other exciting dishes you can share with your date. Plus, what better bonding exercise than pouring over the menu and deciding what to order together?
How to Book: Resy
Rittenhouse
The long-running, recently renovated Friday Saturday Sunday makes for an idyllic date spot, especially with a new eight-course tasting menu as part of the deal. Snag one of the limited number of reservations for an indulgent dinner service in the intimate upstairs dining room, where you'll share sweetbreads, halibut, New York strip, and more for an impressive date-night feast.
How to book: Call 215-546-4232
Old City
Whether you want to sink your teeth into a burger with truffle mayo or you want to drop some cash on champagne-braised escargot, Royal Boucherie is your spot. Nick Elmi's French tavern is a gem in the heart of tourist-crazy Old City, mingling a homey atmosphere with giant charcuterie boards, a fresh raw bar, and an excellent cocktail menu. It's even better if you snag a seat in the dreamy little upstairs garden.
How to Book: OpenTable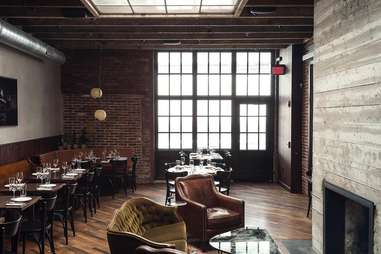 Fishtown
Wrap-around bar to scoot in close? Check. Fireplace with tufted sofas? Check. All the wood-fired pizza you desire? Also check. Wm. Mulherin's can be a good fit whether you want to get some fancy pizza over beers—be sure to try the Giant Peach with warm honey—or go all-in on a feast focused on pasta and extravagant entrees. Its rustic-gone-modern vibe extends to the lush outdoor garden that makes you want to stay all night. Plus, if you really do want to stay all night, its titular boutique hotel is right upstairs.
How to Book: Resy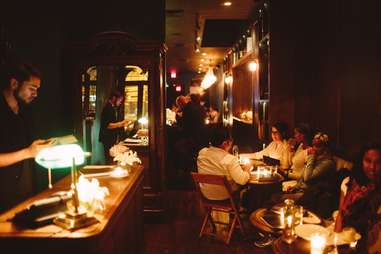 Midtown Village
Not only does Charlie Was a Sinner immediately impress with its dark interior and speakeasy lounge vibe (along with its killer cocktails), but it also serves as a worthy destination for plant-based partners. Everything on the menu is amazingly, deliciously vegan, and can satisfy even the most stubborn of carnivores with its artichoke frites, eggplant bao buns, cauliflower steak, and gnocchi in sunflower basil purée.
How to Book: OpenTable
Old City
Amada is Jose Garces' flagship Philadelphia restaurant and a longstanding Spanish tapas destination. It also doubles as a romantic date night classic thanks to warm, subdued interiors and many ways to select and share plates with your companion. Split some essential dishes such as the garlic shrimp and crab-stuffed peppers over a pitcher of sangria, or opt for the chef's selection at $65 a person.
How to Book: OpenTable
Marielle Mondon is a writer from Philadelphia. Follow her at @MarielleMondon on Twitter and Instagram.