When it comes to popping the question, celebrating anniversaries, or just getting cozy with the one you love, picking the right restaurant is important. Do you go with a private table for two? A hard-to-nab reservation? French? Italian? Spanish? A see-and-be-seen hotspot? One of the curtained-off 'cheater booths' at Ruth's Chris? The choice is yours, but we're here to help: These romantic options in Philly offer all of the above, and more. Book your table and let the wooing begin.
South Street
Designed to feel just like a Parisian bistro (right down to the outdoor cafe-style seating), this place is serving classics like beef bourguignon, butternut squash soup, a foie gras terrine, and an endive, pear & walnut salad that you won't even want to eat -- and not just because it's a... ugh, salad, but because it looks like a piece of art.
Society Hill
If your girl is adventurous, we've got one word for you: handcuffs! two words for you: Israeli food. Try the salatim & lamb shoulder (order it when you make your reservation) for two, or the tasting menu with a pitcher of Lemonna, from a place whose very existence is romantic -- the chef opened it in honor of a brother who was killed while serving in Israel's army.
Washington Square West
This places specializes in down-home eats like honey-brined pork chops w/ kuri squash, charred Honeycrisp apples & sage cider jus, seafood sausage and/or pan-roasted chicken with puffy Swiss chard dumplings, etc., and is awash in what you really should remember to buy your date (no matter what restaurant you go to) if you don't want V-day to suck: flowers.
Old City
You know what they say about sharing, it ain't no fun if the homies can't have none means you care, so hit Iron Chef Jose Garces' dimly lit small platery for two-person tastes like crab-stuffed peppers, lamb meatballs, lobster paella, and lemon ricotta pancakes.
Headhouse
Philly's most romantic table for two is found in the wine cellar of Bistro Romano: a 44-year-old Italian classic in a 1700s-era building. You'll sit at a candlelit table covered in rose petals, dining on dishes like veal saltimbocca and gnocchi with truffle cream, and finish your meal with a complimentary limoncello toast.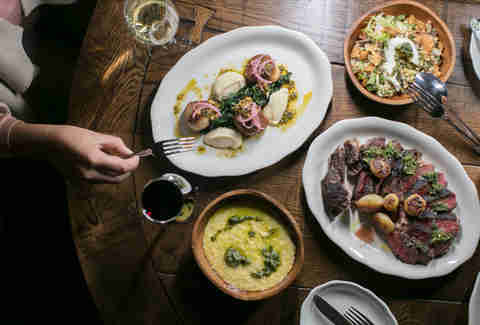 Center City
Michael and Nina Schulson's latest opening may be Philly's most visually striking restaurant. A dress-to-impress crowd buzzes throughout the industrial-vintage space, with chandeliers dangling from 24ft ceilings and old-world photos hanging on exposed brick walls. Ask for one of the two-tops that face outward, toward the dining room (like the al fresco tables at a Parisian café), and order the ribeye with truffle cheese grits for two.
Rittenhouse
Ask for Gran Caffè L'Aquila's private balcony table for two, designed as a nod to Romeo and Juliet's Verona balcony -- you won't even have to deny thy father and refuse thy name! The menu is stuffed with Italian specialities like pan-seared Branzino, wild boar meatballs, and pappardelle in a pork, veal, lamb, and chicken ragu. Do yourself a favor and order a gelato tasting for dessert, choosing from the 24 flavors made fresh daily.
Center City
It might not be the most exciting restaurant in town, but The Prime Rib is just so damn pretty. And really, what's more romantic than getting dressed up, lingering in a luxurious spot with a sunken dining room and leather chairs, and ordering steak? As the name suggests, the prime rib is your go-to on this menu.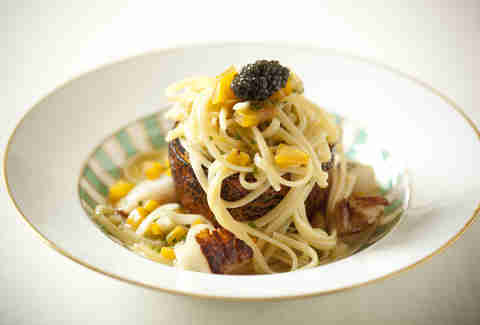 Midtown Village
It's definitely a splurge, but Vetri is worth it. The menu is customized to your tastes (usually including the restaurant's famous spinach gnocchi with brown butter), the space is intimate, and the wine pairing makes dates a little (all right, a lot) more fun. That said, with all the food you'll be eating, you may want to commence your romantic activities before heading to dinner. Pro tip: If the price is too high, head to sister restaurants Osteria or Amis.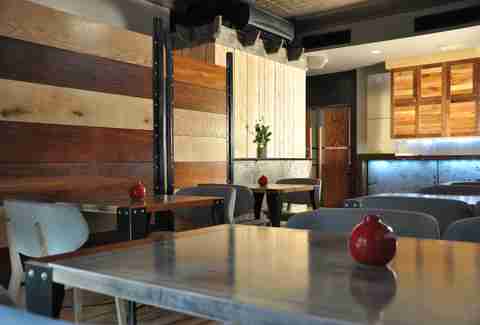 Queen Village
At just 16 seats, Ambra's jewel-box size makes it feel intimate and exclusive. The Italian menu is always changing based on seasonality and availability, but complimentary prosecco and amuses-bouche, a thoughtful wine pairing, and reliably elegant dishes all serve to up the romantic ante.
Old City
This Old City standby sports a redesigned space and celebrated new chef, but the one thing that hasn't changed is the Guinness World Record-winning wine program. There are 120 wines on tap, and couples can get cozy with two of the 30 wine flights that arrive at the table in tall, wrought iron racks. Share homemade pastas, like tortellini with lamb shoulder agrodolce, sunchoke, and black garlic pesto.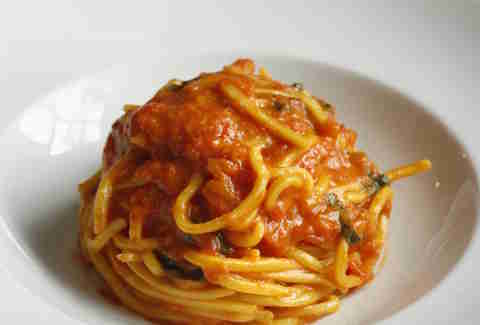 Rittenhouse Square
This new Rittenhouse spot is sleek and sexy, with dim lighting and dishes served beneath white cloches. Order some pasta (the spot is known for its spaghetti with tomato and basil), a bottle of Italian wine, and stroll through the park after dinner.
Fishtown
With its wine bar and sharable Mediterranean dishes, newcomer ROOT is made for date night. A glowy, colorful interior full of mid-century charm and two-tops adds to the ambience. Order the bagna cauda, served over a flame, with raw vegetables for dipping -- it's the fondue of 2017.
Sign up here for our daily Philly email and be the first to get all the food/drink/fun in town.