Nathan Volz's entry in the Search for the Most America-est Hot Dog needs your vote!
Nothing says America like hot dogs (mmm, talking hot dogs...), so Thrillist's invited some of our country's top chefs and Top Chefs to assemble the most monster national sausage since William Howard Taft, and, just like in most presidential elections, we're asking you to vote and declare the winner
In Philly's corner? Chef Nathan Volz, the dude behind 10 Arts at the Ritz-Carlton, who doesn't just have a legendary wiener for a first name -- he was also actually BORN ON THE 4TH OF JULY(!!!), which basically makes him America's little brother, so it's no wonder he crafted this beer-braised, six-nation Melting Pot Dog.
As the name might suggest, this dog celebrates the diverse cultures that have made America delicious. This Polish smoked kielbasa gets split down the middle like the pants of someone who's eaten too much kielbasa.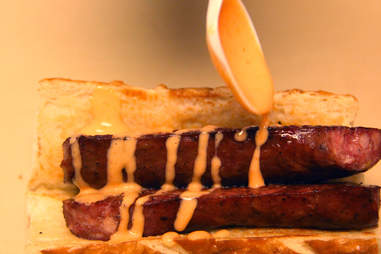 After it's braised in a bath of Yuengling (what else?), your sausage is tucked into a house-baked German pretzel roll and spooned with Thai Sriracha aioli for some heat.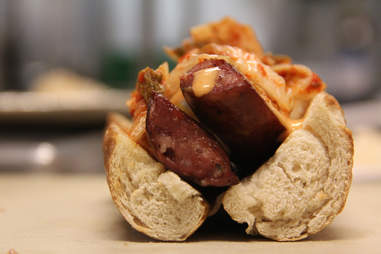 Is that kimchi or sauerkraut? Yes, yes it is.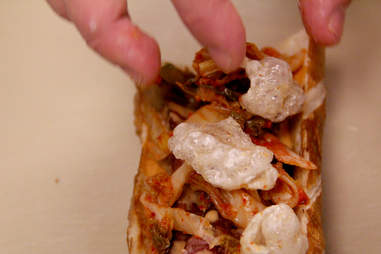 Just like the CIA during the Cold War, this hot dog's toppled Latin American-style with an almost invisible hand and some crispy chicharrones. If your Spanish is rusty, call them pork rinds.
Can't tell the difference between this and the previous picture? That's the beauty of Japanese minimalism. And seasoning. The Melting Pot's finished with a sprinkle of hot & sweet seven-spice togarashi salt.
What's more American than having a big mouth and the whole world in the palm of your hand? Only one thing: voting! So show some Philly pride and help this dog take the title.