7 Must-Visit New Restaurants in Philadelphia
A New York pizza import, sleek omakase experience, and impressive cocktails at a new speakeasy.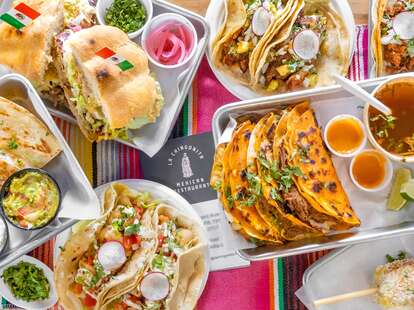 Photo courtesy of La Chingonita
Photo courtesy of La Chingonita
Summer is a great time to dine in Philly. The crowds are off down the shore, which leaves space for the beach house-less among us to snag tables at restaurants that are otherwise packed. Our old favorite restaurants are always a welcome choice for dinner, but despite the slight ease in crowds, new restaurants are popping up across the city at an ever-increasing clip.
Empty storefronts in Center City are starting to fill back up, bringing us bars we thought we'd lost, a pizza place we didn't know we needed, and much more. There's a lot to love, and these are the recent restaurant openings in Philadelphia we're most excited about.
At Amina, chef Darryl Harmond is serving Southern food with a distinct African influence, like a hot chicken sandwich with Nigerian spices, peri-peri sticky wings, and fried catfish hush puppies. The vibe is laid back but elegant, with tables that can accommodate big groups just as well as they can comfortably host date nights. They're also doing brunch (think shrimp and grits, chicken and waffles, and a BLT burger) and there's a proper bar with beer, wine, and cocktails.
Pre-COVID, Franklin Mortgage was one of the best cocktail bars in a city with, let's face it, a somewhat limited number of straight-up cocktail spots. They stayed closed for a very, very long time, and ultimately moved from their old location on 18th street to a new spot in the back of the 1715 on Rittenhouse hotel. Enter through the back alley (which is just a half-block away from Rittenhouse Square) for a bar that actually does feel like a speakeasy. Drinks are relatively expensive for Philly, priced between $16 and $21, but you'll get a high-quality drink made by serious industry pros who make imaginative, balanced house cocktails and very good renditions of classics.
Heavy Metal Sausage Co. feels like an incredibly distinctive South Philly experience: just one dude in a tiny storefront cranking out all kinds of charcuterie. Everything—corned beef, country pate, pork liver terrine, scrapple, bacon, ramp sausages, and so much more—is made from local products by co-owner Patrick Alfiero. In addition to all kinds of stuff to take home for grilling, you can grab a sandwich to snack on or a charcuterie board to graze over at one of the outdoor tables. Current options on the rotating menu include Poppe's Sandwich, which stacks beutelwurst, cheddar, green garlic aioli, green onion relish, and lettuce on housemade rye, and a chef's selection of charcuterie with pickles, jam, and other supporting characters.
Izakaya by Yanaga technically opened last year, but the most important element of the restaurant only recently opened: the omakase counter. The twelve-seat dining room offers two seatings per night of a 25-course, $195 tasting menu, where you'll use gold chopsticks to sample through a high-end, bite-by-bite exploration of Japanese cooking by chef Kevin Yanaga. A la carte sushi, ramen, and other bites, plus solid happy hour deals, are available in the izakaya portion of the restaurant, but you won't regret booking the omakase for a special dinner occasion.
These days, a lot of openings in Fishtown come from the buzziest chefs or popular restaurant groups, which is part of why La Chingonita, a family-owned and -operated Mexican spot, feels like such a necessary spot for the neighborhood. Chef-owners Rebecca Baez and Omar Martínez started their business cooking out of a roving food truck, and have finally put down roots. The duo offers very good renditions of all the dishes you've come to expect from a Mexican spot: succulent burritos jam packed with birria, crispy quesadillas, and even breakfast burritos, which are not as common in this city as we'd like them to be. Grab one of the 20 seats inside this cozy eatery for a quick meal or snag it for takeout.
It's relatively rare that a New York import gets a warm welcome in Philly, but somehow Paulie Gee's has pulled it off. It's probably partially because they're selling slices in a town where that's relatively rare, but also because they're open late on the weekends, slinging both Sicilian- and New York-style pies. They're already doing a brisk takeout business, but there's also a bar with beer and a pool table for late-night games.
If you're looking for a new coffee shop to get your morning fuel, look no further. Persimmon Coffee has been making the rounds for the last couple of years as a pop-up, roasting their own beans and pouring it into minimalist drinks. The drinks and beans are well-balanced, and the space in Fishtown leans into their Japanese- and Korean-inspired design roots: it's an airy, minimalist space with big windows and small stools for quickly sipping your drink and snacking on bites from the pastry case.
Maddy Sweitzer-Lamme is a freelance food writer and restaurant reporter based in Philadelphia. Find her drinking martinis, eating pasta, and baking extravagant layer cakes on Instagram or find her work in publications like
Philadelphia Magazine
,
Eater
,
Food & Wine
,
Bon Appetit
, and more.