8 Must-Visit New Restaurants in Philadelphia
Trendy fried chicken outposts, bagel shops attracting lines down the block, and more.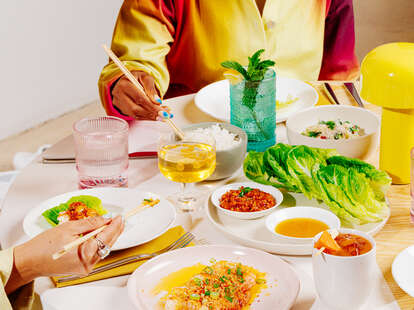 As warmer weather rolls around, Philadelphians are emerging from winter hibernations and restaurants are following suit. Old favorites are ready to welcome us back and unveiling new outdoor dining setups for the season. But beyond the go-tos, there seems to be a new restaurant swinging open its doors every week, ready to offer an ever-expanding genre of dishes.
Pizza and pasta still reign supreme in Philadelphia, as evidenced by two new spots that are already attracting excitement. But the offerings go beyond Philly's Italian-loving roots: There are cozy coffee shops worthy of a trip out of the city, bagel shops attracting lines down the block, and even a classic Philadelphia restaurant reborn. So next time you're looking for a new dining destination, check out this list of the most exciting new restaurants in Philadelphia right now.
After serving as a long-time star at multiple major restaurant groups in Philly, Dionicio Jiménez unveiled his own venture, Cantina La Martina, in Kensington in March. Jiménez has worked in restaurants in Philly since he arrived in the city in 1998, working his way through the kitchens at Vetri, Xochitl, El Rey, among others. Now, he's finally opened his own spot, called Cantina La Martina, where he's putting all that experience to use turning out crowd-pleasing dishes like Quesabirria Quesadillas, platters of oysters, aguachiles, and plenty of cocktails.
How to book: Via website
Philly is already home to a number of excellent pizza joints, but Marcie Turney and Valerie Safran (of Barbuzzo, Little Nonna's and Bud & Marilyn's fame) proved there's always room for one more. Specifically: another gluten-free pie. While Good Luck Pizza Co. is mainly focused on Detroit-style pies that do indeed use regular flour, including a classic version topped with peppers and sausage and a white pie with peas and pancetta, the gluten-free pies developed by culinary consultant George Sabatino stand out. He uses a combination of tapioca and potato starch, plus corn flour, as a base for the crust and adds a bit of pre-fermented dough to the mix, which creates a surprisingly light pie that isn't immediately recognizable as gluten free. Beyond the pies, appetizers like Sweet + Spicy Wings, seasonal salads, and some pasta dishes round out the menu.
When a chef formerly of one of the city's most popular restaurant groups decides to open a coffee shop, pay attention. Such is the story with the newly opened Homeroom Coffee in Gladwyne, Pennsylvania, run by chef Henry Morgan. Morgan, who used to work with Michael's Solomonov's famed restaurant group, has taken over the former Green Bean Coffee (notably the site of his first restaurant industry job) to create the neighborhood coffee shop everyone wishes they lived near. The menu highlights his culinary chops with simple, well-executed dishes like a Charred Eggplant Sandwich, Focaccia Caesar Salad, Yogurt and Granola with Orange Thyme Marmalade, and more.
In a true pandemic success story, Kismet owners Alex and Jacob Cohen started making bagels out of their home kitchen in 2020. Within weeks they began doing pop-ups, then expanded to sell wholesale bagels across the city. Now, just two years later, they've opened a bagel shop in Fishtown where they're selling bagels, sandwiches, bialy, and schmears. Lines can stretch to significant lengths, but it's worth the wait for what many will call Philly's best bagel.
KPOD is Peter Serpico's pandemic project in a new form. After closing his award-winning spot, Serpico, due the COVID, he used the space to do a busy takeout and delivery kitchen called Pete's Place Kinda Korean, from where he served what we undoubtedly called the best chicken wings in the city, alongside a non-traditional menu of Korean dishes like soft tofu stew, all kinds of noodles, as well as bibimbap and more. Now he's brought Pete's Place to life inside the old Pod Restaurant space (understand the name now?). The space has been lightly renovated to preserve the color-changing group dining pods and the bar, but the menu is now a roving exploration of the Korean inventions of a very talented cook. A slate of Korean-style handrolls have been immediate hits, as are a variety of mandu, Honey Butter Fries, shareable ssam platters with proteins like Kimchi-Butter Shrimp and bone-in short rib, and more.
Alex Tewfik, the longtime food editor at Philadelphia Magazine, created quite the buzz when he took off to open his own restaurant in East Passyunk. The name comes from an Arabic expression that's akin to "when pigs fly" because he never expected to open a restaurant of his own—but the menu proves his leap was worth the risk. It's a tight list of dishes that covers broadly Middle Eastern fare in sharable portions, and many menu items are inspired by the things he grew up eating like Pomegranate-Lacquered Chicken with Soft Leeks and Lebnah and White Beans with Shaved Bottarga and Grilled Bread.
Mehmet Ergin's new Turkish spot in Northern Liberties joins a crowded field of top-notch Middle Eastern restaurants in Philly, but the BYOB stands apart for its focus on Turkish classics. Fried Calamari is an early favorite for its crispy texture and well-spiced flavor, as well as the Manti, a tiny, lamb-stuffed dumpling served with yogurt, house-made stuffed grape leaves. Bring a bottle and be prepared to delight in Ergin's classic, seasonal cooking.
The latest addition to Midtown Village is Prunella, an Italian spot from Michael Schulson that offers all the delights that Philadelphians have come to expect from a Schulson operation. There's a great happy hour, crowd-pleasing food (in this case pizza, pasta, and small plates like burrata and grilled octopus), and a pleasantly buzzy vibe. The cocktails are thoughtfully crafted and the wine is surprisingly affordable (though they have a fancier bottle list available as well). On this busy stretch of 13th Street, it's sure to be an instant favorite.
Maddy Sweitzer-Lamme is a freelance food writer and restaurant reporter based in Philadelphia. Find her drinking martinis, eating pasta, and baking extravagant layer cakes on Instagram or find her work in publications like
Philadelphia Magazine
,
Eater
,
Food & Wine
,
Bon Appetit
, and more.