Combining a Williamsburg hipster's love for finely curated selections of refurbished farm tables and your hunger for every meat-stuffed bun, biscuit, and hoagie roll you can chomp atop them, the Brooklyn Flea's taking over the Piazza at Schmidt's every Sun, with 100 rotating vendors from as far away as Princeton, Bushwick, and... South St, all waiting to bargain over vintage vinyl, that desk you carved your girlfriend's initials on in seventh grade, and only-at-the-Flea seasonal eats like the Bent Spoon's sweet corn & Old Bay ice cream and the Hot Diggity cart's hot roasted salsa farm dogs.
Recommended Video
Timothy DeLaGhetto & David So Try the Taco Pizza and NYC's Wildest Foods
About that cart: until school's back in session on 33rd and Arch, the Flea's the only place to find Hot Diggity's mobile dog pound, covered in Hawk Krall artwork and dishing out a Summer menu of locally sourced beef franks from 1732 Meats dressed in condiments made fresh from all of the week's greenmarket haul...
... except for the boxes.
Expect three new styles each week, like jalapeno-bacon Georgia dogs slathered in grits, Vidalia onions, and peach sauce, grilled baby eggplant & mint yogurt Lebanese franks, and this hot & sweet stonefruit salsa dog, seasoned with fresh herbs and microgreens.
They're also frying chips for the first time, in finger-licking flavors like Buffalo and lime-cilantro-jalapeno, guaranteeing you won't go home empty-stomached or empty-handed.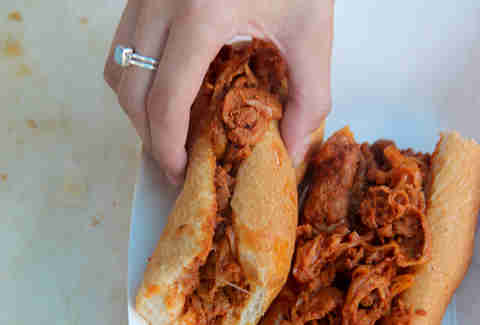 Want to pick up everything we're not putting down? Try this curry-sauced smoked pork sausage from Reading Terminal Market's Wursthaus Schmitz.
They're frying up two styles of $6 smoked links weekly, all on an old-school burner they'll probably sell you at an equally generous price.
Like your franks and sausages in their native form? Go whole-hog at the La Porchetta stall...
... where the South Philly Italian joint carves up sandwiches tail to nose.
The chopped meat's sandwiched between oversized long hots and a layer of Provolone before it's splashed with a ladle of drippings.
Also dripping? This iced cuppa caffeine from New York import Joe Coffee.
After sipping a pick-me-up, take a bite of one in the form of these breakfast sammies from Supper's Scratch Biscuits pop-up.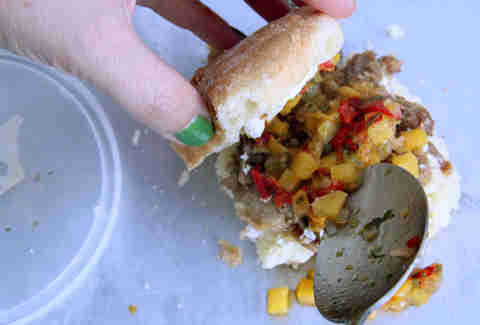 If that farm tomato Redneck Hippie isn't meaty enough, opt for this pork carnitas-smothering mango salsa Benito Juarez.
Breakfast sandwiches also come in frozen form, like Little Baby's Bourbon Bourbon Vanilla ice cream pressed between two made-in-the-USA oatmeal cookies.
Want to catch some cold with a little heat? West Philly's Lil Pop Shop's packing a coolerful of meltables like Mango Chile, Coconut Hibiscus, and Salted Caramel Brownie.
And after you've taken your licks haggling, take your licks from this double-scoop Old Bay cone from Princeton's The Bent Spoon, which, at least as of last Sunday, you can't actually swap for one.