Ground bacon burgers and bacon cheesecake come to Old City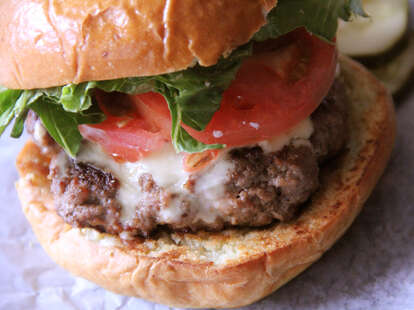 Philly's first Cheesecake Factory's still a year away (!) and tearing at the walls isn't getting it built any faster. It is going to work up your appetite, though, so tear into the porky cheesecake (and burgers, and nachos... ) at old-school Old City roast beef dive Nick's instead, where they've started taking custom blends of local Bespoke Bacon and wrapping, piling, and grinding it into everything on the menu, like this anything-but-little piggy and Prov' burger.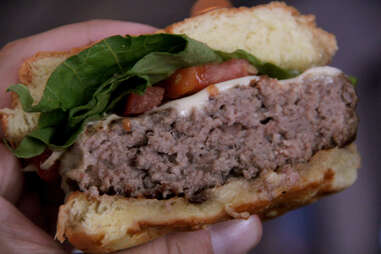 So where's the bacon? You're looking at it. The exploding heart of this brioche-bunned half-pounder's 35% ground smoked belly. Want to mix it up even more? Opt for the Southwestern Twist, sandwiching in fried pickles, salsa, and jalapeno slices, or the More Bacon The Better, loaded with crispy strips of Jamaican jerk, Szechuan, and Big Pepper.
Also full of big peppers? These spicy nachos, hot-glued together with crumbled bacon whiz. A special for the bar's first annual Bacon & Beer Fest, they're coming back to the menu for First Friday, this October 4th, along with other porky treats like bacon-wrapped sweet & sour shrimp, and a meat salad topped with red wine- and garlic-cured Tuscan pancetta.
Want to make your own whiz? Score a bottle of their bacon-pairing local suds, like Yards' Chocolate Love Stout and Philadelphia Brewing's Joe Coffee Porter, which go especially well with desserts like...
... cheesecake! Specifically this creamy roasted garlic number studded with rosemary caramelized apples and bottomed out with a bacon-dusted crust. Your move, Cheesecake Factory.