Every dish you'll eat at Momofuku's totally-not-kosher pop-up
The dude behind Federal Donuts and Percy Street Barbecue is having his own Cochon Epic tonight at his Old City Israeli joint Zahav, breaking the restaurant's kosher code with a late-night pig-out run by the crew from New York's Momofuku Ssam Bar, who'll be banging out eight courses of totally unorthodox dishes like smoked liver mousse, drippings-gravied country ham, and a massive main of slow-roasted brown sugar-rubbed Bo Ssam (a whole Niman Ranch pork butt sided with oysters, rice, lettuce, and kimchi) for a family-style sit-down you'll be picking up with chopsticks like it's December 25th.
Your first course is pretty plum. And under that there's a ceviche of thinly sliced striped bass spiced up with cilantro and green peppercorns. Also plum and spicy? Zahav's Momofuku-inspired cocktails, like the seven-spice sake sours they'll be pouring into the morning.
Craving crustaceans? They're also bringing down boatloads boxloads of sea urchin.
Can't stand to look at salad? Don't worry. This blend of uni, heirloom tomatoes, watermelon, and shiso is also invisible.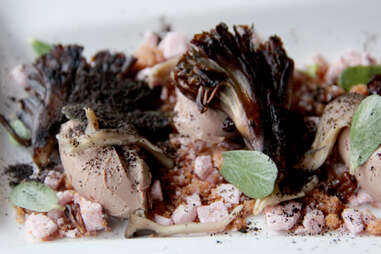 The Momo crew's dug up some classic Ssam Bar dishes like this smoked liver mousse you'll unearth beneath a forest of roasted maitake mushrooms, olive berries, and succulents.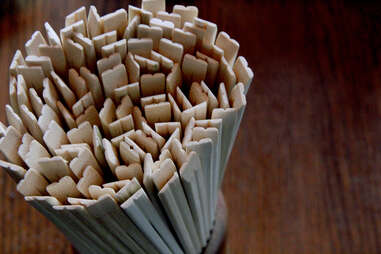 And unlike the check, you may need some help picking them up. Did we mention there's no silverware?
From here on it's finger food, like this Benton's Tennessee ham which's smokier than the sidewalk outside Morgan's Pier on an August night.
If you're a fan of pickles, you'll love this fan of pickles. The bowl's fully loaded with alliterative seasonal crunchables like cucumber, carrots, cauliflower, and kimchi.
Pro tip: Before the main course, do a couple crunches. Specifically these beef tendon and black garlic potato chips.