Point Breeze's American Sardine Bar has hooked up with Meal Ticket founder Drew Lazor (but seriously, who hasn't?) for its Jan sandwich collab and came out with grilled and buttered Texas toast hugging turkey, pork roll, BBQ potato chips, cheddar, jalapeno, and dijonnaise.
Recommended Video
Uncle Paulie's Deli Brings NYC Staples to LA
Previous Venue
Next Venue
Venue Description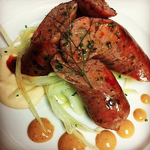 1. American Sardine Bar
1800 Federal St, Philadelphia, PA 19146
Point Breeze's best bar-with-a-fish-in-its-name has awesome beers and comfy seafood jawns like Marinated Shrimp Tortas and Drunken Krab Chowder, made with a crustacean whose claws were even more hammered than usual.