Where Philly's Top Chefs Head for the Best Late-Night Eats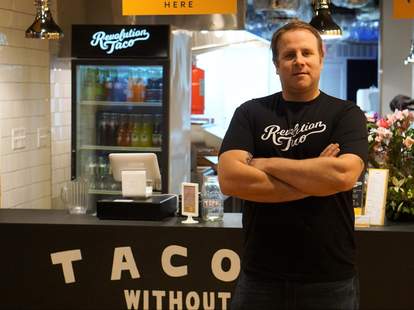 Courtesy of Revolution Taco
Don't let the TV fool you -- being a chef isn't a glamorous job. The kitchen, it's hot. The hours... well, we hope you don't like your nights and weekends very much. After a long day in the kitchen making YOUR food, where do chefs head to when they get off their shifts (usually after most regular kitchens have closed)? We asked 13 of Philly's top chefs where they want to eat after a long day of work.
<em>Rittenhouse</em><br />
"[I'll head] to Little Pete's on 17th St for their chicken parm. I am a chef, so late-night or not, I want something delicious and satisfying. They always make it fresh, fried to perfection, moist, and not over-sauced. It's one of my favorite late night spots as it's 24/7, which is great after a long day at events and in the kitchen. Plus, it's some of the best diner food in the city."
<em>Chinatown</em><br />
"Tai Lake for late-night eats. I love getting the whole Dungeness crab with garlic sauce and the whole steamed fish with ginger scallion sauce. I love it because it's simple for a larger group of people to share. It's the perfect place to take people that are visiting Philly if they get in late."
Courtesy of Starr Restaurants
<em>Chinatown</em><br />
"I like Tai Lake because they have fresh seafood in their tanks. They'll cook it up any way you like, but you have to ask for the Chinese menu to get the good stuff."
Courtesy of Starr Restaurants
<em>Midtown Village</em><br />
"Along with good cocktails, barbuzzo offers a late-night menu that has chef-driven dishes, fresh pastas, and wood-fired pizzas. I'm always happy to end up there, hungry and thirsty, after a long day and night in the kitchen."
Courtesy of Vernick Food and Drink
<em>Fairmount</em><br />
"If I'm looking to go out after work, I'll head to La Calaca Feliz in Fairmount. I love the Three Chili Margarita (made with blanco tequila, fresh lime juice, and house chili blend) and chicken tacos (chicken tinga, avocado, queso fresco, red cabbage). Their secluded, perfectly lit, outdoor patio area makes for the perfect neighborhood spot to unwind."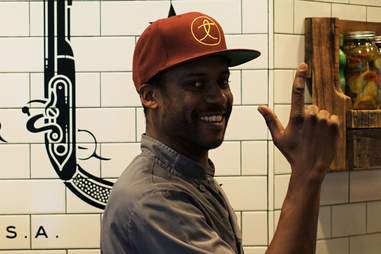 Courtesy of The Little Lion
<em>Chinatown</em><br />
"David's Mai Lai Wah in Chinatown is my favorite place to grab some late-night grub, especially after a few rounds of karaoke at Yakitori Boy around the corner. David's has great cheap eats like soups and noodles, but you've gotta try the salt &amp; pepper chicken wings. Who doesn't want chicken wings at 2am?"
Courtesy of Uptown Beer Garden
<em>Chinatown</em><br />
"My favorite food to eat late-night is the fresh prawns from Ken's Seafood in Chinatown. Ken takes the prawn out of the tank in the window when you order it. They take the tails off and do them sashimi-style with soy and hot peppers. Then, they take the heads and fry them. Not only is this one of my favorite dishes ever, but you can also get it at 3am. The rest of the food is no joke, either."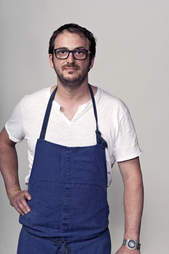 Courtesy of La Peg
<em>North Philly</em><br />
"Eating late is such a rarity for me now. When I was in full tilt late-night eating, I was a fan of Café Soho's Korean fried chicken, on Cheltenham Ave and 5th St. They serve the crunchiest wings I've ever had. Even after being soaked in sauce, the skin would retain its unbelievable crunch."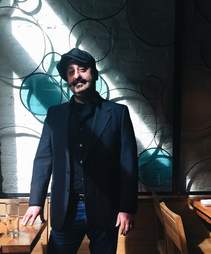 Courtesy of Opa
<em>Chinatown</em><br />
"Chinatown is where I go for late-night eats. It's usually my wife and I and [almost always] a few friends show up, often other chef buddies. There are many choices, but we end up at Penang a lot. The dish I order most is 'mee siam.' I always crave noodles for some reason, and I love this version because it's spicy and and has a little bit of the everything, from shrimp to tofu, even an egg. It's like a kitchen-sink dish!"
Courtesy of Buckminster's
<em>South Philly</em><br />
"I try not to eat late anymore, but, when it does eventually happen, it seems I'm always thinking tacos or pizza, or ideally a combination of both. With the advent of the online delivery services, it's easy to order late from some of the local Mexican pizzerias, Rosario's being my favorite. Their Al Pastor pie is a superlative example of the taco/pizza mash-up, with all the things that make the namesake taco great (pineapple, roast pork, jalapeños, al pastor sauce, and crema). However, when veering strictly towards tacos, Prima Pizza is the best by far for late-night authentic Mexican. Incidentally, they don't actually serve pizza at all, which can confuse any newcomers to the late-night taco game…"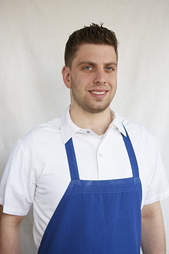 Michael Persico
<em>Queen Village</em><br />
"I head to Prima Pizza Taqueria Mexicana (more commonly known just as Prima Pizza) in South Philly. &nbsp;People go there for the tortas. I usually go with a couple friends after work and order a torta, a burrito, and tacos to share. The Torta de Lingua is amazing. And the burritos are great too because they have that good, melty Mexican cheese throughout. It comes with a delicious cactus situation on the side, fried onions, and jalapeños. And you know the place is legit because after work, it's filled with Spanish-speaking industry people who make restaurants run. Open 'til 4am and back at it at 8am."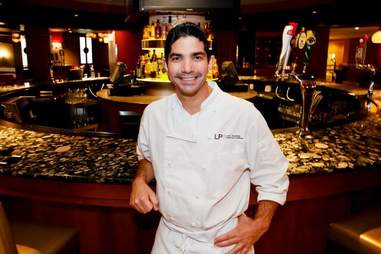 Courtesy of LP Steak
<em>East Passyunk Crossing</em><br />
"Fountain Porter in South Philadelphia -- they have a delicious burger that is only $5. They griddle the meat and it gets a nice crust, which is perfect after a long day in the kitchen. The bun is soft and it's easy to eat one (or two, or three)."&nbsp;<br />
<br />
<em><a class="vortex-open" data-campaign="2843" href="https://signup.thrillist.com/&quot; target="_blank">Sign up here</a> for our daily Philly email and be the first to get all the food/drink/fun in town.</em>
Dan's favorite late night option: David's Me Wei Lah in Chinatown, although he's always down for a cheesesteak and gremlin at Ishkabibble's. Follow him on Twitter or Instagram @dannypageviews.