Trying the City's Most Delicious Dumplings Without a Car
Of course, if you're going to do a dumpling crawl on foot, you're starting in Chinatown. As fans of the day crawl, three friends and I dove into this adventure armed with nothing but a hearty appetite and a few restaurant suggestions I'd solicited from Twitter (still accepting your best recs, y'all).
The first thing I learned -- and it sounds obvious! -- was that if you're going on this dumpling crawl, show up hungry. Ideally, your stomach should be gurgling, and you should be slightly irritable from low blood sugar. Bring approximately three comrades with you (even numbers make for easier seating arrangements, and too few means you'll fill up too quickly), preferably ones of the meat-eating kind. Most of the dumplings were stuffed with pork, chicken, and/or seafood, so if you're on a limited diet, it'll be a frustrating experience. And resist the urge to finish everything you order unless you have a second or third stomach. This is a marathon, not a sprint. The more you pace yourself, the happier you'll be at the finish line.
We took turns picking up the tab, making the overall process run smoother. Most places cost less than $20 for a few orders of dumplings. We paid in cash to keep the crawl moving, and half these places don't accept cards anyway. It also helps to know which dumplings you plan to order beforehand to reduce any of the guesswork involved -- you're in for a long afternoon if you deliberate with the jury over what to order at every stop. Because I'm incredibly kind, I'm telling you what to try.
One huge warning: servers didn't hide the fact that they disapproved of our light ordering. I explained we were only interested in having a snack and over-tipped at each stop for taking up a table during their lunch rush. Plan your stops accordingly.
If you follow these tips, you should be as golden as a fresh pork bun.
Jason Hoffman & Jennifer Bui/Thrillist
1020 Race St
Must-try:
Shanghai crabmeat and pork soup dumplings ($7.25 for eight)
We didn't know what to expect when we arrived here, and a line snaking out the door told us we'd made a crucial mistake scheduling our crawl for 12:30pm on a Saturday afternoon. We waited 15 minutes to be seated, which felt like an hour -- time proceeds slowly when you're starving. Finally seated in the back of the restaurant in a small, loud, windowless room with a few large round tables, we chose the steamed crabmeat and pork soup dumplings and an order of fried pork and chive dumplings ($5.50 for 10) along with a pot of black tea. The pork and chive dumplings came first and we inhaled them. The dough was chewy and the meat was well-seasoned. A few minutes later, the star of the show arrived: a large tin of eight soup dumplings. I didn't detect much crab in the two I gobbled, just a savory meatball tucked into soft dumpling skin. My plastic chopstick tore a small hole in the side to let the piping hot broth ooze out onto my spoon. It should be noted that the soup dumplings released off the tray well, preserving the precious parcel of soup. That's not always the case with soup dumplings, so I was impressed. We dropped a $20 on the table and headed out to the next stop.
1022 Race Street
Must-try:
Fried coconut chicken curry dumplings ($5.95 for eight)
It turns out that Nan Zhou Hand Drawn Noodle House is a few feet to the left of Dim Sum Garden, so going from Location #1 to Location #2 was more of a stumble than a crawl. Again we were up against a lunch rush and waited about 10 minutes to be seated. This is the only place we planned to hit that serves coconut chicken curry dumplings, so we gave 'em a whirl. We padded our order with noodles with peanut sauce ($4) and a small wonton soup ($2.75). The dumplings were quick, firm hit of curry and tasted best dipped in the soy sauce that came with the dish. However, the real prize were the spongy noodles with the warm, nutty sauce. I guess if it's a noodle house, you're going to have the most success with the noodles. Fair enough; onward! We dropped another $20 and set out for the third place.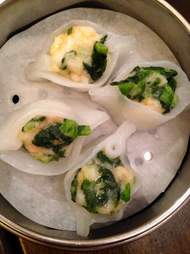 Anna Goldfarb/Thrillist
218 N 13th Street
Must try:
Shrimp and snow pea leaf dumplings ($4.75 for four)
Head down Arch and take a right on 13th Street and you'll see Nom Wah's electric signage halfway up the block. Nom Wah has a different, more modern vibe than the last two spots, though it's the Philly offshoot of New York's dim sum joint, historically the first of its kind in the great big city. It's only a few blocks away, but the cheeky bathroom wallpaper and two craft beers on tap let us know we were in a different sort of place. Twitter told me to try the steamed shrimp and snow pea leaf dumplings; that was the first thing I marked off the checklist dim sum menu. We rounded out the order with steamed taro dumplings ($4.00 for three), a steamed pork bun ($3.50 for one), and an order of Shanghai steamed soup dumplings ($4.50 for four) for the table. Unfortunately, the soup dumplings stuck to the wrapper on the tray, tearing the dough and spilling the rich both everywhere. Huge bummer. The shrimp dumplings were a hit and my favorite thing we ordered. The garlicky greens paired nicely with the firm, sweet shrimp, and the delicate wrapper was sticky and light. The pot of jasmine tea was a hit, too. We left $25 and shuffled out the door.
126 S 16th Street
Must-try:
Wontons in chili oil ($7.50 for eight)
At this point, enthusiasm was still high. As much fun as it was to try dumplings that highlighted a range of Chinese flavors, I love the heat of Sichuan Chinese food, so I was ready to turn the flavor dial up. And by some miracle, I was still hungry when we arrived at DanDan, our last spot on the crawl. We opted for the wontons in chili oil, as my crew felt the need to move on from dumplings at this point. It's a curious dish, with slippery wonton skins hiding tiny balls of pork in its folds. The chili oil was a welcome burst of smoky heat. If you're not ready to let the dumpling gimmick go, order the potstickers ($7.50 for six). They're served fried and come in chicken, vegetable, and shrimp fillings.
If you're not ready to toss in your chopsticks, I'd suggest swinging by Washington Square West's Cheu Noodle Bar (255 S 10th Street) to sample its ever-changing and deliciously inauthentic dumpling specials. But if you're looking to try a range of dumplings on the cheap, you can't go wrong with this approachable crawl. It's a truly glorious way to spend a few hours.
Sign up here for our daily Philly email and be the first to get all the food/drink/fun in town.
Anna Goldfarb is author of the humor memoir, Clearly, I Didn't Think This Through, and suggests wearing something with an elastic waistband to your next dumpling crawl. You can follow her: @MsAnnaGoldfarb.