Get ready for a Center City bar snack bar crawl
While Center City Sips is still the best way to pound $2 drafts surrounded by your interns and ex-girlfriends every Wednesday night, the sundown happy hours also heavily discount your growling appetite for face-stuffing snacks like pig ears and beer-cheesy skins so good, your mouth will always be too full for small talk.Break bread instead with our epic after-work bar crawl of Center City eats, and the drinks you'll be enjoying with them.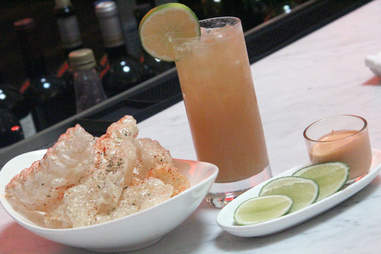 First stop: Start your night the way most guys wish they could end theirs -- by picking up a real handful at a hotel bar. 10 Arts' crispy crunchy chicharrones are the Ritz-Carlton bar's Ritz-Carlton way of saying pork rinds. The spicy snack packs as much crunch as this Art in the Age-laced ginger ale Make It Snappy does... Snap.
Follow the scent of sizzling bacon down S Broad St and you'll find The Palm's the perfect size to contain this fondue pot swimming with Nova Scotia lobster and smoked pork. You'll also find your palm's the perfect size for containing a bourbon-swimming Kentucky Sazerac.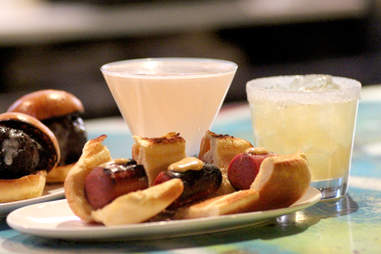 Next, give the bartender at Midtown Village's Sampan your two cents, (and another $1.98), and you can score these brioche-rolled Kobe beef hot dogs, which you may have to fight your Beefeater Sampantini for.
Keep the bourbon flowing down the block at Pennsylvania 6 and chase a marrow luge with a board of Benton's smoked ham, fresh-whipped Pimento cheese, and pickled green tomatoes, all of which'll also have you wanting to tilt your head back.
Then, raid Walnut St's Farmer's Cabinet, where the deviled duck eggs get a twist with cured pork belly house-baked chips. Equally dark and twisted: their orange-curled gin-tail Satan's Whiskers.
Still feeling devilish? Turn your head to pin-up-obsessed Varga Bar, famous for its mouthwatering lumps... of crab topping their cheese fries. Also sure to give you a lump in your throat? Their 17% Avery Uncle Jacob's Stout.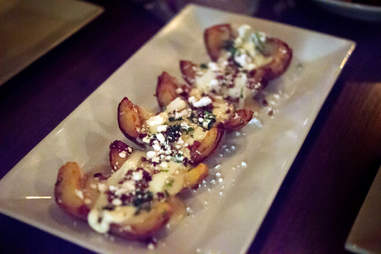 Finally, end the night down(town) but not out at Pennsport's Industry's bar, where your last six servers are likely to be gossiping about your short-changing coworkers more readily than these bacony beer-cheese-and-cheddar-stuffed Idaho potato skins -- just be sure your tips are at least this hefty.