'What Makes This Babysian?' -- Diving Into the Heart of Little Baby's Ice Cream.
Courtesy of Little Baby's Ice Cream
Since pedaling into our hearts on a custom-built ice cream tricycle in 2011, Little Baby's has established itself as a place where frozen dreams come true. Where pizza becomes dessert. Where "PiesCream" is a word. Where vegans experience joy. (Where dreams can become nightmarish commercial spots.) Where even celery -- yes, that celery -- has a shot at center stage.
"I've always felt like celery was an underutilized flavor," says Little Baby's co-founder, Pete Angevine, of one of his favorite concoctions, Strawberry Celery. "It's mostly water, but it has a lot of flavor -- it's not just a sidekick to a carrot."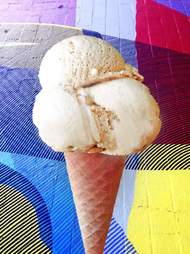 Courtesy of Little Baby's Ice Cream
Strawberry Celery is just one of the limited-time flavors to look out for on Little Baby's ever-evolving summer menu. Starring local produce supplied by the likes of Greensgrow Farms and Philly Foodworks, the seasonal lineup includes Blueberry Ginger, Peach Granola, and the fan fave, blink-and-you'll-miss-it Blackberry Sage.
More of a purist? Traditional flavors such as Coffee Toffee stick around for the summer. Looking to broaden your ice cream horizons? Ranch, Everything Bagel, Spicy Honey Mustard, and a full menu of non-dairy options beckon.
Courtesy of Little Baby's Ice Cream
"We like to think of things that are successful as food pairings, but you wouldn't expect to find together in ice cream," Angevine explains of a strategy that has churned out the likes of Balsamic Banana and Cucumber Dill. "We try to create an environment where there aren't any rules, but we're always asking, 'What makes this Babysian?'"
Courtesy of Little Baby's Ice Cream
Most of the time, this road-less-taken approach leads to greatness (see: Rose Pistachio, Vanilla Cardamom, and, against all earthly odds, the infamous Earl Grey Sriracha). But every once in awhile, the Baby's crew learns the hard way what you found out on that fateful morning of freshman year: alcohol and cereal do not play nice.
"Total fails don't happen as often as you'd think, but Champagne and Lucky Charms was just a disgusting, disgusting combination," says Angevine. "We tried really hard, but no, just totally bad."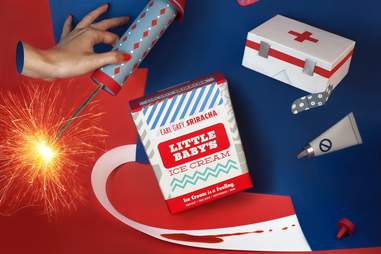 Courtesy of Little Baby's Ice Cream
So, what's next for Little Baby's? With a fleet of tricycles and two brick-and-mortar locations -- the World Headquarters in Fishtown and the Cedar Park Embassy in West Philly -- Angevine and his team have their sights set on an empire. This summer finds the team traveling to DC for special guest appearances at Union Market, and its pre-packed pints are slowly but surely popping up in retailers up and down the East Coast.
Courtesy of Little Baby's Ice Cream
If that makes you a little nervous, relax -- Little Baby's isn't going to put Philly in the rearview. "I've always been that guy yelling at people who leave," says Angevine. "We're not going anywhere. I live 600 steps from our Fishtown shop."
Sign up here for our daily Philly email and be the first to get all the food/drink/fun in town.